This post was originally published here on May 8, 2015. I've updated the photos and text to showcase just how delicious these miniature scones really are! Enjoy!
I have a mega soft spot in my heart for fresh rhubarb. I can't resist those slender stalks and crimson hues. In fact, just take a peak inside my refrigerator at any point between the months of April and June, and you'll consistently find rhubarb lining the shelves.
I'm hoping to get into some more savory applications for rhubarb this Spring, but in the meantime, I'm happy to be incorporating it into all sorts of baked goods. It's tart bite makes it ideal for everything from cakes to pies to scones. And rhubarb is even good in cocktails, as I happily discovered last year.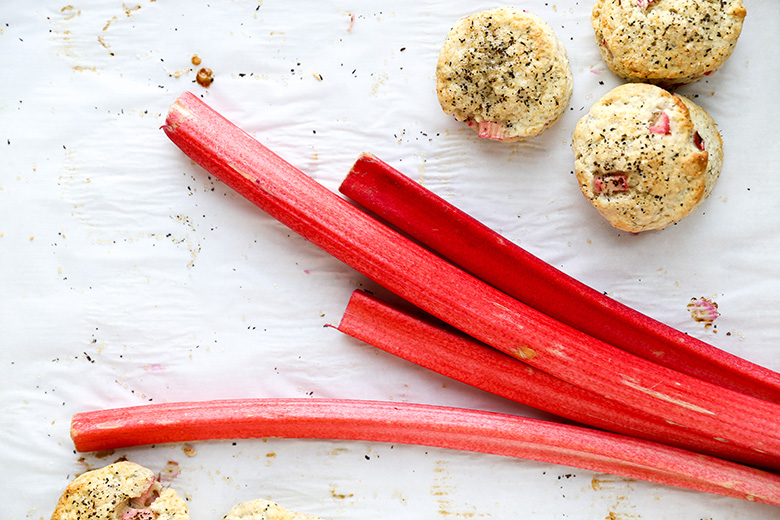 Also, anyone else totally digging Springtime baking right now? It seems so light and easy. Pretty much the exact opposite of how I feel about Christmas baking, which usually leaves me in a sweaty puddle of anxiety and self loathing (how many Santa cookies did I really just eat?). I can't fully explain it. All I know is that I want to fit in as much baking as possible before it becomes way too hot to use my oven.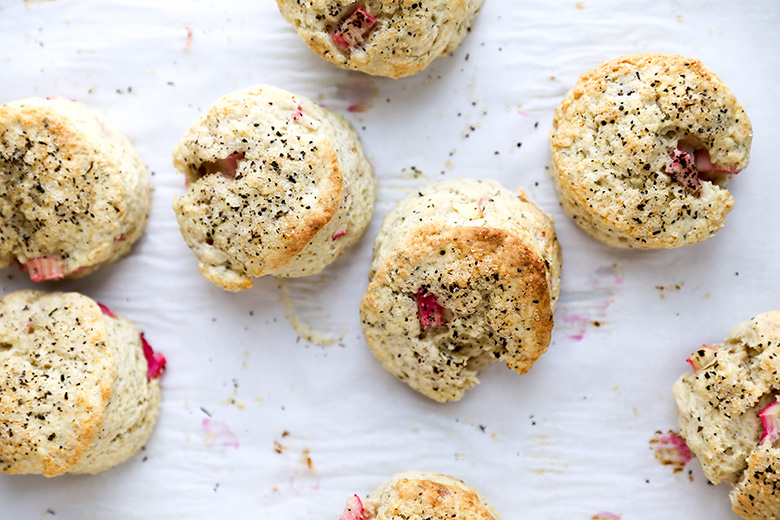 These Mini Rhubarb and Jasmine Tea Cream Scones have brunch written all over them. They would be perfect for Easter or Mother's Day. I love that they are miniature, because that means either (a) eating one won't fill you up so you can comfortably enjoy the rest of your meal, or (b) you can eat three of them! Both scenarios have happened to me. And both are likely to occur again in the future. This is real life.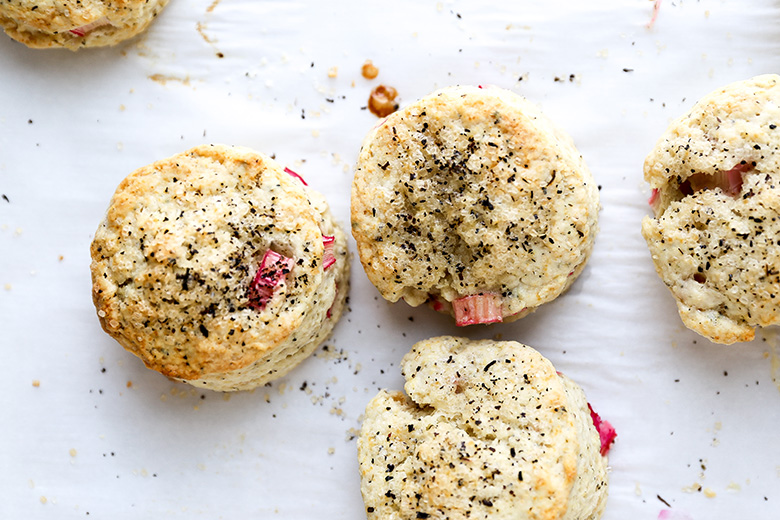 The tea is a fun addition that makes these scones feel extra "Springy" to me. I stir some into the dough. Then sprinkle the rest on top before baking. I used jasmine tea for this recipe, but chamomile or other varieties would work equally well. Loose leaf tea is probably your best option. But if you can't find it, you can purchase tea bags and simply tear them open to access the tea leaves inside.
Make sure to keep the rhubarb pieces small-ish for this recipe. Because these scones are miniature, they cook up relatively fast. And you don't want to be left with any overly firm pieces of rhubarb. I try to keep the pieces about a 1/2-inch in size (like the size of an almond).
Cheers,
Liz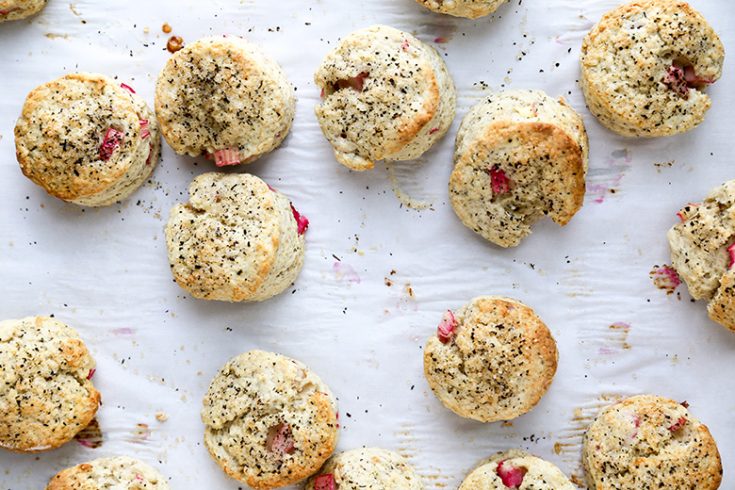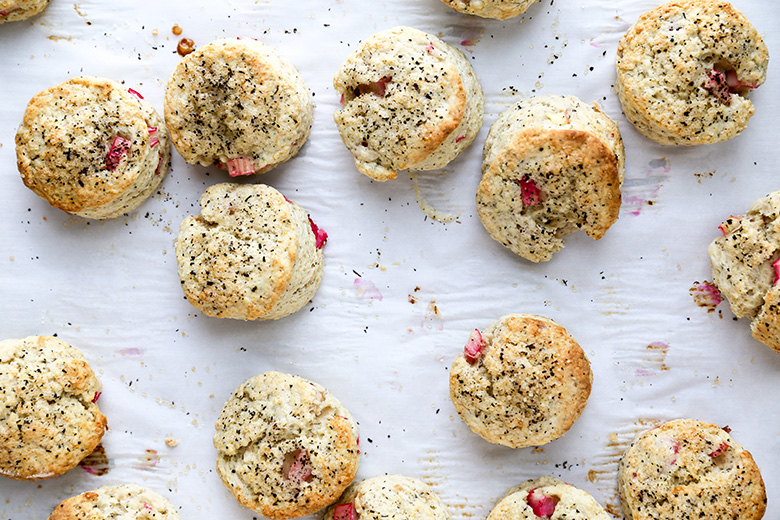 Mini Rhubarb and Jasmine Tea Cream Scones
Yield: About 18 scones
Prep Time: 10 minutes
Cook Time: 20 minutes
Total Time: 30 minutes
Ingredients
3 cups all-purpose flour
1/3 cup granulated sugar
1 tablespoon plus 1/2 tsp. jasmine tea leaves, divided
1 tablespoon baking powder
1 tsp. salt
About 1 1/2 cups heavy cream, plus more for brushing the tops
1 tsp. vanilla extract
1 cup chopped rhubarb (keep the pieces about 1/2-inch in size)
1/4 cup turbinado sugar
Instructions
Pre-heat your oven to 425 degrees. Line a baking sheet with parchment paper and set it aside.
In a large bowl, whisk together the flour, granulated sugar, baking powder, salt and 1 tablespoon of the jasmine tea leaves.
Measure out 1 1/3 cups of heavy cream. Mix in the vanilla extract. Slowly add the cream mixture to the dry ingredients, stirring with a wooden spoon as you pour in the cream. Gently stir in the rhubarb. Add more cream if necessary, one tablespoon at a time, so the dough is moist and holds together loosely (it will be a bit shaggy).
Dump the dough out onto a lightly floured surface and use your hands to form it into a disk about 3/4-inches thick. Using a small round biscuit or cookie cutter (I used a 2-inch cookie cutter), cut out small circles from the dough disk. Transfer the circles to your baking sheet, placing them about 1-inch apart. Gently re-shape the scraps and continue cutting out circles until all the dough has been used.
Brush the top of each circle with heavy cream. In a small bowl, mix together the turbinado sugar with the remaining 1/2 tsp. of jasmine tea leaves. Sprinkle the sugar mixture over top of the circles.
Transfer to your pre-heated oven and bake for 15-18 minutes, or until golden brown on top. Remove from the oven and set aside to cool slightly.
Scones are best when served while still slightly warm. Once fully cooled, they can be stored in an airtight container for 1-2 days at room temperature.