I think every time I publish a Big F*cking Salad, I claim it to be my new favorite. But this one REALLY IS my new favorite! I've eaten some version of this salad at least twice a week for the past month now. And I don't see any signs of slowing down. The appearance of local corn on the cob was the initial trigger. And for as long as it's still around (usually into September), I'm going to keep digging into this salad!
So if you've been looking for a B-I-G, satisfying, main meal-worthy salad to fall in love with, look no further than this Smoky Sweet Potato Taco Salad!
I think one of the main reasons this salad has become such a big hit with me is due to the fact that it's so easy prepare. I know the ingredient list might look a bit long. But this Smoky Sweet Potato Taco Salad truly does come together quickly. And there are several steps you can even do in advance, if you're into that sort of thing. I'm not typically much of a "meal prepper", but I've definitely been taking advantage of it here. I'll cook the corn (either boil or grill), roast the sweet potatoes, chop the romaine lettuce, shred the red cabbage and make the salad dressing all 1-2 days in advance. Then when it's time to eat, all that's really left to do is just basic assembly. Easy peasy!
Also, tortilla chips in a salad is such a baller move.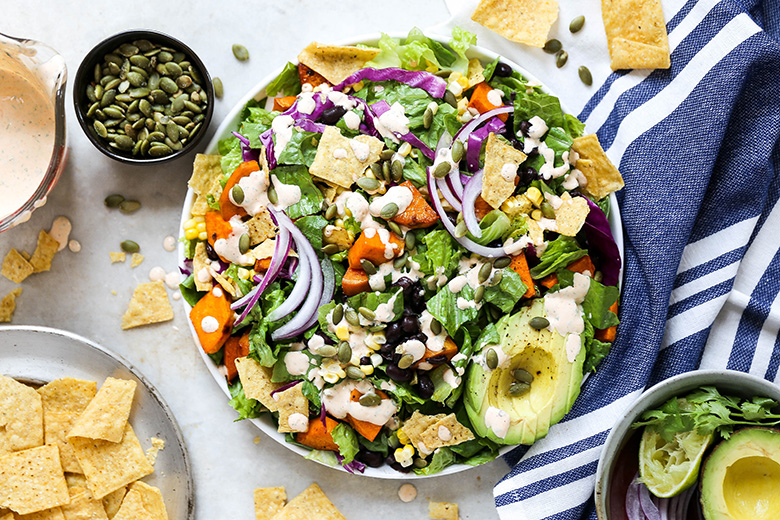 The smoky flavor in this salad comes from the adobo sauce. I use it both in the homemade dressing and on the sweet potatoes. There are a lot of recipes for homemade adobo sauce on the internet, but I always get mine from a can of chipotle peppers in adobo sauce. Now I know you might be thinking "you expect us to open a whole can of chipotle peppers in adobo sauce just to get the few teaspoons needed for this recipe?". And I feel that statement. I really do. But I'm here to tell you that your freezer is your friend. Whenever I open a new can of chipotle peppers in adobo sauce, I portion out whatever is leftover (both the solids and liquids) and freeze them for later. Ice cube trays are great for this kind of thing. Then I have small amounts available at any time for recipes like this one. And so many more (these frozen cubes are great for dropping into a pot of soup/chili, into your slow cooker with beef or pork, etc.).
Cheers,
Liz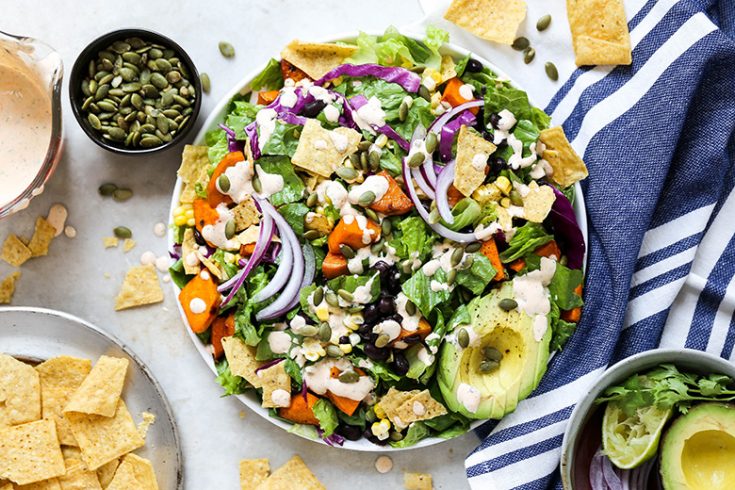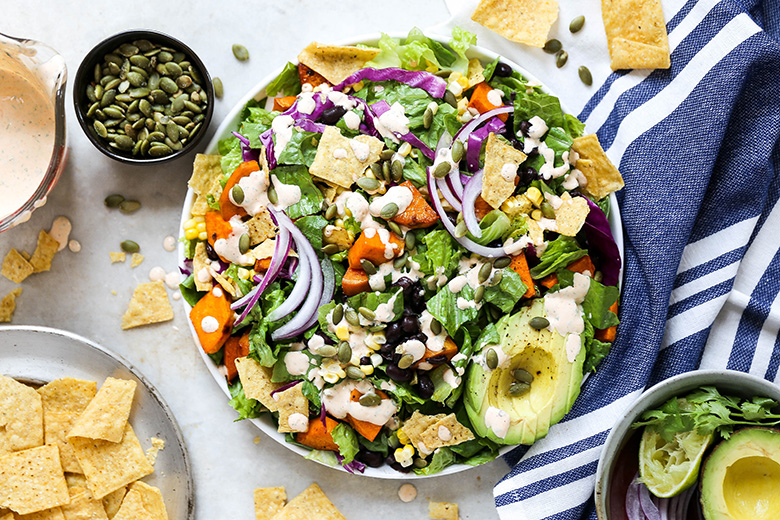 Smoky Sweet Potato Taco Salad
Yield: Serves 4
Prep Time: 20 minutes
Cook Time: 20 minutes
Total Time: 40 minutes
Ingredients
For the Dressing:
1/2 cup sour cream
1/4 cup fresh cilantro
Juice from 1/2 lime
2-3 tsp. adobo sauce
1 tsp. maple syrup
1/8 tsp. salt
For the Salad:
3 cups peeled and cubed sweet potatoes (from about 2 small sweet potatoes)
2 tablespoons extra-virgin olive oil
2-3 tsp. adobo sauce
1/2 tsp. salt
3 hearts of romaine lettuce, chopped
2 cups shredded red cabbage
1 (14.5-ounce) can black beans, rinsed and drained
2 ears corn on the cob, cooked and kernels sliced off
2 avocados, pitted, peeled and sliced
About 2 cups tortilla chips, broken into bite sized pieces
1/4 cup thinly sliced red onion
1/4 cup pepitas
Instructions
Add all the ingredients for the dressing to your food processor fitted with the blade attachment. Process until combined and the cilantro is finely minced. Transfer the dressing to a clean container and refrigerate it until you're ready to use it.
Pre-heat your oven to 400 degrees. Place the sweet potatoes in a baking dish and toss them with the olive oil, adobo sauce and salt. Transfer the baking dish to your pre-heated oven and roast the sweet potatoes for 20 minutes, stirring them once halfway thru the cooking time. Remove the baking dish from your oven and set it aside to cool slightly.
Divide the chopped romaine and shredded red cabbage between 4 large plates/bowls. Top with the roasted sweet potatoes, black beans, corn, sliced avocado, tortilla chips, sliced red onion and pepitas. Drizzle with the dressing. Serve immediately.