We did it! Another Thanksgiving is in the books. I hope you had a fabulous day. And I hope you're still enjoying lots of yummy Thanksgiving leftovers!
I'm forging ahead with all things Christmas. And that means cookies! But since it's still November, I didn't want to go full throttle with all the red and green sprinkles just yet. I like to approach these topics slowly and with caution. So today, I'm bringing you a much more humble looking cookie. But don't be fooled. Just because these cookies aren't dressed up in all the glitz and glamour of the season, doesn't mean they're off limits to Santa.
If Die Hard can be a Christmas movie, then these Salted Maple Walnut Pretzel Cookies can be a Christmas cookie!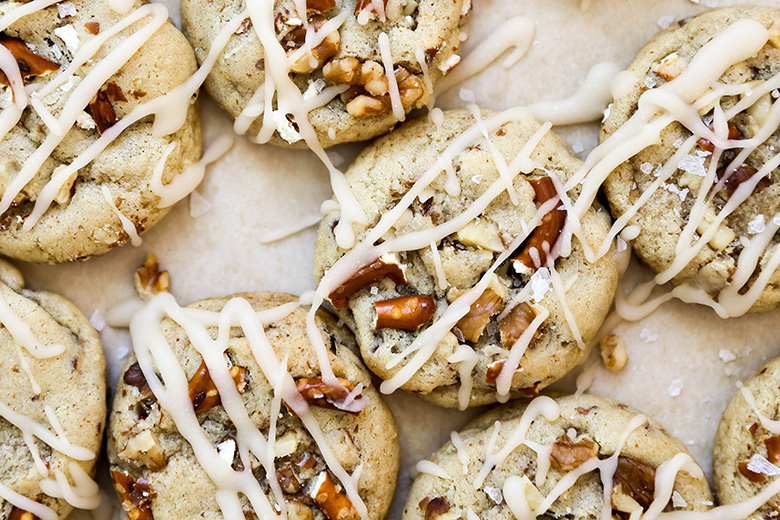 The maple flavor in these Salted Maple Walnut Pretzel Cookies comes from a combination of 100% pure maple syrup and maple extract. The splash of maple extra really does help intensify the overall maple flavor, so I highly recommend picking up a small bottle. If you're an avid baker, I think you'll find plenty of opportunities to use maple extract in other recipes. But I also understand not wanting to have a cabinet full of miscellaneous bottles. If that's the case, just add a full 2 teaspoons of vanilla extract. The maple flavor won't be as strong. But the cookies will still be delicious!
I also take the word "salted" in the title of this recipe very seriously. These cookies are sweet. And they need the salt to keep them balanced. You'll notice I've used both salted butter and salted pretzels for this recipe (in addition to the usual salt in the cookie dough). And I've also topped them with a pinch of flaky sea salt, too. I promise it's not overkill.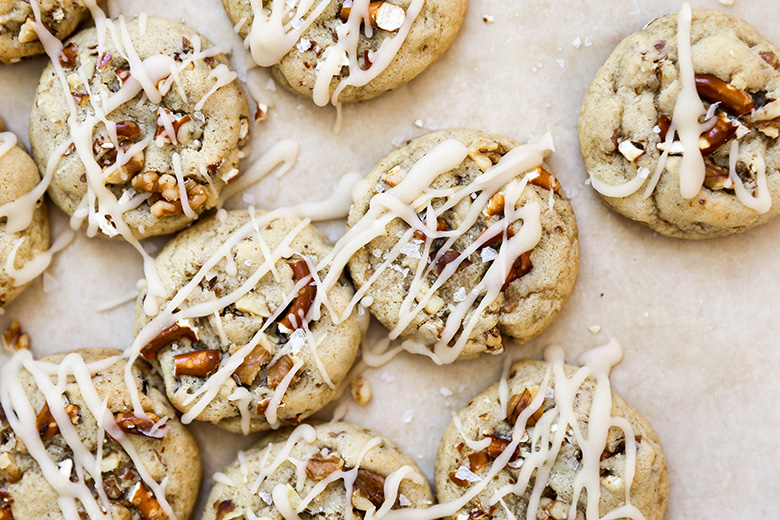 The pretzel pieces in these cookies will soften over time as they absorbed moisture. But that's why I like to press a few pieces of pretzels and walnuts on top to maintain some more texture. And bonus, it's always nice to see what's in your food before eating it!
These Salted Maple Walnut Pretzel Cookies will stay fresh and soft for about 4-6 days. And the maple glaze does fully set. So you can definitely stack and pack them for travel or for a cookie exchange. Or give them all to Santa!
Cheers,
Liz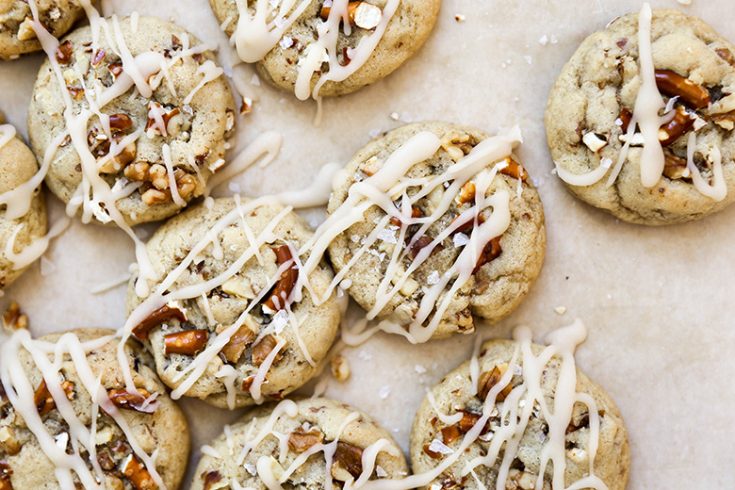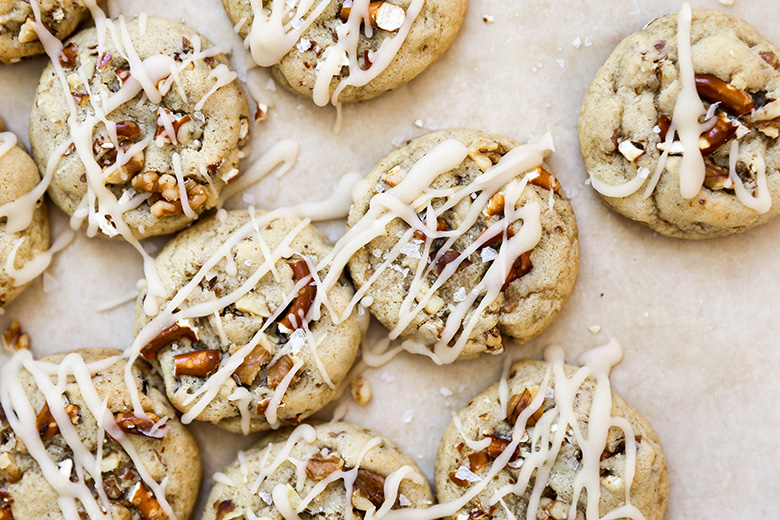 Salted Maple Walnut Pretzel Cookies
Yield: Makes 2 dozen cookies
Prep Time: 20 minutes
Cook Time: 15 minutes
Additional Time: 4 hours
Total Time: 4 hours 35 minutes
Ingredients
For the Cookies:
2 1/4 cups all-purpose flour
1 tsp. baking soda
1/2 tsp. salt
1/2 cup (8 tablespoons) salted butter, softened at room temperature
1 cup brown sugar, packed
1 egg, at room temperature
1/3 cup maple syrup
1 1/2 tsp. vanilla extract
1/2 tsp. maple extract
3/4 cups chopped salted pretzels, plus 2 tablespoons more for topping
1/2 cup chopped walnuts, plus 2 tablespoons more for topping
For the Maple Glaze:
2 1/2 tablespoons maple syrup
1 tablespoon salted butter
1/2 cup powdered sugar
1/8 tsp. salt
Flaky sea salt
Instructions
In a medium bowl, whisk together the flour, baking soda and salt. Set aside.
In your stand mixer fitted with the paddle attachment, beat the butter and brown sugar on medium-high speed until smooth and creamy, about 2-3 minutes. Add the egg and beat until incorporated. Stop to scrape down the sides and bottom of the bowl. Then add the maple syrup, vanilla extra and maple extract and beat on medium-high speed until well combined.
Add the flour mixture in thirds, beating on low speed and stopping to scrape down the sides and bottom of the bowl as necessary. Beat just until the flour is incorporated and no more white streaks remain. Do not over mix. Add the pretzels and walnuts and beat on low speed until just combined. Cover the bowl with plastic wrap and place it in your refrigerator to chill the cookie dough for at least 4 hours or up to 24 hours.
Pre-heat your oven to 350 degrees. Line your baking sheets with parchment paper and set aside.
Mix together the reserved chopped pretzels and walnuts. Then spread this mixture out onto a plate and set aside.
Scoop out the chilled cookie dough and roll it into balls, using about 1 1/2 tablespoons of dough per ball. Gently press the tops of the cookie dough balls into the pretzel/walnut mixture so some adheres to the surface. Then place them on your parchment paper-lined baking sheets, topping-side up, about 1 1/2-inches apart from each other. Press down gently on the top of each cookie dough ball to flatten it slightly.
Transfer the baking sheets to your pre-heated oven and bake the cookies for 11-12 minutes, until lightly browned around the edges. Remove the baking sheets from your oven and let the cookies cool for 5 minutes before transferring them to a wire rack to continue cooling.
Once the cookies have cooled, make the glaze. In a small saucepan over low heat, melt together the maple syrup and butter. Then whisk in the powdered sugar and salt, whisking until smooth. Remove the saucepan from the heat. Drizzle the warm glaze over the cookies. While the glaze is still wet, sprinkle with some flaky sea salt.
The glaze will set as it cools. Once set, the cookies can be transferred to an airtight container and stored at room temperature for 4-6 days.