It's no secret that I am chocolate obsessed. So it probably goes without saying that I love brownies. Really dense, dark, thick and insanely chocolately. That's my kind of brownie.
Do we agree on this?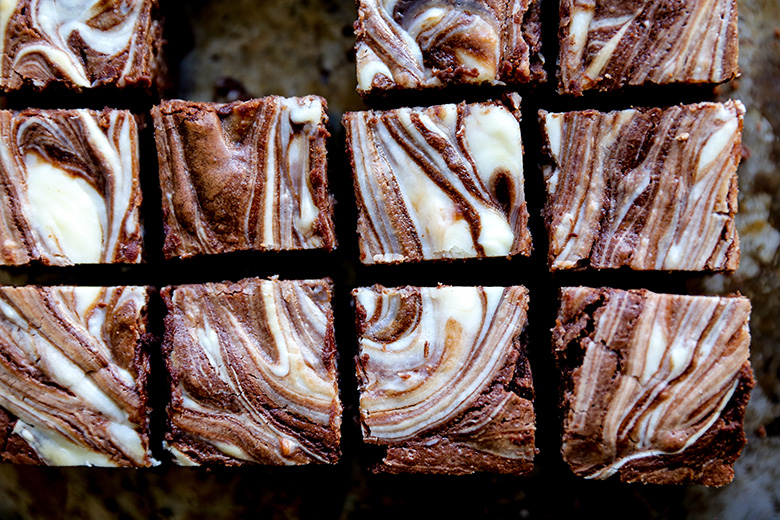 In my humble opinion, chocolate goes with just about everything. But I especially love the combination of mint and chocolate. On one of my recent trips to Theo Chocolate I picked up some of their mint-flavored dark chocolate bars, which inspired to make these Mint Chocolate Cheesecake Brownies. I know mint-flavored desserts are more typical around the Holidays. But I actually really like them in the summer. These Mint Chocolate Cheesecake Brownies are a cool treat when eaten straight from the refrigerator on a hot day. Or serve them with a scoop of vanilla ice cream for something really indulgent!
If you can't find mint-flavored chocolate bars, you can use plain dark chocolate and add an extra 1/2 teaspoon of peppermint extract in the brownie batter. That should do the trick!
Cheers,
Liz
Ingredients
7 ounces mint-flavored dark chocolate, chopped
8 tablespoons (1/2 cup) unsalted butter
2 tablespoons unsweetened cocoa powder
3 eggs
1 1/4 cups sugar
2 tsp. vanilla extract, divided
1 tsp. peppermint extract, divided
1/2 tsp. salt
1 cup all-purpose flour
8 ounces cream cheese, softened at room temperature
1/4 cup powdered sugar
Instructions
Pre-heat your oven to 350 degrees. Line an 8 X 8-inch baking pan with aluminum foil, leaving some aluminum foil hanging over the edges of the pan. Spray the foil with non-stick cooking spray and set the pan aside.
In a small sauce pan over medium-low heat, warm the chopped chocolate and butter, stirring frequently until everything is melted and smooth. Add the cocoa powder and stir to combine. Remove from the heat and set aside to cool slightly.
In your stand mixer with the paddle attachment, combine the eggs, sugar, 1 tsp. of the vanilla extract and 1/2 tsp. of the peppermint extract. Pour in the melted chocolate mixture and mix to combine. Add the flour and salt and mix until all the flour is incorporated and no more white streaks remain. Pour the brownie batter into your prepared baking pan and set aside.
Wipe of the bowl of your mixer. Then using your whisk attachment, beat together the softened cream cheese, powdered sugar and the remaining 1 tsp. of vanilla extract and 1/2 tsp. of peppermint extract. Drop the cream cheese mixture in large dollops over the brownie batter. Then drag a knife through the two layers to combine them and create a swirled effect.
Transfer the baking pan to the center rack of your pre-heated oven. Cook for 35-40 minutes, or until a toothpick inserted into the center comes out clean. Remove the pan from the oven and allow the brownies to cool to room temperature in their pan on a wire rack. Once fully cooled, lift the brownies from their pan using the overhanging aluminum foil. Cut into 16 squares.
The brownies can be stored in an airtight container in your refrigerator for several days.
Notes
1. It's much easier to swirl the cheesecake layer into the brownie batter if your cream cheese is REALLY soft. If it's a cold day, I'll sometimes zap it in the microwave for 20-30 seconds to make it extra soft before using it.
https://www.floatingkitchen.net/mint-chocolate-cheesecake-brownies/