I am of the opinion that if you are going to eat dessert, then eat dessert. I'm not a big fan of desserts trying to act like health food. I'll take a serving of full-fat ice cream, cookies or cake any day over a low fat or low calorie version. Because eating the real thing is just so much more satisfying.
So when I first saw this recipe for Quinoa Chocolate Cake in Quinoa 365, I was a bit skeptical. I wasn't sure if this cake would be able to deliver the goods. Because a cake made with two whole cups of cooked quinoa kind of sounds like health food. But just a single bite of this rich, chocolately dessert dissolved my skepticism entirely.
Isn't it great when life surprises you sometimes?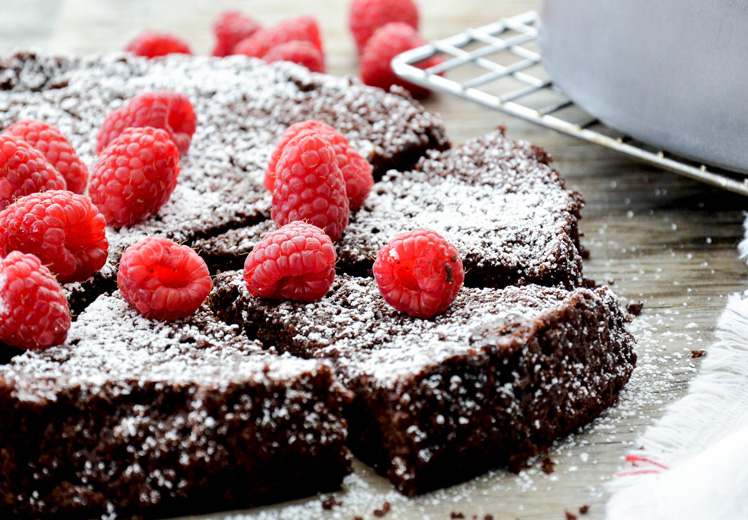 This is not a light and fluffy cake. It's texture is dense, similar to other flour-less chocolate cakes that you may have had in the past. It's a great choice if you need a gluten-free dessert, but you don't want to be bothered with testing out various flour substitutions. No flour here!
Cheers,
Liz
Recipe barely adapted from Quinoa 365
Ingredients
For the Cake
2/3 cup quinoa
1 1/3 cups water
1/3 cup milk
4 large eggs
1 tsp. vanilla extract
3/4 cup (12 tablespoons) unsalted butter, melted and cooled
1 1/2 cups granulated sugar
1 cup unsweetened cocoa powder
1 1/2 tsp. baking powder
1/2 tsp. baking soda
1/2 tsp. salt
1/2 tsp. cinnamon

For Garnish
Fresh berries
Powdered sugar
Instructions
Cook the quinoa. Combine the quinoa and water in a medium saucepan over medium-high heat. Bring to a boil and then reduce the temperature to bring the quinoa to a simmer. Simmer for 15-20 minutes, covered, until all the water is absorbed. Remove from the heat and let stand covered for 5 minutes. Then fluff with a fork and set aside uncovered to cool completely. You will have a little more than 2 cups of cooked quinoa.
Pre-heat your oven to 350 degrees. Grease two 8- or 9-inch cake pans with cooking spray. Line the bottoms of the pans with parchment paper. Set aside.
Make the cake batter. Combine the milk, eggs and vanilla in a blender or food processor. Add 2 cups of the cooked quinoa and the melted butter and blend until everything is smooth. Set aside.
In the bowl of your mixer with the whisk attachment, combine the sugar, cocoa powder, baking powder, baking soda, salt and cinnamon. Add in the liquid mixture and mix until everything is well combined. Divide the batter evenly between your two prepared cake pans and smooth the top using a spatula. Place the cake pans on the center oven rack and bake in your pre-heated oven for 35-45 minutes, or until a knife inserted in the center comes out clean. Remove the cakes from the oven and allow them to cool completely in their pans on a wire rack before serving or storing.
To remove the cakes from their pans, run a knife around the edge of the pan to help release the cake from the sides. Then invert the pans over a wire rack or serving plate. Remove and discard the parchment paper. Dust the cakes with powdered sugar and top with fresh berries of your choice. Slice and serve.
The cakes can be stored covered in the refrigerator for up to 1 week. Or wrapped tightly and frozen for up to 1 month.
https://www.floatingkitchen.net/quinoa-chocolate-cake/