I'm coming in hot with an easy, breezy and BOOZY 4th of July treat!
But first. How the heck is it already the 4th of July!?!? I'm shook. I'm so not ready to be this deep into Summer yet. It feels like we just got the ball rolling over here. I think I need to step up my Summertime activities before it's too late.
The one Summer activity (if you can call it that) that I have been partaking in on a regular basis is eating my weight in fresh, juicy watermelon. I just love watermelon. And my favorite way to enjoy it is just plopping a big half right down into my lap and digging in with a spoon. Classy, right? But hey, it really hits the spot on a hot day.
BUT! My second favorite way to enjoy watermelon is with booze. More specifically, in the form of these fabulously fun Mezcal Margarita Watermelon Wedges. Which are basically like little portable margaritas. And there ain't nothing wrong with that.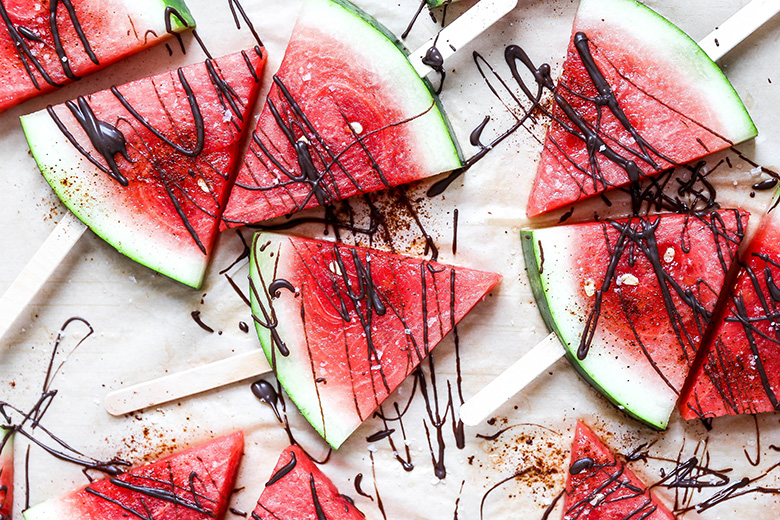 I'm elevating the old "cheap vodka bottle plunged upside down into a watermelon" trick from my youth. My college party shenanigans can stay back in college. Right where they belong. These "fancy" watermelon wedges are infused with smoky mezcal, orange liqueur and freshly squeezed lime juice. And to make them feel even more margarita-ish, I finished them off with some flaky sea salt and a dash of ground chili or chipotle powder.
Oh and how could I forget the dark chocolate drizzle. I just love the combination of dark chocolate and watermelon. And it's even better with the little bit of warmth from the mezcal and the spices. Trust me. You have to try this!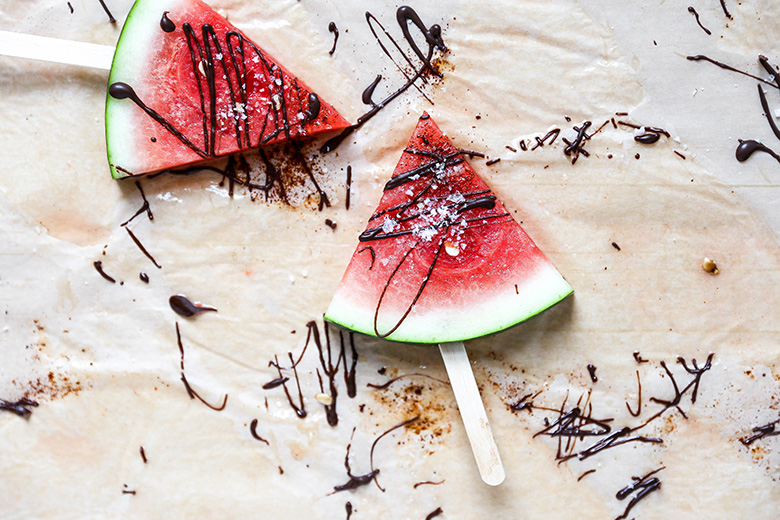 The popsicle sticks are totally optionally here. I like them for easier handling/eating. But you can skip them all together and just serve these as wedges sans popsicle sticks. No need to make a special trip to the craft store for popsicle sticks, if you don't already have some on hand.
Wishing you all a safe and happy 4th of July!
Cheers,
Liz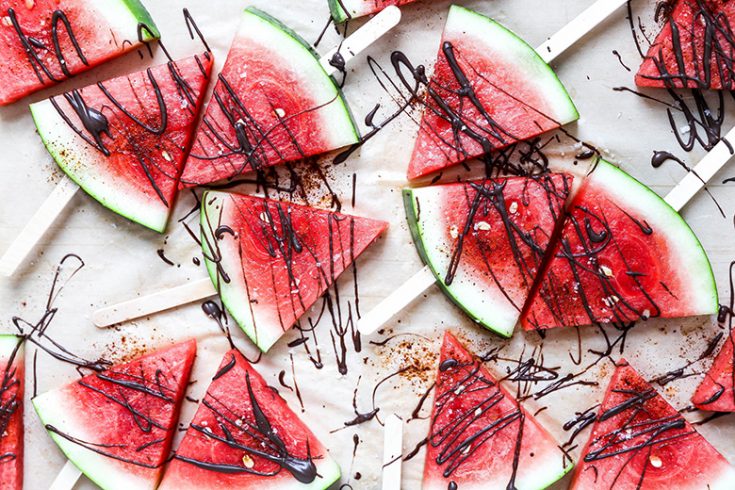 Mezcal Margarita Watermelon Wedges
Yield: Serves 10-12
Prep Time: 15 minutes
Additional Time: 3 hours
Total Time: 3 hours 15 minutes
Ingredients
For the Watermelon Wedges:
1 small, seedless watermelon
1/2 cup mezcal
1/4 cup orange liqueur
1/4 cup fresh squeezed lime juice
For Garnish:
About 2 ounces of dark chocolate, melted
Ground chili or chipotle powder
Flaky sea salt
Instructions
Cut the watermelon into rounds about 1/2-inch think. Then cut each round into 6-8 wedges. Use a paring knife to create a small slit in the rind of each wedge (this will be for the popsicle stick). Then lay the watermelon wedges out into two 9 X 13-inch baking pans. It's OK if the watermelon wedges overlap/aren't in a single layer.
Combine the mezcal, orange liqueur and lime juice. Then pour this liquid over the watermelon wedges, diving it evenly between the two baking pans. Place in your refrigerator to chill for 2-3 hours. Halfway through this chilling time, use a pair of tongs to rotate the watermelon wedges that were on the bottom to the top, so all the wedges have about an equal amount of time soaking in the liquid mixture.
Remove the watermelon wedges from their baking pans and carefully push a popsicle stick into each wedge, using the slit you created as a guide. Lay the watermelon wedges out in a single layer on parchment paper-lined baking sheets. Then drizzle with some of the melted chocolate and sprinkle with a few pinches of the chili/chipotle powder and sea salt. Enjoy immediately.
For an even colder treat, you can place these watermelon wedges in your freezer for about 30 minutes before serving.