Nothing gets me more excited about grilling season than a grilled pizza!
The standard cheeseburgers, steak tips and sausages are all well and good. But in my humble opinion, they don't hold a candle to a grilled pizza. The puffed crust, slightly smoky char and speedy turnaround time of a grilled pizza is second to none!
This Grilled Red Pepper, Mushroom and Goat Cheese Pizza is my new favorite combination. And I think you're going to absolutely love it! I hope you give it a try soon!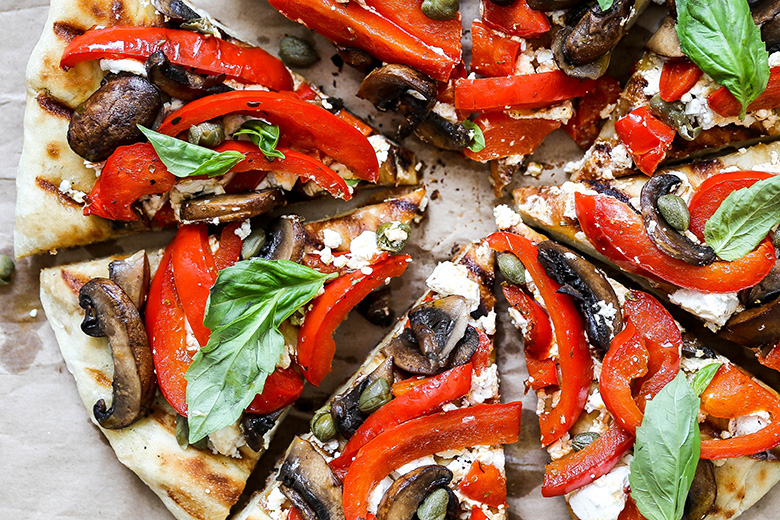 If you're new to making pizzas on the grill, there are a couple major differences that are worth highlighting. One, you're going to need to pre-cook most of your toppings. This is because the total grilling time is super short. Which is great for getting pizza into your belly quickly. But it's typically not sufficiently long enough to properly cook your toppings. So plan to cook your vegetables (and meats, if you're using them) beforehand.
The second major difference is that you're going to begin cooking your crust BEFORE you add your toppings. Start by placing the crust directly on your pre-heated grill, let it cook for a couple minutes, flip it and then quickly add your toppings and finish cooking your pizza. The best way I can think to describe it is that it feels like your assembling your toppings on what was the bottom of the pizza. It might seem strange the first time you do it, but I promise it's easy!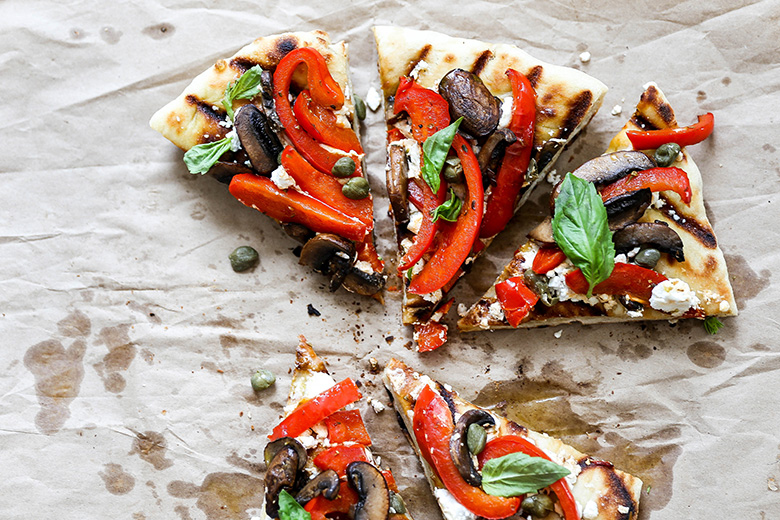 I opted to skip the traditional tomato sauce for this recipe, which allows the flavors of other ingredients to really shine. That being said, don't be afraid to drizzle on a little extra olive oil if it seems dry to you.
The capers here are an ingredient that shouldn't be skipped. Their briny-ness is the perfect contrast to the somewhat sweet red peppers and goat cheese. And they give this pizza a more complex flavor profile. If you don't have capers, some sliced olives would be a great substitute.
Any favorite grilled pizza toppings for Spring and Summer? Would love to hear any suggestions you have!
Cheers,
Liz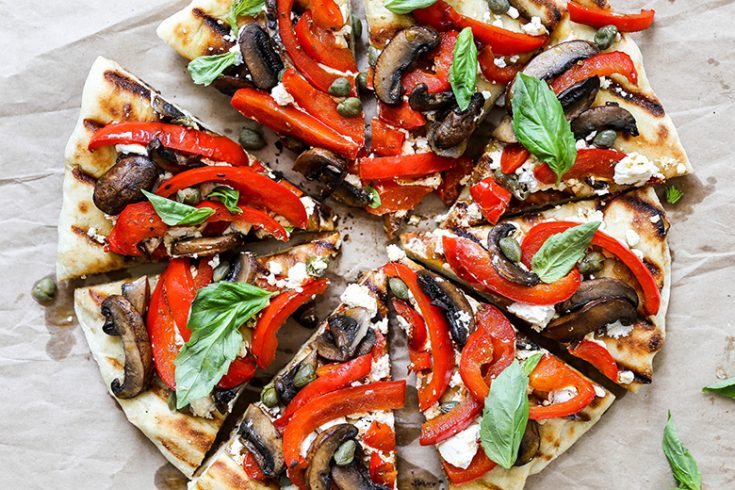 Grilled Red Pepper, Mushroom and Goat Cheese Pizza
Yield: Serves 2-4
Prep Time: 10 minutes
Cook Time: 20 minutes
Total Time: 30 minutes
Ingredients
About 1/4 cup extra virgin olive oil, divided
1 red pepper, cored and sliced
1/4 tsp. dried oregano
4 ounces brown mushrooms, wiped clean and sliced
1/4 tsp. salt
1 lb pizza dough (homemade or store bought), brought to room temperature
3/4 cups crumbled goat cheese
2 tablespoons capers, rinsed and drained
2 tablespoons fresh basil leaves, torn
Instructions
Pre-heat your grill to medium-high.
In a medium skillet over medium-high heat, warm about 1 tablespoon of the olive oil. Add the sliced red pepper and cook, stirring frequently, for about 4-5 minutes. Stir in the dried oregano and cook for about 1 minute more. Transfer the red peppers to a clean bowl and set aside.
Using the same skillet, warm another tablespoon of olive oil. Add the mushrooms and cook, stirring frequently, for about 4-5 minutes. Stir in the salt and cook for about 1 minute more. Transfer the mushrooms to a clean bowl and set aside.
Coat your hands with a little bit of olive oil. On a lightly oiled baking sheet, stretch and shape the pizza dough into an approximate 12-inch circle. If you're having trouble stretching and shaping the dough, let it rest for 5-10 minutes at room temperature and then try again.
Make sure the dough is coated with a thin layer of olive oil on both sides. Then carefully transfer the dough to your grill, close the lid and cook for 2-4 minutes, or until the bottom is lightly charred and firm. Using a pair of tongs, flip the dough. Then quickly top with the crumbled goat cheese, red peppers, mushrooms and capers. Close the lid and cook for 2-4 minutes.
Remove the pizza from the grill and place it on a large cutting board to rest for 2-3 minutes. Then drizzle the pizza with about a tablespoon of the olive oil and top with the fresh basil. Cut into wedges and serve.