This post was originally published here July 6, 2015. I've since updated the text and photographs.
I love a good non-traditional pesto recipe. Especially this time of year, when there are lots of little tender green things at my disposals. Herbs, lettuces, stems, etc. I'm game to toss it all in my food processor!
This Pea and Arugula Pesto is a fun one that I find myself making over and over again these days. The flavor is delicate and sweet. And it's the prettiest shade of pale green.
For the peas, you can certainly use thawed frozen peas in this recipe. But I highly recommend using freshly shelled peas, if you can find them. They really do have a superior taste. So I like to take advantage of them as much as possible while they're in season.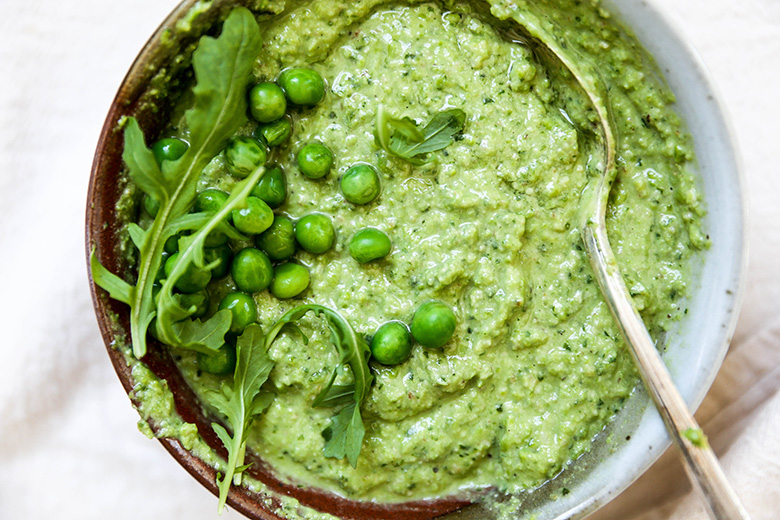 So what can you do with this Pea and Arugula Pesto? My absolute favorite way to enjoy it is tossed with a small shaped pasta (I highly recommend orecchiette), peas, sausage and shaved Parmesan cheese. It's an easy, simple dinner that's very well suited for late Summer. I also like it slathered on avocado toast. But you can really use it anywhere you would use a more traditional pesto. It's very versatile!
If you give my Pea and Arugula Pesto a try, let me know! And tell me your favorite way to use it!
Cheers,
Liz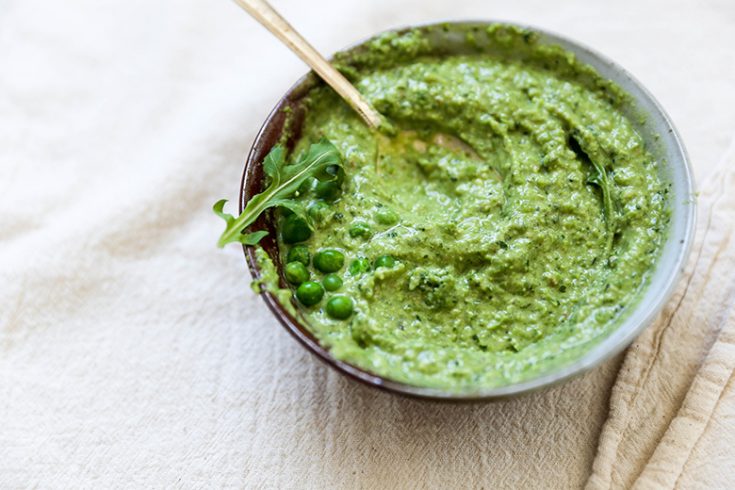 Pea and Arugula Pesto
Yield: Makes about 1 cup
Prep Time: 5 minutes
Cook Time: 2 minutes
Total Time: 7 minutes
Ingredients
1/3 cup walnuts
1 cup shelled peas, blanched
1 cup arugula
2 tablespoons mint leaves
2 garlic cloves
Juice from 1 lemon
1/2 tsp. salt
1/4 tsp. black pepper
About 1/2 cup extra-virgin olive oil
Instructions
In a small skillet over medium heat, lightly toast the walnuts until they become fragrant, about 1-2 minutes. Remove from the heat and set aside to cool.
Add the peas, arugula, mint, garlic, lemon juice, salt, black pepper and toasted walnuts to the bowl of your food processor fitted with the blade attachment. Pulse everything together several times, until a course meal is formed. Stop and scrape down the sides of the bowl. Then with the food processor running, gradually stream in the olive oil until your desired consistency is reached.
Transfer the pesto to a clean container. Taste and season with additional salt and black pepper, if desired.
The pesto can be used immediately. Or stored in an airtight container in your refrigerator for several days. The pesto can also be frozen for longer storage periods. Drizzling a thin layer of olive oil over the surface of the pesto will help to preserve the color/flavor during storage.