Let's get sauced!
Nope. Not that kind of sauced.
Well, go ahead if you want. I won't stop you. This is a judgment free blog-zone. I'll wait while you go fetch a cocktail…
Ok, now that we are all settled in with our drink, let's talk grilling. And how I'm the happiest girl in the whole wide world because the snow has melted away and I can see my grill again. Hallelujah.
I kicked off grilling season with these lamb skewers a couple weeks ago. And now I'm hitting the sauce hard. The barbecue sauce that is. So of course I have to make my own. Store bought barbecue sauce can be pretty good. But now that I'll be grilling ALL THE TIME, it's worth having the homemade stuff in my fridge so I'm ready to go at a moments notice.
Making barbecue sauce at home is crazy easy. You just need one large skillet or pan and about 15 minutes of time. You can also completely customize the spice level and have fun with different flavor profiles.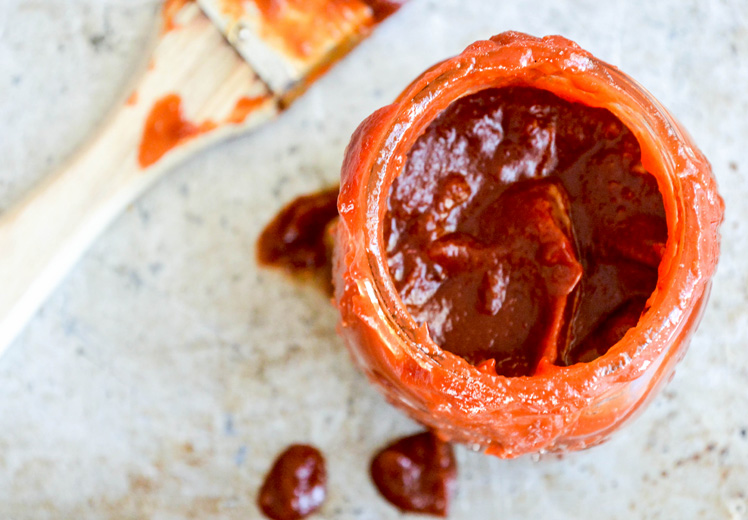 So now I really want to make a joke about liking my barbecue sauce how I like my men: spicy, sweet, etc. But I'll refrain. Because my mother reads this blog (Hi Mom!).
Let's continue. This Maple-Bourbon Apricot Barbecue Sauce has a lot going on. It has a deep smoky flavor from the chipotle peppers in adobo and a dash of liquid smoke (that stuff is magic!). And just a hint of sweetness from the maple syrup and apricot preserves. I would say the spice level here is medium at best, so feel free to whisk in a little more paprika, or some cayenne pepper, if you want more heat. Oh and since everything is better with bourbon, I added some. And there ain't nothing wrong with that.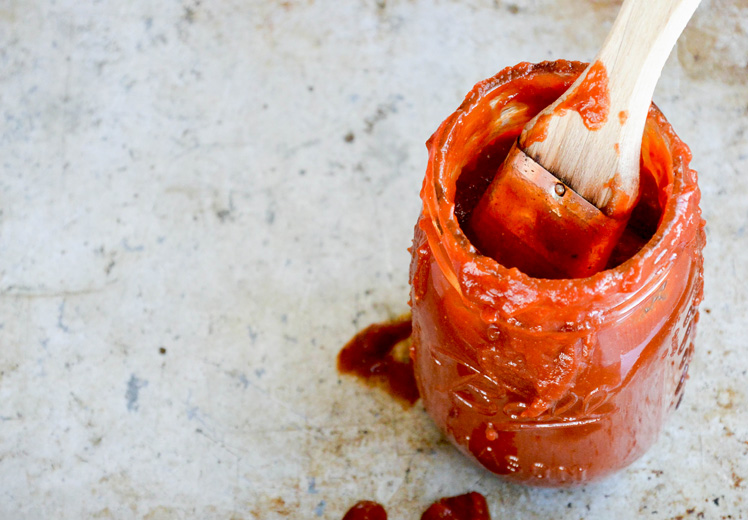 This recipe makes about 3 cups of barbecue sauce, which will last for at least a couple weeks in your refrigerator. So you'll get a lot of mileage out of a single batch, either for your own personal use or consider giving a jar to someone as a gift. Wouldn't you be super cool if you showed up at a cookout with a jar of this stuff? Yeah you would!
Cheers,
Liz
Ingredients
1 (15 ounce) can tomato sauce
1 (6 ounce) can tomato paste
1/3 cup apricot preserves
1/2 cup apple cider vinegar
1/4 cup maple syrup
2 tablespoons molasses
2 tablespoons Worcestershire sauce
2 tablespoons chipotle peppers in adobo sauce
1 tsp. liquid smoke
1 1/2 tsp. paprika
1 tsp. mustard powder
1 tsp. garlic powder
1/2 tsp. salt
2 tablespoons bourbon
Instructions
In a very large skillet or pot, whisk together all of the ingredients, except for the bourbon, over medium heat. Let the mixture simmer for about 10 minutes, stirring occasionally. Whisk in the bourbon and let the mixture simmer for an additional 3-5 minutes. Remove from the heat.
Let the sauce cool, then transfer it to seal-able containers (mason jars work great here). Store in the refrigerator. The sauce will keep for several weeks.
https://www.floatingkitchen.net/maple-bourbon-apricot-barbecue-sauce/