Disclosure: This post is sponsored by Duda Farm Fresh Foods. All opinions are my own. Thank you for supporting brands and companies that help to keep Floating Kitchen afloat!
Get ready for a little dose of nostalgia. Because today, I'm putting a spin on a beloved childhood snack: Ants on a Log.
Oh, how I remember those little after-school snack plates lined with crunchy celery sticks, creamy peanut butter and sweet raisins. I was a very picky eater in my earlier years. And getting me to eat anything on a regular basis without too much complaint was a serious undertaking. Thankfully for my Mom's sanity, Ants on a Log was always a hit.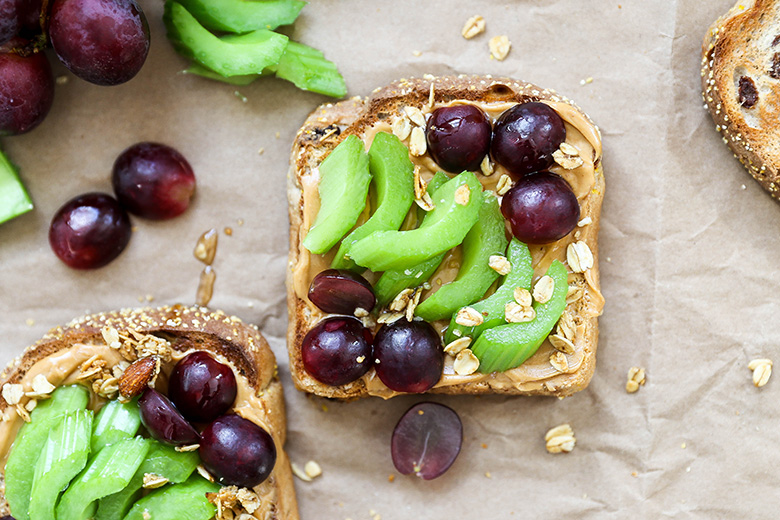 I'm an adult now (sort of), with a much broader palate. But I still love the classic combination of celery, peanut butter and raisins. So today, I've partnered with Duda Farm Fresh Foods, the producers of the finest, crispiest celery around, to bring you this Peanut Butter Toast with Celery and Grapes. This recipe has all the flavors and textures that I love about the original Ants on a Log. Just slightly reinvented for a more "grown-up" vibe!
This Peanut Butter Toast with Celery and Grapes starts with a couple slices of cinnamon-raisin bread, toasted to your liking. Next, spread your favorite creamy peanut butter (or almond butter) on top. Then add several slices of Dandy Celery Sticks and halved grapes, pressing them down slightly into the peanut butter to help them adhere to the toast. Finish the toasts with a sprinkle of granola and a drizzle of maple syrup. And you're done! This is such a quick and easy toast recipe. It's so perfect for breakfast or a mid-day snack. And I love how filling it is. The combination of toasted bread with the Dandy Celery Sticks makes for an even bigger, more satisfying crunch than the original Ants on a Log!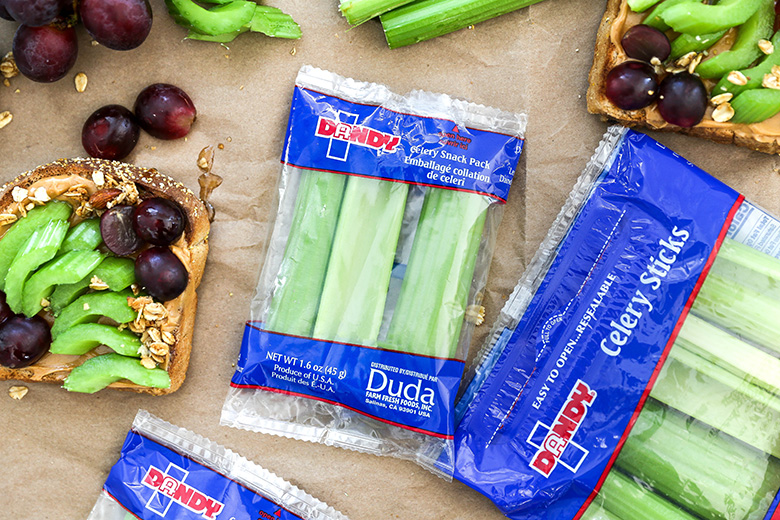 Dandy's naturally sweeter and crispier celery sticks are the ones that I always keep in my refrigerator. Their larger sized bags are perfect for cooking and recipes. But I also love their smaller, ready-to-go snack packs for when convenience is a priority. Check out their website and store locator for all their fresh products, recipe ideas and more!
Cheers,
Liz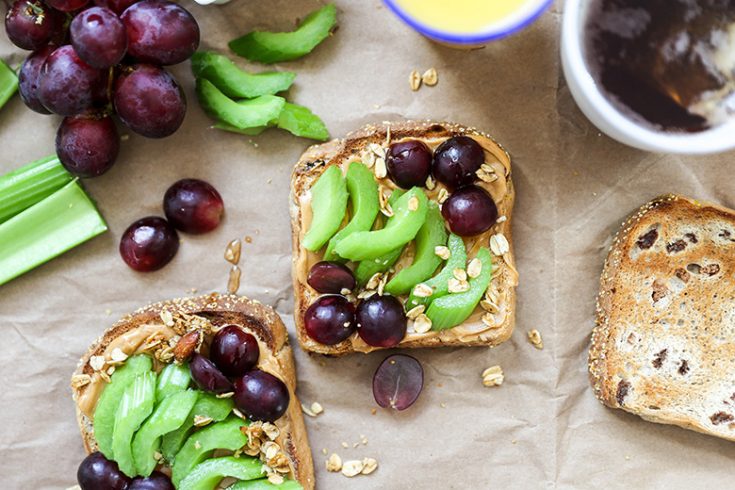 Peanut Butter Toast with Celery and Grapes
Yield: Makes 2 slices
Prep Time: 5 minutes
Cook Time: 2 minutes
Total Time: 7 minutes
Ingredients
2 slices cinnamon-raisin bread, toasted
2-3 tablespoons creamy peanut butter
5-6 seedless red grapes, halved
1-2 Dandy celery sticks, sliced on the diagonal
1 tablespoon granola
1 teaspoon maple syrup
Instructions
Spread the peanut butter evenly over the surface of the toasted bread. Top with grapes and sliced celery. Sprinkle with the granola and drizzle with the maple syrup. Enjoy immediately.