Hi Friends! I hope you all had a fabulous Christmas! Was Santa good to you? Have you come down off your cookie-induced sugar high yet?
I think I'm still somewhere floating in the sugary clouds. I ate A LOT of cookies. Way too many to count. And even if I had counted, I certainly wouldn't put that number down in writing for the whole world to see.
So I'm popping in real quick today to bring you this Warm Spinach Salad with Roasted Grapes and Sweet Potatoes. It's the perfect recipe if you're feeling the need to hit the "reset" button. And it would also be a great salad to add to your New Year's Eve menu, if you just so happen to be hosting a party (or going to a party!).
The inspiration for this dish came from one of my favorite spinach salad recipes from the archives. I added some roasted sweet potatoes to make it a bit more filling (this could totally pass as a "main meal" type of salad). And I decided to give it a bit of a New Year's Eve twist with the addition of roasted grapes. Did you know that grapes are one of the traditional and/or lucky foods that you're suppose to consume on New Year's Eve? As it goes, at midnight you eat twelve grapes, one to symbolize each of the twelve months in the upcoming year. You're suppose to finish all twelve grapes before the last stroke of midnight, which apparently is a task that's easier said than done. I think I'll give it a try this year!
You want the spinach in this recipe to wilt slightly, so be sure to scrape in the roasted sweet potatoes and grapes (and any olive oil from the pan), while they are still warm.
I hope you all have a fun and safe New Year's Eve. I'll be sipping on these Grapefruit and Sage Champagne Cocktails. If you haven't tried them yet, it's the perfect time to do so!
See you in 2017!
Cheers,
Liz
Ingredients
2 cups red seedless grapes
1 large sweet potato, peeled and sliced into thin triangles
1/4 cup extra-virgin olive oil
1 tablespoon maple syrup
1 tablespoon fresh rosemary, minced
1/2 tsp. salt
8 cups baby spinach
2-4 tablespoons balsamic vinegar
1/2 cup hazelnuts, chopped
1/2 cup crumbled goat cheese
Instructions
Pre-heat your oven to 400 degrees. In a large bowl, toss together the grapes, sweet potatoes, olive oil, maple syrup, rosemary and salt until the grapes and sweet potatoes are evenly coated with the olive oil. Transfer to a large rimmed baking sheet and roast in your pre-heated oven for 20 minutes, stirring once halfway through the cooking time. The sweet potatoes should be soft and the grapes should be slightly wrinkly. Remove from the oven and set aside.
Place the spinach in a very large bowl. Add the warm roasted grapes and sweet potatoes to the spinach, making sure to scrape in any oil left behind on the baking sheet. Toss gently to combine, sprinkling with some balsamic vinegar as you do so. Add the hazelnuts and goat cheese, tossing gently to combine.
Transfer the salad to serving dishes and enjoy while still warm.
https://www.floatingkitchen.net/warm-spinach-salad-with-roasted-grapes-and-sweet-potatoes/
This post was originally published here on December 22, 2014. I've since updated the photos and text. Cheers!
I consider myself to be a bourbon kind of girl. More often than not, it's my spirit of choice. And I love it in everything from Summer sips to cozy Fall libations.
But I'm also not one to discriminate. I want to be an equal opportunity maker and drinker of all kinds of cocktails. It just seems like the fair and right thing to do.
I've noticed lately that this blog has been seriously lacking in some good gin-based beverages. So I decided to fix that pesky little problem. And my timing couldn't be any more perfect. Because gin, with it's strong juniper berry taste and aroma, always reminds me of the Winter Holidays.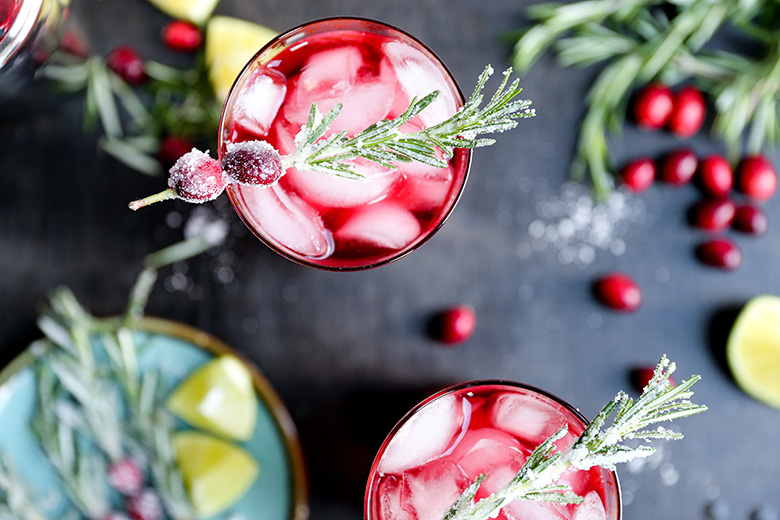 Since we're getting REALLY close to Christmas at this point, I decided to shake up something super festive and easy. I know we've all got a long list of cookies to bake, decorate and eat. So I figured this wasn't the time or place for an overly complicated cocktail with hard-to-find ingredients. Nope. This baby is real simple. And I bet you already have all of the ingredients on hand!
And I even gave it a stupidly cute name: Sparkling Christmas Tree Cocktail.
No actual Christmas trees were harmed in the making of this cocktail.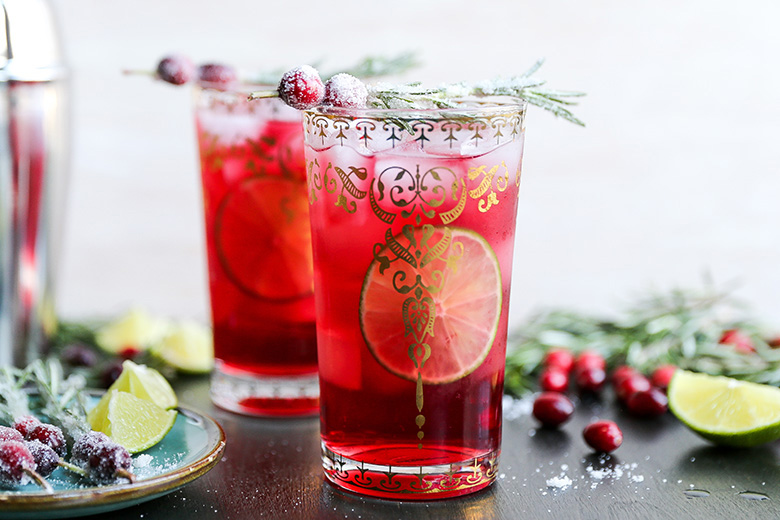 This initial inspiration for this cocktail started with a gin and tonic. I added a slash of cranberry juice for color. Then decided to swap out the tonic for club soda, so I could be more in control of the sweetness.
I had a really fun time making the sparkling "branches" for garnish (and it's kind of how the name of this cocktail evolved). And while technically they aren't really necessary for the actual imbibing of this beverage, I also don't think you should skip out on them either. They are totally cute and make this Sparkling Christmas Tree Cocktail feel super special.
So I think I'm signing off until after the Christmas Holiday. I'll be back with a new recipe in between Christmas and New Year's Eve. And of course, I'll be lurking around Instagram. So come and find me there if you want!
Cheers,
Liz
Ingredients
For the Sparkling Branches
About 1 cup sugar, divided
1/2 cup water
Fresh rosemary sprigs
Fresh cranberries

For the Cocktails
1/2 cup gin
1/2 cup cranberry juice
1 tablespoon fresh squeezed lime juice
1 tablespoon simple syrup
Club soda
Sliced lime for garnish, if desired
Instructions
In a small saucepan over medium-high heat, combine 1/2 cup of the sugar and the water, stirring occasionally, until the sugar is completely dissolved. Remove the saucepan from the heat and let the simple syrup cool slightly.
While the simple syrup is cooling, assemble the sparkling branches. Trim your rosemary sprigs so they are about 1-inch longer than the width of your cocktail glasses. Remove and discard some of the lower leaves, leaving the main stem intact. Using a toothpick, poke a small hole all the way through the cranberries. Then thread two cranberries onto each rosemary stem. You'll want to make at least one sparkling branch for each cocktail.
Pour the cooled simple syrup into a shallow bowl. Place the assembled branches in the simple syrup, turning them to coat. Then working with one branch at a time, remove it from the simple syrup and gently shake off any excess liquid. Hold the branch over your sink or a bowl and sprinkle it lightly with a small amount of the remaining sugar, turning the branch as you sprinkle the sugar so it coats all sides evenly. Place the sparkling branch on plate and set aside. Continue working until all the branches have been coated. Reserve some of the simple syrup for making the cocktails.
To make the cocktails, add the gin, cranberry juice, lime juice and simple syrup to a cocktail shaker filled with ice. Shake vigorously to chill. Then strain into two glasses with fresh ice. Top with club soda, stirring gently to combine. Garnish with a slice of lime and a sparkling branch. Serve immediately.
https://www.floatingkitchen.net/sparkling-christmas-tree-cocktail/