Despite the oppressive weather this weekend, I temporarily lifted my "no oven" embargo to bake up a batch of these Blackberry-Chocolate Chunk Muffins.
And let me tell you, it was totally worth it. I may have gotten miserably hot and sweaty from cranking my oven up to 375 degrees. But a dozen moist, fluffy muffins bursting with fresh blackberries and chunks of dark chocolate is a force to be reckoned with. I just couldn't say "no".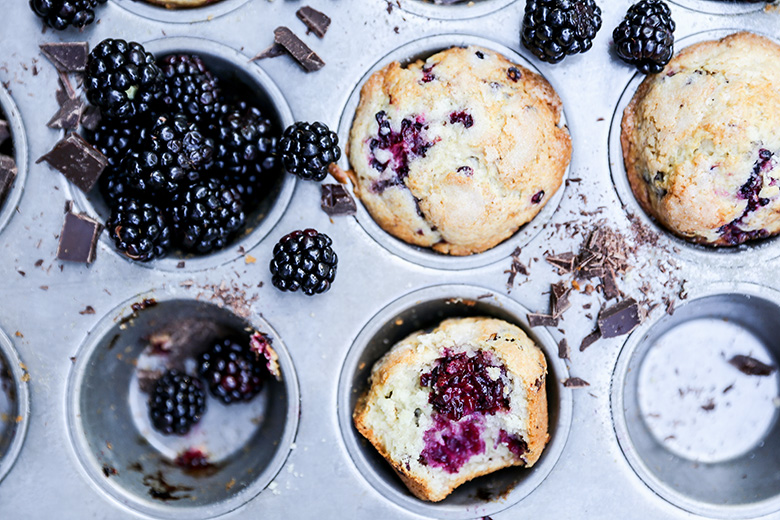 I've been on a serious muffin kick lately ever since I made these Blueberry-Basil Muffins. To be honest, I had kind of forgotten about how much I liked homemade muffins. But they are leaps and bounds above those typical dense, softball-sized muffins that you find in coffee shops. And once you zero in on a base recipe that you love, homemade muffins are endlessly customizable. I've been making versions of the recipe from this book for a couple of years of now, often swapping out or adding ingredients. And whatever I seem to do to them, they always come out great.
Also, muffins are basically as close as you can get to enjoying cake for breakfast without actually eating a slice of cake. And I'm very down with that.
Cheers,
Liz
Ingredients
1/2 cup (8 tablespoons) unsalted butter, melted and cooled
1/2 cup milk, room temperature
2 eggs
1 tsp. grated orange zest
2 cups all-purpose flour
3/4 cups plus 1 tablespoon sugar, divided
2 tsp. baking powder
1 tsp. salt
1 1/2 cups fresh blackberries
1/2 cup chopped dark chocolate
Instructions
Pre-heat your oven to 375 degrees. Line a standard 12-cup muffin tin with liners or coat with non-stick cooking spray. Set aside.
Make the muffin batter. In the bowl of your stand mixer with the paddle attachment, beat the butter, milk, eggs, orange zest on medium speed until well combined, about 2-3 minutes. With your mixer on low, slowly add in the flour, 3/4 cups of the sugar, baking powder and salt, beating until the dry ingredients are just incorporated. Fold in the blackberries and chopped chocolate.
Scoop the muffin batter into your prepared muffin tin, dividing the batter evenly between the 12 cups. Sprinkle the remaining tablespoon of sugar over the tops of the muffins.
Transfer the muffin tin to your pre-heated oven and bake for 25-28 minutes. The tops of the muffins should be slightly brown, and a toothpick inserted into the center should come out clean. Remove from the oven and allow the muffins to cool in their tin for about 10 minutes. Then remove the muffins from their tin and transfer them to a wire rack to continue cooling.
Once fully cooled, the muffins can be stored in an airtight container at room temperature for up to 2 days.
https://www.floatingkitchen.net/blackberry-chocolate-chunk-muffins/