I realized a couple weeks ago that I hadn't posted a single new cocktail recipe all June or July (unless you count poptails). Talk about a massive #foodbloggerfail. And also very strange considering how many cocktails I've consumed these past couple of months.
No judgment, please. It's patio sitting weather. And patio sitting requires a cold adult beverage. You know I'm right.
But this week, I plan on correcting my inadequacies. Starting with this Raspberry and Brown Sugar Bourbon Fizz. And ending the week with a boozy drink of the dessert variety (um…so much YES!). Which basically makes this the best week ever on Floating Kitchen.
It's hard to say what I love most about this Raspberry and Brown Sugar Bourbon Fizz. I must admit that I find the pretty, pink-ish hue somewhat mesmerizing. But the taste is absolutely spot on as well. Bourbon pairs so nicely with raspberries. And the brown sugar in the raspberry simple syrup gives this cocktail a bit more depth of flavor. Oh and the raspberry simple syrup makes a great mocktail as well (try it with some ginger-ale or lemon-lime soda), if you prefer to go that route.
I like to reserve the raspberry mash that's leftover from making the simple syrup and stir a small amount of it into the cocktails before serving. I love the added boost of color and raspberry flavor this little trick adds. But if you have an aversion to seeds in your drink, you can totally skip this step.
August is all ready ticking by at what seems to be a faster than normal rate. Which means there is no time like the present to seize the day and start enjoying the bounty of fruits and vegetables that August provides. Because winter (GAH!) will be here before you know it. So check out Becky's seasonal produce guide for this month and savor what's left of summer!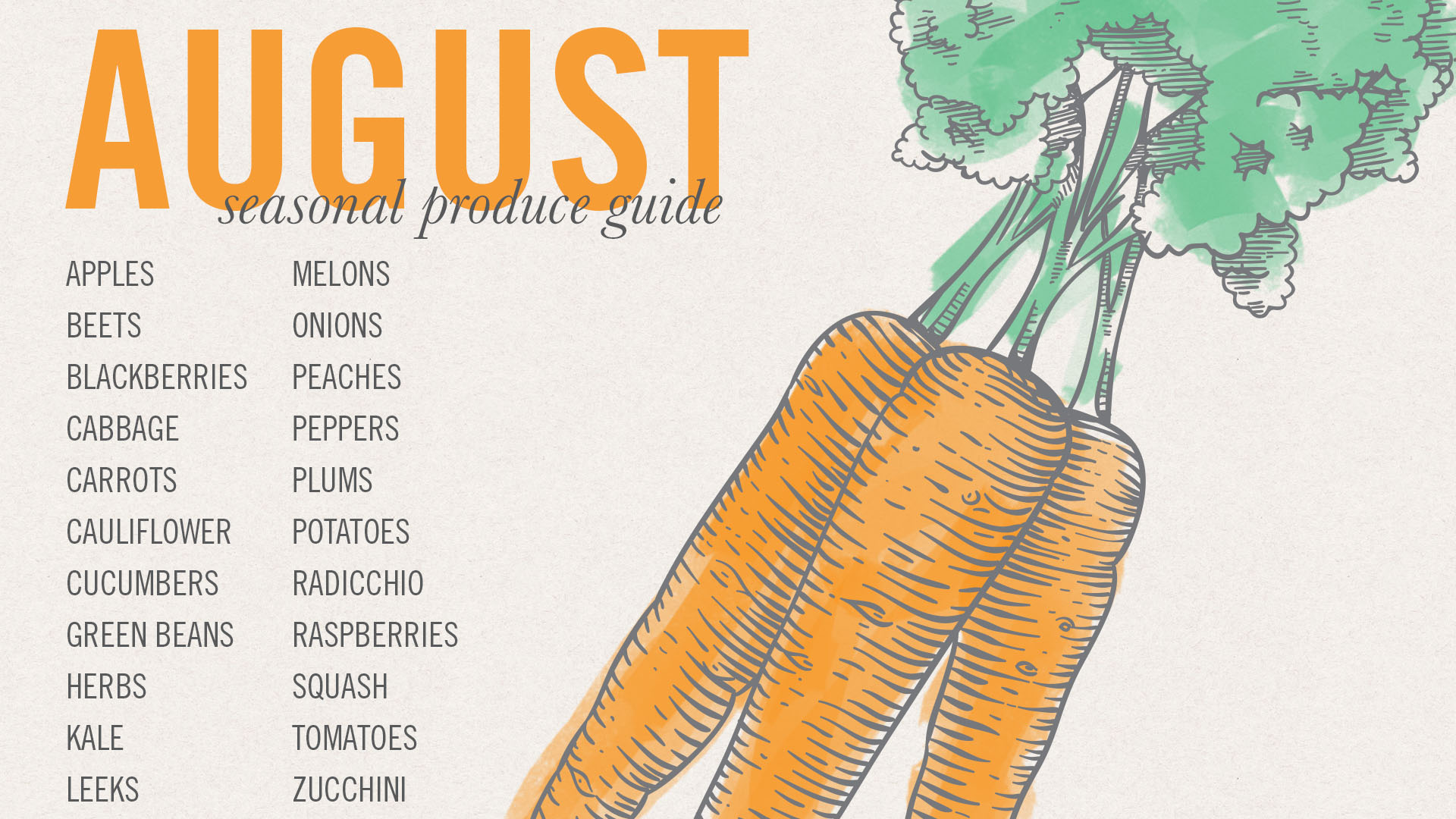 Becky has also put together a list of over 90 recipes that incorporate the fruits and vegetables that are most plentiful in August. And she's rounded up some of her food blogging friends to create some new recipes as well. Check out the links below to see what we've whipped up for this month. And follow along with (and contribute to!) the #eatseasonal hashtag for even more inspiration and ideas!
Cheers,
Liz
Ingredients
For the Simple Syrup
1/4 cup brown sugar
1/4 cup white sugar
1/2 cup fresh raspberries
1 cup water

For the Cocktails
Raspberry and brown sugar simple syrup
Bourbon
Crushed Ice
Tonic water, cold
Reserved raspberry mash
Fresh raspberries for garnish, if desired
Instructions
Make the simple syrup. In a medium saucepan, combine all of the ingredients over medium-high heat. Bring the mixture to a simmer and cook for about 5 minutes, stirring occasionally and smashing the raspberries up again the side of the saucepan to help crush them. Remove from the heat and set aside to cool. Then strain the simple syrup, collecting the liquid into a clean re-sealable container. Reserve the raspberry mash. This recipe makes about 1 cup of simple syrup, which can be stored in your refrigerator for up to 2 weeks.
Make the cocktails. For a single cocktail, add 1 ounce (2 tablespoons) of the simple syrup and 1 1/2 ounces (3 tablespoons) of bourbon into a tall glass. Fill the glass 3/4 full with crushed ice. Then top with tonic water. Add about 1 tsp. of the reserved raspberry mash and stir gently. Garnish with additional fresh raspberries, if desired. Enjoy immediately.
https://www.floatingkitchen.net/raspberry-and-brown-sugar-bourbon-fizz/
August Eat Seasonal Recipes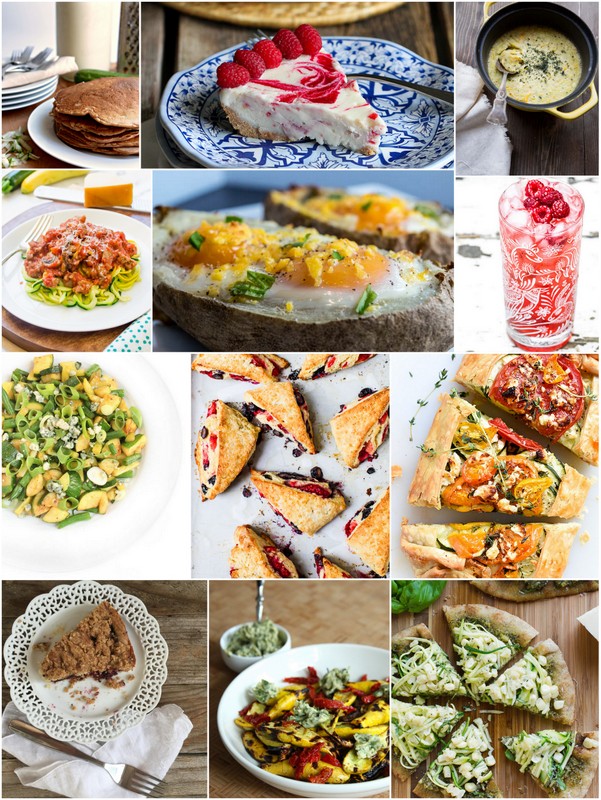 Healthy Whole Grain Zucchini Bread Pancakes by Bless This Mess
Raspberry Swirl Frozen Yogurt Pie by Cookin' Canuck
Savory Summer Squash Custard by Vintage Mixer
Zucchini and Yellow Squash Noodles with Turkey Sausage Bolognese by Flavor the Moments
Potato and Egg Breakfast Boats by From Gate to Plate
Zucchini and Green Bean Sauté by The Lemon Bowl
Triple Berry Scones by Simple Bites
Heirloom Tomato, Zucchini, Caramelized Onion and Feta Galette by FoodieCrush
Blackberry Buckle by Mountain Mama Cooks
Grilled Summer Squash with Sun-Dried Tomatoes and Basil Ghee by Project Domestication
Zucchini, Corn and Pesto Flatbreads by Kitchen Confidante