Hi Friends! I'm back after a bit of a blogging break.
So first things first, Happy New Year!!!
How's your 2018 turning out so far? Are you excited, scared, lukewarm? Did you set any new intentions or goals for yourself?
I always like the fresh start that a new year provides. And while I don't make resolutions, per se, I do enjoy letting my thoughts center and solidify more deeply on what I hope to accomplish in the next cycle.
This year, I've got some big changes coming up on Floating Kitchen. The most immediate and noticeable change that will be happening is a complete website redesign. I'm working with Purr Design on a shiny new logo and custom website (both of which are much needed and long overdue at this point), and we expect to launch sometime mid-February. I'm excited to give the blog a facelift. And to be able to provide YOU with a more user-friendly experience!
The second major thing that's happening is a move and a new business spin-off. I'm not ready to reveal too many specifics yet, but let's just say that Floating Kitchen will eventually be an actual place that you can come and visit. I hate to keep you hanging with the lack of details, but I promise to share more about this new project as soon as I'm able too. In the meantime, be sure to keep up with my Instagram stories, because I'm going to be posting some sneak peaks here and there over the course of the next few months. Maybe you'll catch a glimpse of what's to come!
But enough about all this stuff. Let's talk about this Roasted Beet and Radicchio Salad with Wild Rice and Tangerines.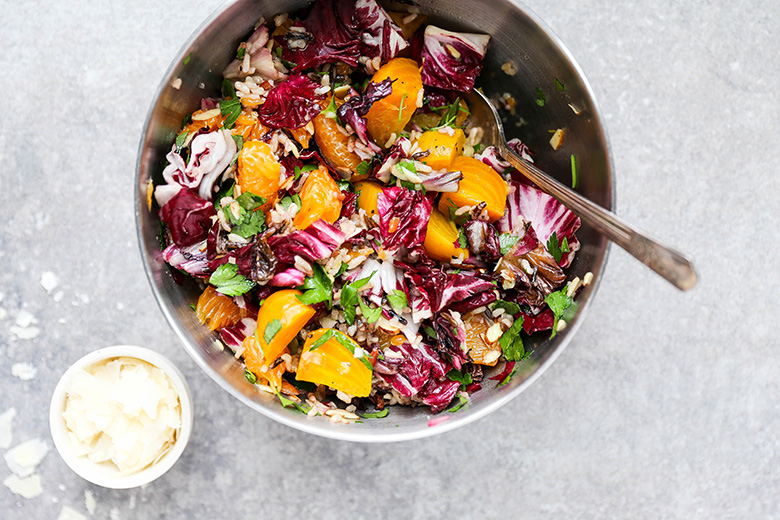 Isn't it a total looker? Yeah, I think so too. Packed with some of my favorite ingredients (I'm obsessed with golden beets these days!), all the colors of the rainbow and a variety of tastes and textures, it's a salad that doesn't feel like a salad. So whether you're trying to stick to a dieting resolution, or you just like beautiful, delicious and nourishing food, this recipe is for you.
Wild rice is one of those grains that I tend to forget about. I typically reach for quinoa (or just omit the grains all together). But in the recent weeks, I've discovered a new love and appreciation for wild rice. It has a hearty "chew". And it helps to make my salads feel more substantial, which is something I think is important during the cold weather months. No one wants a sad plate of limp greens in the middle of January. So stand with me and just say "NO!" to wimpy salads!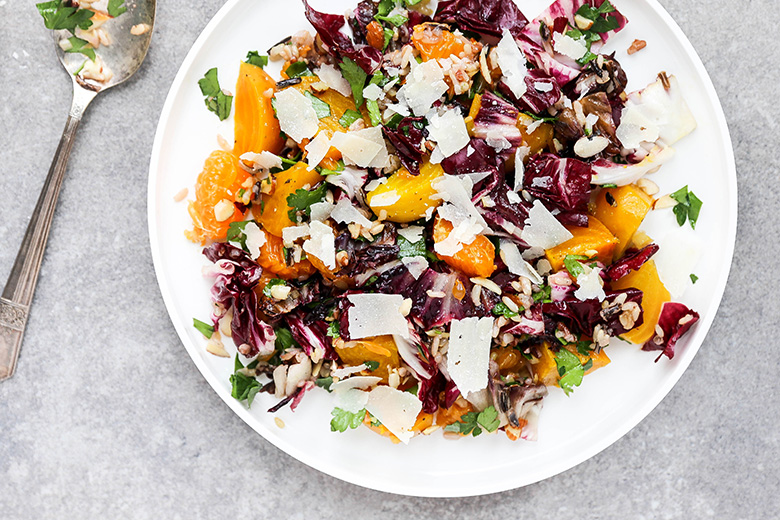 Radicchio is another ingredient that I don't use very often, so I took a few cues from this genius recipe on Food52 and roasted half of it, while keeping the other half raw. It cuts down on some of the bitterness of the radicchio, but still allows for a few fresh, crunchy bites. Definitely a technique worth trying out!
If you're looking for more way to use January produce, check out the links below to see what recipes some of my blogging friends have created this month. And join us in eating seasonally by sharing your #eatseasonal recipes on social media!
Cheers,
Liz
Ingredients
For the Salad
1 lb golden beets (medium sized), peeled and trimmed
1 tablespoon extra-virgin olive oil
1/2 tsp. salt
1/2 tsp. black pepper
1 head radicchio, chopped
1 cup cooked wild rice
1/2 cup fresh parsley, chopped
1/3 cup sliced almonds
2 tangerines, peeled and segmented
Thinly shaved pecorino cheese

For the Dressing
1/4 cup extra-virgin olive oil
1/4 cup fresh squeezed tangerine juice
2 tablespoons peeled and minced shallots
1/4 tsp. salt
1/4 tsp. black pepper
Instructions
Pre-heat your oven to 425 degrees.
Tear off a large piece of aluminum foil and fold it in half to double it. Add the beets to the aluminum foil, then drizzle them with the olive oil and sprinkle with the salt and black pepper. Fold up the edges of the aluminum foil to create a packet for the beets, then place this packet directly on the oven rack in your pre-heated oven. Roast the beets until they can be easily pierced with a small paring knife, about 50-60 minutes. Carefully remove the packet from your oven and let the beets cool slightly. Slice the cooled beets into wedges. Set aside.
Meanwhile, make the dressing by whisking together all the ingredients until well combined. Set aside.
Toss about half of the chopped radicchio with 1 tablespoon of the dressing. Spread this out onto a rimmed baking sheet and roast in your pre-heated oven for 5 minutes. Remove and set aside.
Add the remaining radicchio, wild rice, parsley, almonds and tangerines to a large bowl. Drizzle with the remaining dressing and toss gently to combine. Then fold in the roasted radicchio and beets.
Divide the salad between plates/bowls. Top with some shaved pecorino cheese. Serve immediately.
https://www.floatingkitchen.net/roasted-beet-and-radicchio-salad-with-wild-rice-and-tangerines/
January Eat Seasonal Recipes
Flavor the Moments — Roasted Butternut Squash Fajitas with Pomegranate Guacamole
Letty's Kitchen — Vegetarian Greek Egg Lemon Soup with Orzo
Joy Food Sunshine — Roasted Sweet Potato and Black Bean Vegetable Tacos
Healthy Seasonal Recipes — Roasted Garlic Cheddar Soup
Disclosure: This post is sponsored by Sequoia Grove. All opinions are my own. Thank you for supporting brands and companies that help to keep my kitchen running!
The current state of the internet is as follows:
(1) Cookie recipes
(2) Candy recipes
(3) Cake recipes
(4) Cat videos
And that's about it, as far as I can tell.
Not that I'm really complaining. I mean, who doesn't love noshing on a plate of Christmas cookies all while being entertained by funny animal videos?
And I'm even guilty of contributing to this never-ending stream of sweets myself. But can you blame me? It is the season for Holiday baking, after all. How could I not braid bread and drizzle chocolate until my heart's content?
But then I thought, for just a brief moment in time, it would be nice to take a little walk on the savory side of things. So today, I'm bringing you these Scallops and Mushrooms in White Wine Sauce over Crème Fraîche Polenta. If you've been searching for a special (but still EASY) Christmas dinner (or fast forward to Valentine's Day!), then this recipe is totally for you!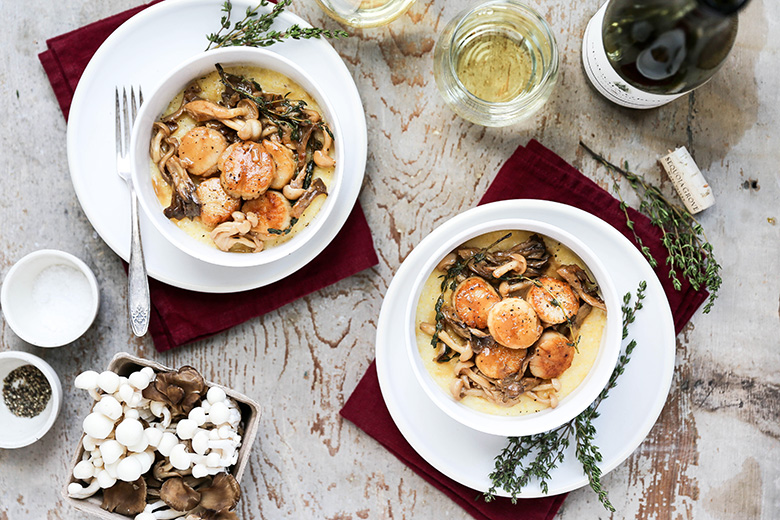 I find a lot of people are intimidated by the thought of cooking scallops, but honestly, they couldn't be any easier to prepare. The take only a couple of minutes to cook (be sure to dry them well to guarantee you get the perfect sear!). And even with minimal accoutrements (salt, pepper and oil), they are still a delicious addition to any meal. But since I've got my sights set on Holiday meal planning, I went a little bit fancier and dressed these babies up with sautéed mushrooms, shallots, fresh thyme and a luscious white wine sauce. And then I served them over some incredibly rich, soft polenta that's made totally over-the-top yummy with crème fraîche. Seriously to die for.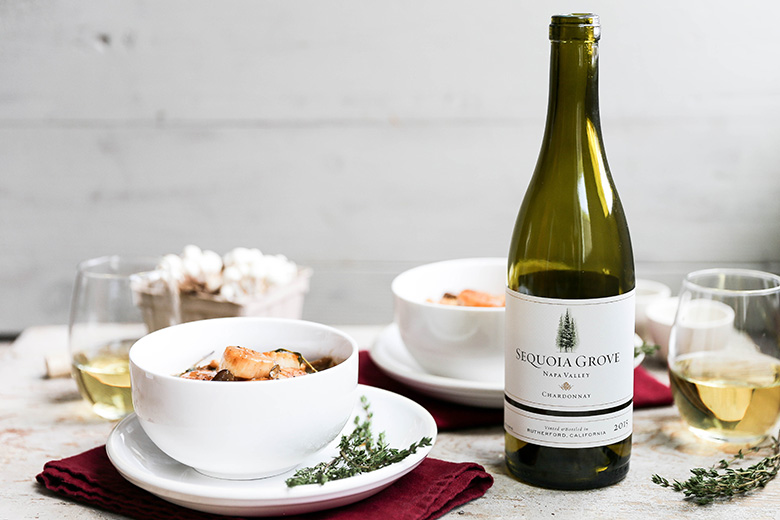 Today, I've partnered with Sequoia Grove to create and bring you the recipe for these Scallops and Mushrooms in White Wine Sauce over Crème Fraîche Polenta. Founded in 1979, Sequoia Grove is family-owned winery located in the heart of Rutherford, Napa Valley. A "hidden gem among the giants", Sequoia Grove is known for their world-class Cabernet Sauvignon and many other fine, well-balanced Napa Valley wines that showcase pure varietal character. Their elegant wines are great for sipping. And also for cooking.
Yes, that's right. Cooking. Because the days of cooking with bad wine(s) are over and done with. Just don't do it. It's not worth it. I ALWAYS recommend cooking with a wine that you absolutely love to drink, because you'll end up with a superior eating experience when you do. And since I do love to enjoy a glass (or two!) of Sequoia Grove Chardonnay in the evenings, I knew it would be the perfect white wine to use to make the sauce for these scallops and mushrooms.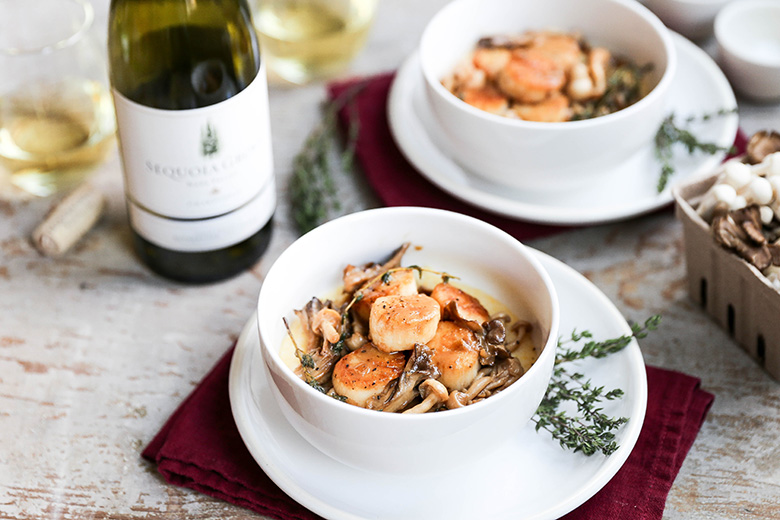 And of course, it's the perfect wine to serve along-side dinner once it's all plated and ready to be devoured. So have your glasses at the ready!
You can shop for Sequoia Grove wines online, or check out their store locator to find a retailer near you!
Cheers,
Liz
Ingredients
For the Polenta
2 cups water
1/2 cup polenta
1/4 cup crème fraîche
1/2 tsp. salt
About 1/4 cup milk

For the Scallops
8-10 sea scallops
Salt and black pepper
1-2 tablespoons vegetable oil
2 tablespoons butter
1 cup mushrooms, sliced or torn (I used a combination of maitake and white beech)
1/4 cup diced shallot
A couple sprigs fresh thyme
1/2 cup Sequoia Grove Chardonnay
1 tsp. Dijon mustard
Instructions
To make the polenta, start by bringing the water to a boil in a heavy bottom saucepan. Then slowly whisk in the polenta, turning down the heat to maintain a simmer. Cook the polenta for about 15-18 minutes, whisking it frequently so it doesn't burn on the bottom of the saucepan, until it's thickened and the water is absorbed. Then whisk in the crème fraîche and salt. Remove the saucepan from the heat and whisk in enough milk to thin the polenta to your desired consistency. Cover to keep warm.
Meanwhile, use a paper towel to pat the scallops dry on all sides. Season with salt and black pepper.
Heat the oil in a large non-stick skillet over medium-high heat. Once the oil is very hot, add the scallops in a single layer, spaced about 1-inch apart. Cook the scallops for about 2 minutes, or until they release easily from the skillet and are well browned on the first side. Then flip them over and cook for about 2 minutes on the second side. Remove the skillet from the heat and transfer the scallops to a clean plate, covering them loosely with a piece of aluminum foil.
Turn the heat down to low-medium and return the same skillet to your stovetop. Add the butter and once it's melted add the mushrooms, shallots and fresh thyme. Cook, stirring occasionally, for about 4-5 minutes, or until the mushroom and shallots are softened. Stir in the Chardonnay and Dijon mustard and let the sauce simmer for 1-2 minutes. Then return the scallops to the skillet to re-warm them, turning to coat them in the sauce.
To serve, divide the polenta evenly between two bowls. Then top with the scallops and mushrooms, making sure to spoon some of the sauce over the top. Enjoy immediately.
https://www.floatingkitchen.net/scallops-and-mushrooms-in-white-wine-sauce-over-creme-fraiche-polenta/
SaveSave
SaveSave
SaveSaveSaveSave
SaveSave
SaveSave
SaveSave