Another year is coming to a close. And like so many years before it, 2013 came and went in the blink of an eye. Not unlike a bar of chocolate in my house. Those darn things never seem to stick around very long!
While I didn't get everything accomplished in 2013 that I was hoping to (did anybody?), I am certainly thankful for all the new adventures, job opportunities, friends and learning experiences that filled this year for me.
This past week, I traveled to my home state of New Hampshire for Christmas. Christmas time feels so much more magical when there is a light coating of snow, so I was really hoping to see some white fluffy stuff during my trip. So just like when I was a kid, I would jump out of bed every morning and peer out my bedroom window to see if any snow had fallen during the night. Old habits die hard I suppose.
One of the highlights of my trip was checking out my families hydroponic greenhouse. Last time I visited, construction on the greenhouse was still in progress, so this was the first time I saw it in full swing and filled with thriving lettuces and herbs. It was like a little tropical oasis right smack in the middle of New Hampshire!
Of course, my mom and I spent some quality time in the kitchen. For my dad's birthday, we made a Chocolate Stout Cake with Chocolate Bourbon Sour Cream Frosting. And Holy smokes, it was amazing! It is so dense, rich and moist that even one small piece is more than enough to satisfy. It got the stamp of approval from everyone in my family!
But despite all the cooking we did, I didn't get a chance to document much of it. We were too busy enjoying each other's company to stop and take a zillion photographs. So no new recipe today for you today folks. Instead, I wanted to bring you my favorite dishes from 2013. It wasn't easy selecting just Five Favorites from all of 2013. But I managed to narrow it down and here they are, in no particular order:
1. Tomato-Shallot Jam. Savory, sweet and good on just about everything.
2. Potato and Green Bean Curry. Filling, warming, flavorful and vegan!
3. Blackberry-Chip Ice Cream. Sweet, tart and the color is to die for. The blackberries were picked by yours truly.
4. Raw Kale Salad with Maple-Mustard Dressing. A staple in my kitchen for years.
5. Homemade Irish Cream. Give it as a gift or drink it all yourself. I will never tell!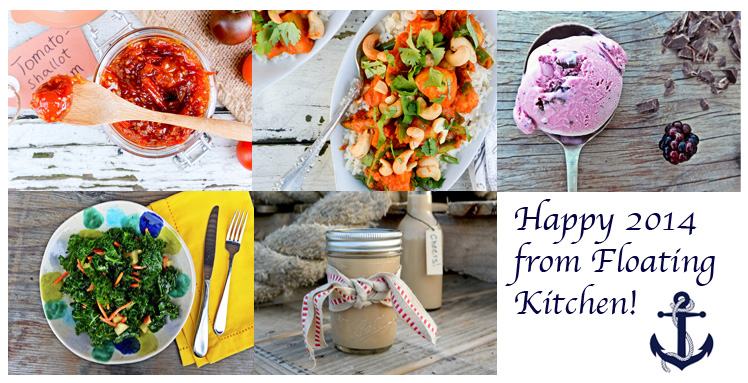 Wishing you all a 2014 filled with happiness, health and of course delicious food!
Cheers,
Liz
The Holidays are all about making things special. So why serve regular whipped cream when you can serve Hot Cocoa Whipped Cream. Am I right? Can I get a "heck yeah!"?
OK, I'll stop yelling now.
I almost feel silly sharing this recipe with you guys today, because it can hardly even be called a recipe. All I did was add some hot cocoa mix to my heavy whipping cream while I was beating it in my mixer. But this one teeny tiny little change turns plain whipped cream into something indulgent and festive. It kind of tastes like a really lightly flavored chocolate-mousse. And there is nothing wrong with that.
This Hot Cocoa Whipped Cream is a delicious way to top a big mug of hot chocolate. But it's also great with coffee, chai, pie and cake. Or simply put a dollop on some fresh strawberries or raspberries for a fun treat.
I used my Homemade Hot Cocoa Mix for this, but any hot cocoa mix that you have on hand should work.
I'm heading off to spend Christmas in New Hampshire, so things will probably be quiet around here for a few days. I hope you all have a wonderful Holiday!
Cheers,
Liz
Ingredients
1 cup cold heavy whipping cream
3 tablespoons hot cocoa mix
Instructions
Place the bowl of your mixer and the whisk attachment in your freezer for about 5 minutes to chill. Once chilled, remove the bowl and whisk from the freezer and immediately add the cream and the hot cocoa mix. Start whisking on low, gradually increasing the speed to high. Continue to whisk until the cream thickens and peaks form.
Whipped cream is generally best when it's used immediately after making, but it can be stored in the refrigerator for a couple hours if necessary.
https://www.floatingkitchen.net/hot-cocoa-whipped-cream/