Phew. I really overindulged at Thanksgiving this year. And then I continued to do so for several days post-Thanksgiving. When you're the host, you get ALL the leftovers! I've had pie for breakfast more days then I care to admit to on this blog.
So I'm on a self prescribed detox. Which isn't as bad as it sounds. Because it means I get to eat my favorite winter salad.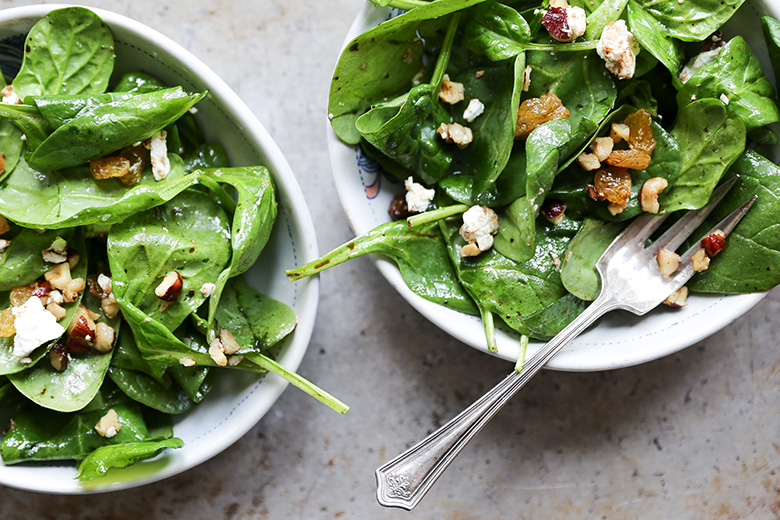 I know this Wilted Spinach Salad with Hazelnuts, Goat Cheese and Raisins doesn't look like much, but it's THE BOMB. Seriously. I've served it as part of my Thanksgiving dinner for 3 years now, and my guests always comment on how incredible it is and I usually catch them going back for seconds. Which should tell you something about the merits of this salad. You guys! People are having seconds of SALAD on the most overindulgent eating day of the year. Yes, it truly is that good.
The trick to making this salad so flavorful with such a short list of ingredients is heating the olive with the hazelnuts and garlic, which helps to bring out and enhance the flavors and aromas. It's a step that you definitely don't want to skip!
Cheers,
Liz
Recipe from Mollie Katzen at Cookstr
Ingredients
12 ounces baby spinach leaves
1/4 cup extra-virgin olive oil
1/2 cup hazelnuts, coarsely chopped
1 tsp. minced garlic
1/4 cup golden raisins
1/3 cup goat cheese, crumbled
3 tablespoons balsamic vinegar or red wine vinegar
1/8 tsp. salt
1/8 tsp. black pepper
Instructions
Place the spinach leaves in a large bowl and set aside.
In a small saucepan, warm the olive oil over medium heat. Add the chopped hazelnuts to the oil and cook, stirring frequently, until they begin to turn golden and become fragrant, about 3 minutes. Add the minced garlic and cook for one minute more. Remove from the heat.
Drizzle the warm oil mixture over the spinach, tossing until it's well coated. Add the raisins and goat cheese, tossing to combine. Sprinkle with the vinegar, salt and pepper. Serve immediately.
https://www.floatingkitchen.net/wilted-spinach-salad-with-hazelnuts-goat-cheese-and-raisins/