This post was originally published here on August 29, 2014. It's a favorite recipe of mine, so I thought it was worth re-visiting with new and improved photos. I hope you try it out!
I have been in a MEGA salad mood these past couple of weeks. Like, I literally can't stop eating salads. They're all I want. All day. Every day.
I've always been a big salad eater. But you know how there are some days when you're just eating a salad because you feel like you're suppose too be. Like, maybe you're trying to erase some poor choices from the day before. Yeah. I've had my fair share of those moments (most recently, this past Saturday). I think we all have.
But lately, I don't feel like that at all. My appetite for salads has been insatiable. Luckily for me, there is an overwhelming amount of delectable Summer produce available right now. So feeding my salad desires has never been so easy. Or delicious.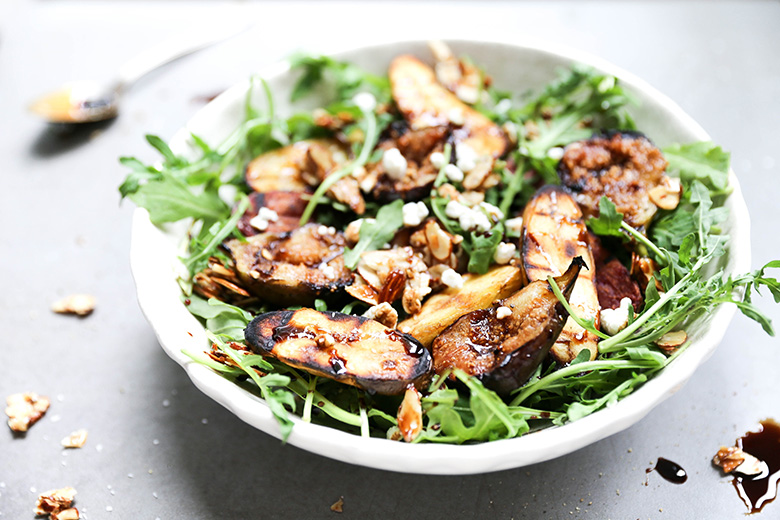 This Grilled Potato and Fig Salad with Maple-Almond Clusters has been a favorite recipe of mine for years now. And it's currently making it's way back into heavy rotation. I'm literally obsessed with this salad. And as long as I can reliably find fresh figs at the grocery story, that obsession will continue. Fig season is SO SHORT (which pains me greatly). So when they are around, you know damn straight I'm taking advantage of them in every way possible.
I'm also taking advantage of my grill while the weather allows, grilling both the potatoes and the figs for this recipe. The potatoes do require a little pre-cooking, which helps them to cook evenly on your grill without burning. But it's worth the extra step. Because everything tastes better from the grill. Even salads.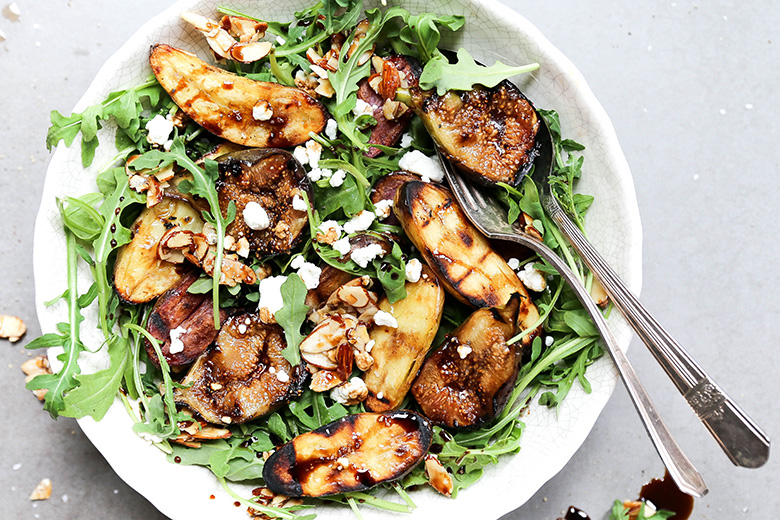 I find that I don't need much in the way of dressing for this salad. Just a drizzle of reduced balsamic vinegar is plenty for me. But you can add some extra-virgin olive oil, if desired.
Beware these maple-almond clusters. They are pretty much like crack. CRACK I tell you! It takes a lot of willpower not to eat (demolish?) the entire batch in one sitting. You might want to just go right ahead and double the recipe, so you have enough for nibbling on and for topping this salad. Trust me when I say they are highly addicting.
Cheers,
Liz
Ingredients
1 cup sliced almonds
3 tablespoons maple syrup, divided
1/4 tsp. salt, plus more for finishing the salad
1.5 lbs fingerling potatoes
16 fresh figs, cut in half lengthwise
3 tablespoons extra-virgin olive oil, divided
1/2 cup balsamic vinegar
6-8 cups arugula
4 ounces crumbled goat cheese
Black pepper
Instructions
Make the maple-almond clusters. In a dry skillet over medium heat, toast the almonds until they become fragrant and have started to brown slightly, about 2 minutes. Watch them carefully and stir frequently so they don't burn. Add in 1 1/2 tablespoons of the maple syrup and 1/4 tsp. of salt, stirring until the almonds are well coated. Remove the skillet from the heat and spread the almonds out onto a parchment-paper lined baking sheet. Set aside to cool.
Cook the potatoes. Place the potatoes in a large saucepan and cover them with 1-2 inches of cold water. Place the saucepan over medium-high heat and bring the water to a boil. Then reduce the temperature to maintain a simmer and cook the potatoes, uncovered, until they are just fork tender, about 10-15 minutes. Be careful not to overcook the potatoes because you want them to maintain their shape for grilling. Drain the potatoes and set them aside to cool slightly. Once they are cool enough to handle, slice the potatoes in half lengthwise.
Pre-heat your grill to medium-high. In a large bowl, gently toss the potatoes in about 2 tablespoons of olive oil. In a separate bowl, gently toss the figs in about 1 tablespoon of olive oil. Grill the potatoes and the figs, placing them directly on the grill grates. The potatoes take about 2-3 minutes per side. The figs are more fragile and will only take about 1 minute per side. Remove the potatoes and figs from the grill and place them on a large plate or baking sheet.
To make the dressing, combine the balsamic vinegar and the remaining 1 1/2 tablespoons of maple syrup in a small heavy bottom saucepan over medium-high heat. Simmer until the balsamic vinegar is reduced to about 1/3 of a cup, about 5 minutes. Remove from the heat.
Assemble the salads. Divide the arugula evenly between 4 plates. Top with the grilled potatoes, grilled figs, goat cheese and the maple-almond clusters. Drizzle with the balsamic reduction and sprinkle with a pinch of salt and black pepper. Enjoy immediately.
https://www.floatingkitchen.net/grilled-potato-and-fig-salad-with-maple-almond-clusters/
I'm super excited about today's recipe. Because PIZZA!!!
It's probably one of my most loved foods. I could eat pizza almost every night and not complain. And I'll take any version you want to throw at me. Deep dish, thin crust, wood-fired, plain or fully loaded. It's all good.
We have something here in coastal New England that we affectionately call "beach pizza". I'm sure others have this too. But it's basically the thinnest crust ever, sauce and cheese. No frills. Served on a paper plate. A bit greasy. And cheap as all get out.
I love it. I crave it. And when I moved back here from the West Coast, it was one of the first things I ate.
This Grilled Balsamic Chicken Salad Pizza with Fresh Strawberry Salsa is WAY fancier than my beloved beach pizza. But it's pizza nonetheless. And I'm obsessed with it.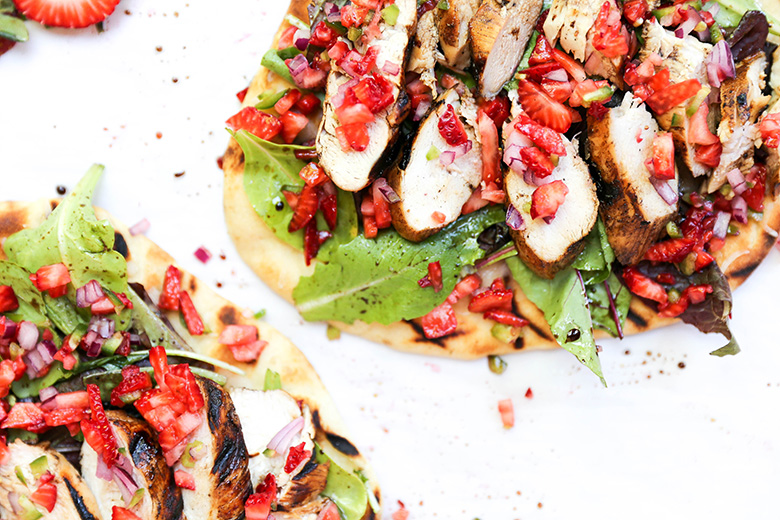 The other thing I'm obsessed with lately is store-bought naan (I typically buy the Stonefire Tandoori Naan). I got hooked on this stuff a couple months ago and there has been no turning back. Because it makes life really easy. I warm it up either in my oven or on my grill. And then I go to town with all the toppings.
Today's version has some marinated grilled chicken breast, mozzarella cheese, mixed salad greens and a sweet and spicy strawberry- jalapeño salsa. It's everything you need for a complete meal all in one neat little package. And it's ready in just about 30 minutes. I guarantee you'll be making this one all Summer long!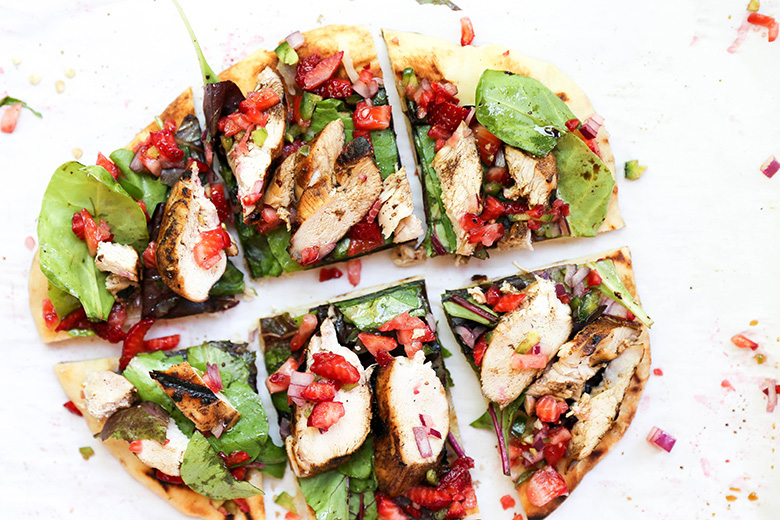 Be sure to look for the thin cut chicken breasts in your grocery store. They cook up much quicker, helping to get this meal on the table FAST!
It's also the first Thursday of the month, which makes today 30 Minute Thursday! Check out the links below to see what some of my blogging friends have cooked up for June. I hope you find some inspiration for your next dinner!
Cheers,
Liz
Ingredients
For the Pizza
2 tablespoons extra-virgin olive oil
2 tablespoons balsamic vinegar
1/4 tsp. salt
1/4 tsp. black pepper
2 thin cut boneless, skinless chicken breasts
3 cups mixed salad greens
2 pieces naan
1 cup shredded mozzarella cheese

For the Salsa
1 cup diced strawberries
1/4 cup diced red onion
1/2 jalapeño pepper, diced
Instructions
In a small bowl, whisk together the olive oil, balsamic vinegar, salt and black pepper. Transfer 3 tablespoons of the dressing to a large zip-closure bag. Then add the chicken breasts to the bag and seal it closed, making sure to push out as much of the air as possible so that the dressing coats the chicken breasts on all sides. Let this sit for 10 minutes at room temperature.
Meanwhile, pre-heat your grill to medium-high.
Toss the mixed greens with the remaining dressing. Set aside.
Combine all the ingredients for the salsa in a small bowl. Set aside.
Remove the chicken breasts from the zip-closure bag and place them directly on your grill, discarding any leftover dressing. Cook the chicken breasts until they are no longer pink on the inside and the juices run clear, about 5-7 minutes per side. Remove and transfer the grilled chicken breasts to a clean plate. Tent with aluminum foil to keep warm. Allow the chicken breasts to rest for 3-5 minutes before slicing them into strips.
Meanwhile, warm the naan on your grill for 1 minute per side. When you flip the naan to the second side, sprinkle the tops with the mozzarella cheese, dividing it evenly between the two pieces of naan. Remove the naan from the grill and place each piece on clean plate with the cheese-side facing up.
Top each piece of naan with half of the dressed salad greens, half of the sliced chicken breasts and a couple spoonfuls of the fresh strawberry salsa. Slice and serve immediately.
https://www.floatingkitchen.net/grilled-balsamic-chicken-salad-pizza-with-fresh-strawberry-salsa/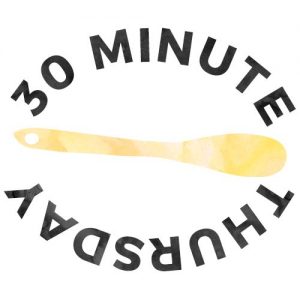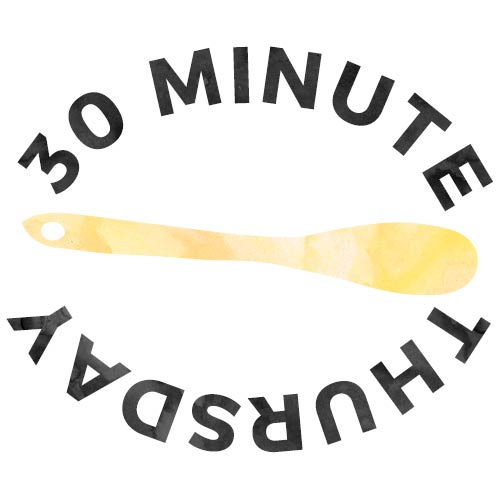 Creamy Sausage and Mushroom Rigatoni by Pumpkin 'N Spice
Chicken Caesar Pasta Salad by Life Made Sweeter
Blackened Fish Taco Bowls with Corn Salsa by Bake Eat Repeat
One Pot Creamy Vegan Caprese Pasta by She Likes Food
Vegetarian Portobello Mushroom Fajitas by Kristine's Kitchen
One Pot BBQ Chicken Pasta by The Recipe Rebel