In an effort to sell you on this milkshake, I was tempted to write something like "this milkshake would be a great way to use up leftover Halloween candy". But then I reconsidered that statement. Because who really has leftover Halloween candy. Not me. I just eat it right up. I don't need any tricky ways to try to consume it all. It somehow manages to disappear just fine all on it's own.
So instead, I want you to make this Chocolate Peanut Butter Cup Pumpkin Milkshake for one reason and one reason only: it's delicious.
I'm sure you know that peanut butter, chocolate and ice cream are already excellent friends. The pumpkin purée in here just kicks things up an extra notch. It makes you think "hey, what else is in this milkshake?", and then forces you to take another sip to try and figure it out. It's highly addicting. You've been warned.
In addition to slurping down a couple of these milkshakes (recipe testing = tough job!), I also indulged my sweet tooth this past weekend at the famous Chocolate Bar at The Langham in Boston. Abby and Sara came up to visit me, and we decided that an entire restaurant dedicated to chocolate was just the kind of place that three food-obsessed bloggers should dine at. It was a good decision. The photos of our table spread should be evidence enough.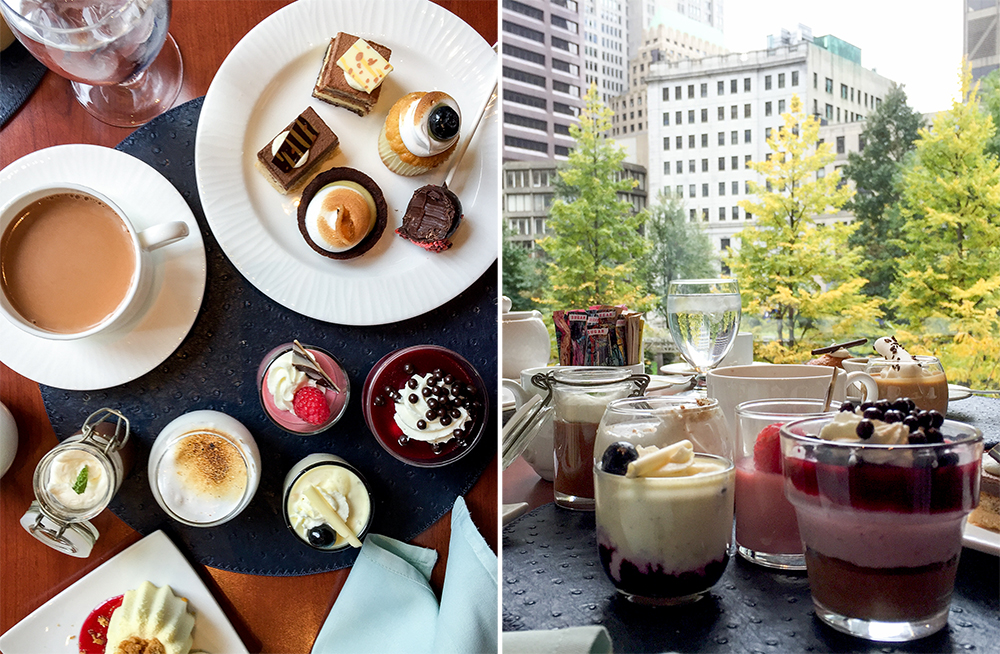 Definitely check it out if you're ever in the area. And in the meantime, DEFINITELY make yourself a Chocolate Peanut Butter Cup Pumpkin Milkshake. No leftovers required. In fact, you should probably go out and purchase extra peanut butter cups (hello day after Halloween candy sales!) just so that you are sure to have enough.
Cheers,
Liz
Ingredients
1 cup vanilla ice cream
1/2 cup milk (I used 2%)
2 tablespoons pumpkin purée
1 tablespoon peanut butter
1 tablespoon chocolate syrup
5 peanut butter cups (the full sized ones, not the mini ones), divided
Instructions
Add the ice cream, milk, pumpkin purée, peanut butter, chocolate syrup and 4 of the peanut butter cups to your blender. Blend on high until smooth. Pour into a glass. Chop the remaining peanut butter cup for garnish, if desired. Enjoy immediately.
https://www.floatingkitchen.net/chocolate-peanut-butter-cup-pumpkin-milkshake/
The are a lot of reasons to be head over heels in love with Fall. Especially here in New England. We've got picture perfect foliage. The best apple cider you've ever tasted. And chilly mornings that are made for cozy pajama-clad baking sessions.
My baked good of choice lately has been scones. For some reason, they just speak to me more during the Fall months than at any other time of the year. Maybe it's the rustic cragginess of their surfaces. Or the borderline cake-like texture of their interior (just say "no" to dry scones!). But crawling out of bed on a blustery Fall morning to mix up a batch of scones is an activity that simultaneously warms my kitchen and my soul.
Various versions of this scone recipe have been serving me well for over a year now. The base batter comes together fairly effortlessly and, most importantly, it stands up to whatever mix-in's I fold in. Today's recipe includes two of my favorite Fall flavors: pears and ginger.
I think pears are really underutilized in the Fall. Everyone is busy losing their minds over squash and apples (rightfully so I suppose), while pears seem to take a back seat to all the action. So I'm giving pears the love and attention they deserve by making them the star of the show in these Pear and Ginger Scones with White Chocolate Drizzle. It's the least I could do.
What's your favorite way to use pears? Tell me and let's share the pear love!
Cheers,
Liz
Recipe adapted from my Blood Orange Scones
Ingredients
For the Scones
2 1/2 cups all-purpose flour
1/2 cup sugar
1 tsp. baking powder
1/2 tsp. baking soda
1/2 tsp. salt
1/2 cup (8 tablespoons) cold butter, cut into pieces
2/3 cups, plus 1 tablespoon, heavy whipping cream, divided
1/4 tsp. vanilla extract
1 egg
2 tsp. grated fresh ginger
1/2 cup crystalized ginger, chopped (also sometimes labeled candied ginger)
1 cup chopped pear (from about 1 pear)

For the White Chocolate Drizzle
4 ounces white chocolate, chopped
1 tsp. coconut oil
Instructions
Pre-heat your oven to 425 degrees. Line a large baking sheet with parchment paper. Set aside.
In the bowl of your food processor with the blade attachment, combine the flour, sugar, baking powder, baking soda and salt. Add the cold butter and pulse until the butter is broken down into pea-sized pieces.
In a small bowl, beat together 2/3 cups of the heavy cream, the vanilla extract and the egg. Add this liquid mixture to your food processor along with the fresh grated ginger. Pulse until the dough has just come together. Add the crystalized ginger and pulse 2-3 more times.
Turn the dough out onto a floured counter top and using well floured hands, fold in the chopped pear. Be careful not to over work the dough. Shape the dough into a round disk and then cut it into eight wedges. Transfer the wedges to your prepared baking sheet, leaving about 1-2 inches between each wedge. Brush the tops with the remaining tablespoon of heavy cream.
Transfer your baking sheet to your pre-heated oven and bake for 13-15 minutes, or until the scones are slightly golden around the edges. Remove from the oven and allow the scones to cool on their baking sheet for 10-15. Then transfer them to a wire rack to continue cooling.
Once the scones have cooled, make the white chocolate drizzle. In a small heavy bottom saucepan (or in a double boiler) set over medium heat, melt the white chocolate with the coconut oil, stirring frequently. Once smooth, drizzle the melted white chocolate over the scones.
Scones are best when they eaten the day they are made. But they will keep for 2-3 days in an airtight container at room temperature. Allow the white chocolate to set before transferring them to a storage container.
https://www.floatingkitchen.net/pear-and-ginger-scones-with-white-chocolate-drizzle/