There are only a few days left until Thanksgiving, so I figured we could all use a cocktail right about now.
Also, at this late in the game I'm guessing you have your Thanksgiving menu pretty well squared away. Today probably isn't the time to share some newfangled recipe for stuffing, green bean casserole or pecan pie. Nope. Today feels more like a cocktail kind of day. More specifically, like an Apple Cider and Elderflower White Sangria kind of day.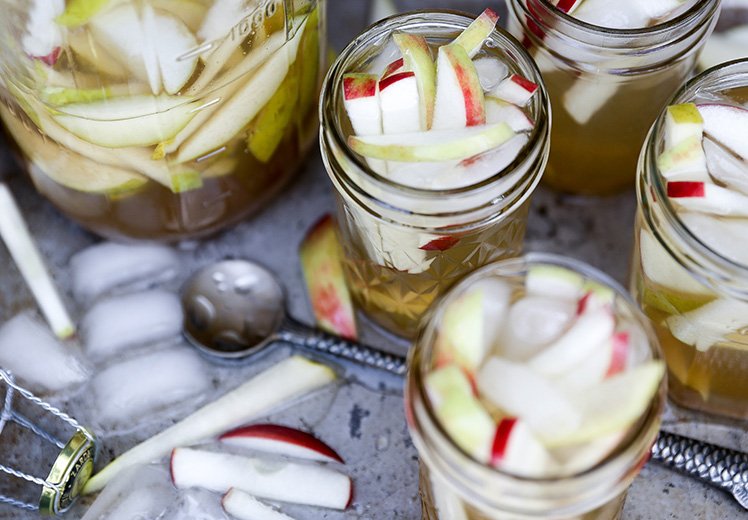 I firmly believe that sangria is the way to go when you're hosting a big event like Thanksgiving. Because as much as I enjoy crafting individual drink orders for my guests, it can be a bit overwhelming when you have 80 billion other things to accomplish in the kitchen. So instead, I like to just set out a pitcher of sangria with some serving glasses and let my guests take care of the rest!
While I'm usually a red wine drinker, I actually prefer the lighter, more refreshing quality of a white wine sangria when I know I'm about to enjoy a rather heavy meal. And I think white wine pairs so nicely with apple cider, which is one of my favorite Fall beverages. This year I was lucky to get some freshly pressed cider from a friend. And when I say "fresh", I'm not exaggerating. The time between picking the apples from the trees and pressing the cider was measured in hours, not days. This stuff was out of this world good.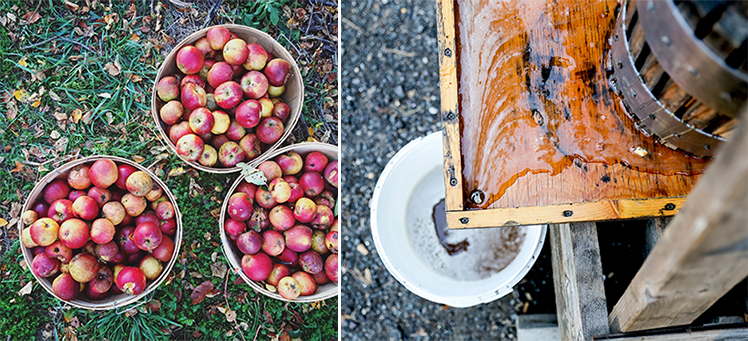 I won't be back with a new recipe until after Thanksgiving. I think the internet is full of enough delicious stuff at this point. If you try out my Apple Cider and Elderflower White Sangria, make sure to virtually stop by and tell me about it! And if you have any other burning Thanksgiving-related questions, feel free to give me a shout out on social media. I'll be lurking around the internet the next few days and I'm happy to help out if I can!
Have a wonderful Thanksgiving! I appreciate you!
Cheers,
Liz
Ingredients
2 cups fresh apple cider
2-inch piece fresh ginger, peeled and cut into 4 chunks
2 sprigs fresh rosemary
1/2 cup Elderflower liqueur
1 (750 ml) bottle Prosecco or other sparkling white wine
1 apple, cut into matchsticks
1 pear, cut into matchsticks
Ice cubes
Instructions
In a saucepan over medium heat, bring the apple cider, ginger and rosemary to a simmer. Cook for 5 minutes. Then remove from the heat, cover and let the cider cool to room temperature. Transfer to your refrigerator to chill for about 1 hour.
Strain the apple cider into a large pitcher or mason jar, collecting and discarding the ginger and rosemary. Gently stir in the elderflower liqueur, wine and fruit. Cover and refrigerator until you're ready to serve.
To serve, divide the sangria into glasses with ice, making sure to add a few pieces of fruit to each glass. Enjoy!
Notes
1. If you want more ginger flavor, you can leave the ginger pieces in the sangria (just don't add them to the serving glasses!).
2. A few dashes of Angostura bitters is a nice addition to your glass, if you are so inclined.
https://www.floatingkitchen.net/apple-cider-and-elderflower-white-sangria/