Today we're talking about two of my favorite things: grilled cheese sandwiches and money.
How's that for some transparency on a Friday morning?
OK, I'm sort of just kidding. And to clarify, I'm kidding about the money part and not about the grilled cheese sandwich part. Because grilled cheese sandwiches really ARE one of my favorite things. In fact, when Gabriel Soh, host of The Dinner Special, asked me what my last meal would be, my answer was a grilled cheese sandwich. Made by my mom, of course.
So given my deep love for grilled cheese sandwiches, I certainly couldn't let National Grilled Cheese Month pass without making something really epic.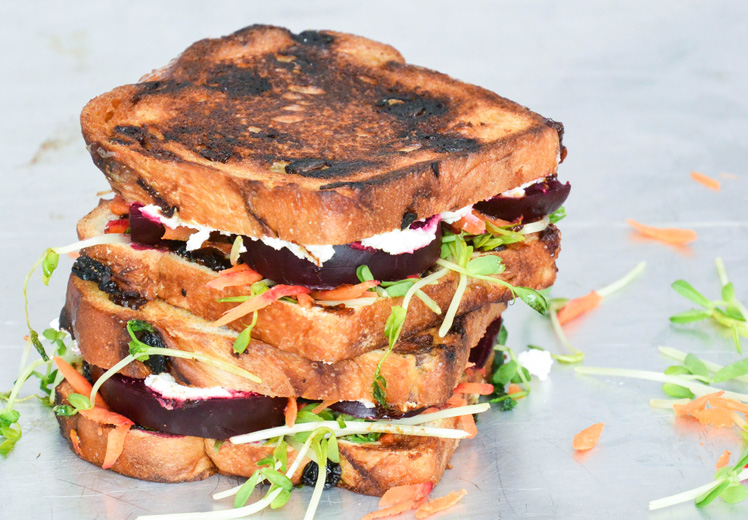 At first glance, you might be thinking that some of these ingredients (carrots? beets? cinnamon raisin bread?) don't really belong in a grilled cheese sandwich. But I'm here to let you know that you would be incorrect in those assumptions. Because all these seemingly odd ingredients come together perfectly to make an out-of-this-world, totally bad-ass, savory-sweet, grown-up grilled cheese sandwich. BOOM! So put a little trust in your old pal Liz and try my Beet and Whipped Feta Grilled Cheese. You won't be disappointed.
And IF for some chance you totally hate it, you have my permission to go back to making the old standby: white bread + American cheese.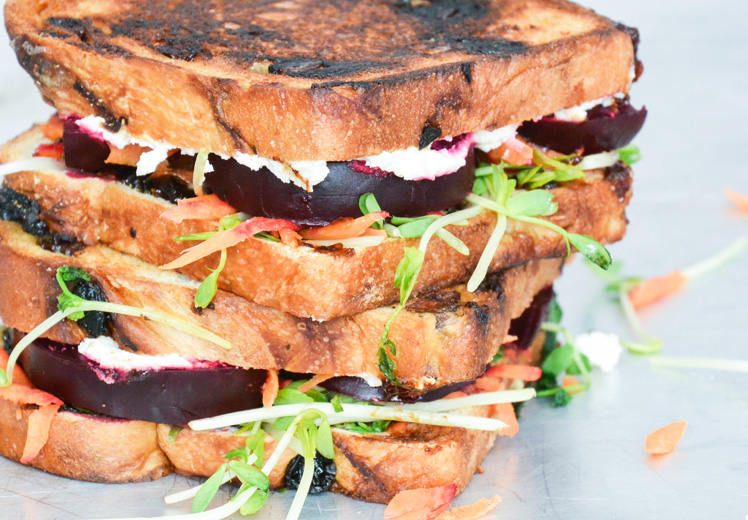 OK, now let's talk money. In the form of a $500 Amazon Gift Card.
I've teamed up with some of my blogging friends to sponsor this awesome $500 Amazon Gift Card Giveaway. Because I appreciate you. And because taxes are a bummer. And because I want you to buy all the grilled cheese sandwiches in all the land. To enter, just use the Rafflecopter widget below (scroll down past the recipe to get to the widget) to follow Floating Kitchen on Pinterest and visit me on Facebook. And make sure to follow the other eleven bloggers participating in the giveaway to increase your chances of winning. Get your entries in by April 30, 2015. Good luck! Update: This giveaway has ended and a winner has been chosen. Thank you to all who participated! This giveaway was sponsored by myself and some other fabulous bloggers and was not affiliated with Amazon.com.
Cheers,
Liz
Ingredients
4 medium beets, trimmed and washed
About 1 tablespoon extra-virgin olive oil
4 ounces feta cheese crumbles, room temperature
1/3 cup whipped cream cheese, room temperature
8 slices cinnamon raisin bread
2 medium carrots, peeled and shredded
About 1/2 cup greens (pea shoots, arugula or spinach)
4 tablespoons fig jam
About 2 tablespoons of butter
Instructions
Cook the beets. Pre-heat your oven to 425 degrees. Place the beets on a large sheet of aluminum foil and drizzle with olive oil. Wrap the aluminum foil to create a sealed packet. Place the beets in your pre-heated oven (you can place a baking sheet or a second piece of aluminum foil underneath to catch any drips) and bake for 45-60 minutes, or until the beets can easily be pierced with a small pairing knife. Remove from the oven and set aside to cool. Once the beets are cool enough to handle, use your fingers to remove/rub the peel from the beets. Slice the peeled beets into 1/4-inch rounds and set aside.
While the beets are cooking, make the whipped feta. Add the feat cheese to the bowl of your food processor with the blade attachment. Process until very small crumbs are formed. Add the whipped cream cheese and blend until smooth, scraping down the sides of the bowl as necessary. Transfer to a small container and set aside.
Assemble the grilled cheese sandwiches. Spread the whipped feta on four slices of the cinnamon raisin bread, dividing it evenly between the four slices. Top with the sliced beets, cutting them to fit as necessary. Then top with the shredded carrots and the greens. Spread 1 tablespoon of the fig jam on the remaining four slices of bread. Place the slices top of the sandwich, the fig jam side facing the inside.
Cook the sandwiches. Heat a large non-stick skillet over medium heat. Melt about 1 tablespoon of the butter. Add the sandwiches, working in batches and adding more butter if necessary, and cook them on both sides until the bread is golden brown and the insides are warm. Remove the sandwiches from the skillet. Slice and serve immediately.
https://www.floatingkitchen.net/beet-and-whipped-feta-grilled-cheese/