The blackberry bushes in Seattle are heavy with little purple gems, making blackberries a dime a dozen these days. So my harvesting continues. Despite my sore fingers and woefully scratched arms.
For a while now, I've been meaning to make my great Auntie Dot's famous raspberry squares. She made THE BEST raspberry squares around. And she always had a tin waiting for me (and all her other guests) upon arrival.
Sadly, I don't have her exact recipe and she passed away several years ago. But after talking to my Mom and a few other relatives, I think our collective memories were able to piece together something similar to her original creation.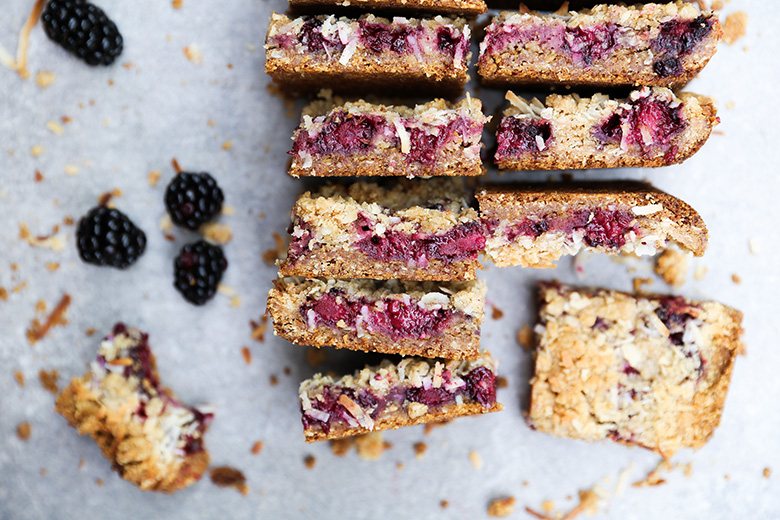 But then of course, these aren't raspberry squares. These are Blackberry Squares. I had full intention of making raspberry squares, but my overwhelming pile of fresh blackberries made me reconsider that. So while these don't taste exactly like my Auntie Dot's raspberry squares, I have to say they turned out pretty darn good.
These Blackberry Squares are perfect for snacking on at anytime of the day (dare I even say for breakfast!!). They are equal parts tart and sweet. And they somehow manage to be both moist and a bit crumbly, too. Try 'em plain or with a scoop of vanilla ice cream piled on top!
Cheers,
Liz
Ingredients
For the Crust
1 cup all-purpose flour
1/2 cup almond flour
1 1/4 cups oats (old fashion or quick cooking will both work)
1 cup packed brown sugar
3/4 tsp. salt
3/4 tsp. baking powder
1/2 tsp. baking soda
1/2 tsp. cinnamon
3/4 cups (12 tablespoons) unsalted butter, cut into cubes
1/3 cup shredded coconut

For the Blackberry Filling
1 lb fresh blackberries
1/4 cup packed brown sugar
2 tablespoons all-purpose flour
Zest from 1 lemon
1/4 cup lemon juice
2 tablespoons unsalted butter, melted and cooled
1/2 tsp. cinnamon
Instructions
Pre-heat your oven to 350 degrees. Line a 9 X 13-inch baking pan with parchment paper, letting the sides hang over the edges. Spray the parchment paper with non-stick cooking spray and set aside.
Make the bottom crust layer. In your food processor with the blade attachment, pulse together the flours, oats, brown sugar, salt, baking powder, baking soda and cinnamon. Add the cubed butter and pulse until the mixture comes together into a loose crumb. Remove 1 1/4 cups of this mixture and set it aside into a medium bowl (this will be for the topping). Dump the remaining crust mixture into your prepared baking pan. Spread it out evenly, patting it down with your hands or the back of a measuring cup to form a uniform layer across the bottom of your pan. Bake the bottom crust in your pre-heated oven for 15 minutes. Remove the pan from the oven and set it on a wire rack to cool for 10 minutes. Leave your oven set to 350 degrees.
Meanwhile, add the shredded coconut to the reserved 1 1/4 cups of crust mixture and toss to combine. Set aside.
Make the blackberry filling. Add all of the ingredients for the filling to a medium bowl and toss gently to combine. Set aside.
Once the bottom crust has cooled for 10 minutes, add the blackberry filling and distribute it evenly over the entire bottom crust layer. Then sprinkle the crust topping evenly over the blackberry filling. Transfer to your pre-heated oven and bake for 40 minutes, rotating the pan half way through baking time. The filling should be bubbling around the edges and the top should be golden brown.
Remove from the oven and set the pan on a wire rack to cool completely. Then transfer the pan to your refrigerator for a couple hours to chill. Once chilled, use the overhanging parchment paper edges to lift the blackberry squares out from the baking pan and onto a cutting board. Slice into squares.
The blackberry squares can be stored in an airtight container in the refrigerator for up to 3 days.
https://www.floatingkitchen.net/blackberry-squares/