Disclosure: I am an ambassador for Rodelle, which means they occasionally provide me with ingredients to use in my kitchen. And sometimes they even help to sponsor fun giveaways like this one! As always, all opinions are entirely my own. Thanks for supporting brands and companies that I love and trust.
Happy Birthday to ME! And it's a big one, friends. Thirty-five.
Oouf. Typing that out was like taking a teeny tiny bullet.
But gosh darn it if I don't look a day over 25 and I still have the maturity level of an 18 year old. So if we do some quick math and average those three pesky numbers together, that has me clocking in at a mere 26 years old. That is now officially my new number. I've decided. Let's move on.
Given that it's my birthday, I of course made myself a cake. I decided to make a crêpe cake, because (1) they are gorgeous and (2) it's crazy hot and I don't want to turn my oven on.
Also, if we wanted to be reflective and symbolic, we could wax poetic about how the layers in a crêpe cake are imperfect. And maybe even considered a bit messy by some. But with time and a little hard work, what results from building all those layers together is something truly unique and beautiful. Something authentic. Something to be valued. A crêpe cake is kind of like life in all it's towering perfectly, imperfect glory.
But I wouldn't want to get too emotional on you on a Friday. Really, I just didn't want to turn my oven on.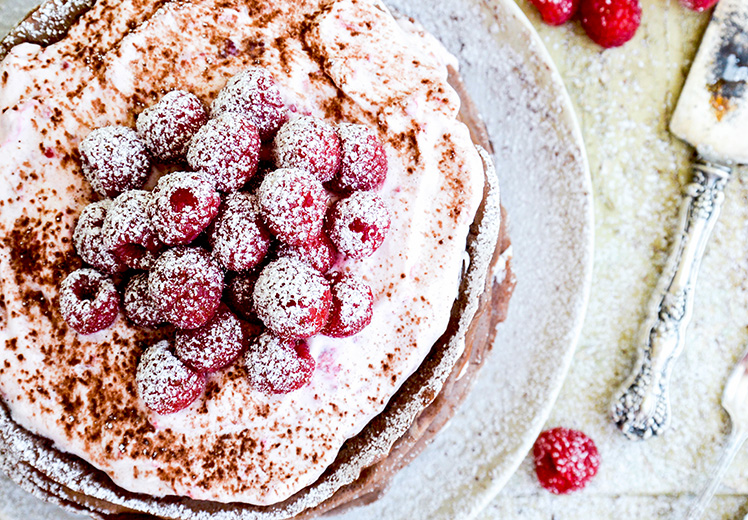 I would love to be able to celebrate and share this Chocolate-Raspberry Cream Crêpe Cake with all of you. But that would be a shipping nightmare. So instead I've teamed up with my good friends at Rodelle to share something a bit more shelf-stable. In honor of my birthday, Rodelle is generously giving away a set of four fabulous baking essentials to one lucky Floating Kitchen reader. Yeah! The set includes (1) one 4-ounce bottle of Pure Vanilla Extract, (2) one 2-ounce bottle of Organics Chocolate Extract, (3) one 2-count bottle of Madagascar Bourbon Vanilla Beans and (4) one 8-ounce container of Gourmet Baking Cocoa. You'll be whipping up crêpe cakes in no time! And lots of other goodies too!
To enter the giveaway, just scroll down past the recipe and use the Rafflecopter widget below. Make sure to get your entries in by June 19, 2015! Good luck! Update: This giveaway has ended and a winner has been selected. Thank you to everyone who participated. And thanks Rodelle for sponsoring this giveaway!
And if you happen to see me out on the street today, tell me I look 25. Pleeeaaaasse!!!!!!
Cheers,
Liz
Recipe adapted from my White Chocolate and Peppermint Crêpe Cake
Ingredients
For the Crêpes
3-3 1/2 cups whole milk
3 eggs
2 1/4 cups all-purpose flour
1/2 cup Rodelle Gourmet Baking Cocoa
1/4 cup sugar
1 tsp. baking powder
1 tsp. Rodelle Organics Chocolate Extract
3 tablespoons unsalted butter, melted
Butter for greasing the pan

For the Filling
2 cups heavy whipping cream
1 tsp. Rodelle Pure Vanilla Extract
1 1/4 cups powdered sugar, divided
8 ounces mascarpone cheese, softened at room temperature
2 1/2 cups fresh raspberries

For Garnish
Fresh raspberries
Powdered sugar
Rodelle Gourmet Baking Cocoa
Instructions
Make the crêpe batter. Add 3 cups of the milk and the remaining ingredients, expect for the butter to be used for greasing the fry pan, to your blender. Blend on high for about 30 seconds. Then stop and scrape down the sides of the blender. Blend for an additional 20-30 seconds. The batter should be well combined and free of lumps. Let the batter rest in the refrigerator for 1 hour.
Cook the crêpes. Remove the crêpe batter from your refrigerator and whisk it gently. The batter should be the consistency of heavy cream. If it's too thick, whisk in some whole milk to thin it slightly, starting with a couple tablespoons at a time and adding more as necessary. Then heat a 9-inch non-stick skillet over medium heat and very lightly grease it with butter. Pour a scant 1/3 cup of batter into the fry pan while simultaneously swirling and tilting the pan so the batter coats the bottom of the pan evenly. Cook until the edges begin to set and lift away from the side of the pan, about 1 minute. Gently lift one side of the crêpe with a small spatula, then quickly and carefully flip the crêpe over using your fingers. Cook the crêpe for an additional 30 seconds. Remove the crêpe and place is on a large plate. Continue with the rest of the batter until all the crêpes are cooked, stacking the crêpes on the plate as they are cooked, and greasing the pan with butter as necessary (you should be able to cook about 4-5 crêpes before needing to re-grease the pan). Once all the crêpes are cooked, cover the stack with plastic wrap and refrigerate until completely cooled. You should have about 25 crêpes.
Once the crêpes are completely cooled, make the filling. Place the bowl of your mixer and the whisk attachment in your freezer for about 5 minutes to chill. Then remove them from the freezer, immediately add the heavy whipping cream and the vanilla extract and start beating on high speed. Once the mixture starts to thicken, turn off your mixer and add 1 cup of the powdered sugar. Continue whisking until peaks form. Beat in the softened mascarpone cheese until just incorporated. In a small bowl, mash the raspberries with the remaining 1/4 cup of powdered sugar. Gently fold the mashed raspberries into the whipped cream mixture.
Assemble the cake. Place one crêpe on a serving plate and spread an even layer of the filling on top, leaving about a 1/2-inch border around the edge. Layer another crêpe on top, repeating the layers until all the crêpes and the filling have been used up, finishing the top of the cake with the filling. Carefully transfer the crêpe cake to your refrigerator and allow it to rest for at least 4 hours or up to overnight.
Before serving, garnish the cake with fresh raspberries and a dusting of powdered sugar and baking cocoa. Slice and serve.
https://www.floatingkitchen.net/chocolate-raspberry-cream-crepe-cake/