Disclosure: I visited the following places as part of my attendance at Camp Gathering Maine 2015. All opinions expressed are entirely my own. Thank you for letting me share my experience(s) with you.
A few weeks ago I traveled up to Maine as part of Camp Gathering Maine, an event organized by April of Sweet and Simple Magazine that gave myself and some other bloggers the opportunity to explore a few of the local businesses and attractions that Maine has to offer. It was a glorious couple of days, filled with amazing food, postcard-like scenery and almost perfect weather.
I want to share some of the highlights with you here today. And hopefully convince you that you need to pack your bags for Maine STAT! So prepare yourself for a picture heavy post. Because Maine is freaking gorgeous.

Also, I'm bringing you guys a recipe for Classic Whoopie Pies. Because whoopie pies are the official state treat of Maine. Which should tell something about the folks up North: that they really know a thing or two about desserts. Because a chocolate cookie-cake hybrid baked good paired with a creamy marshmallow filling is a pretty gosh darn genius idea.
I'm mostly going to let the photos speak for themselves, and interject a few little tidbits here and there. So here we go.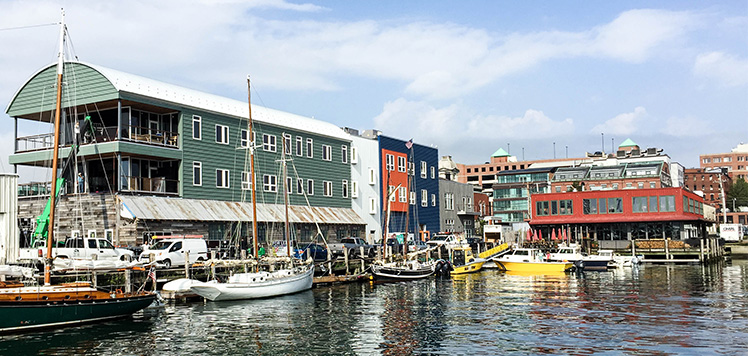 The event kicked off in Portland, the largest city in Maine that is known for it's hip restaurants, historic buildings and working marinas. From downtown we boarded Lucky Catch Cruises and headed out for a real lobstering experience. The Lucky Catch crew was incredibly knowledgeable (and fun!), and we got to help them bait and set traps, measure for "keepers" and band lobster claws. And the views out on the water are spectacular! Definitely a "must do" activity if you're ever visiting the Portland area.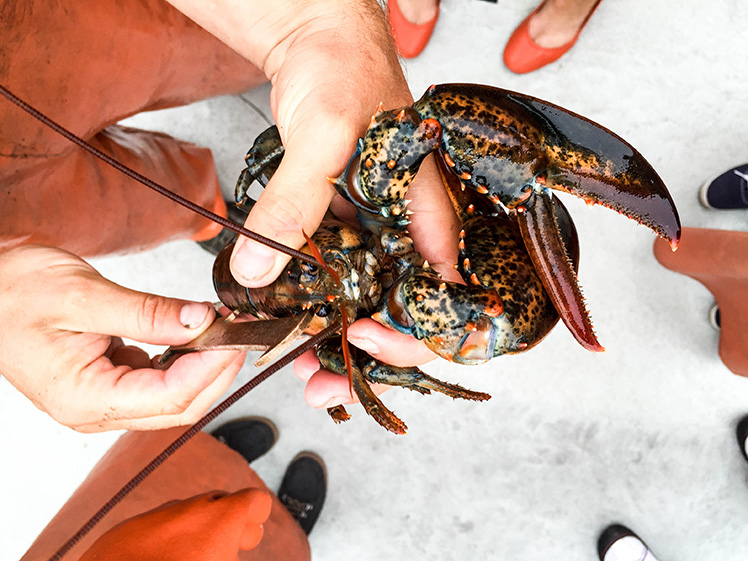 We only stayed on dry land for a few minutes, because once our trip on the lobster boat was finished, we boarded another boat and headed off to Great Diamond Island. We stayed the night at the Inn at Diamond Cove, which is stunning upscale hotel with bits of quintessential Maine charm everywhere you look. The rooms and hotel grounds are immaculate. And the staff has taken care of every detail you could possibly imagine. That night we enjoyed a classic New England-style lobster dinner at Diamond's Edge Restaurant. I even wore a lobster bib.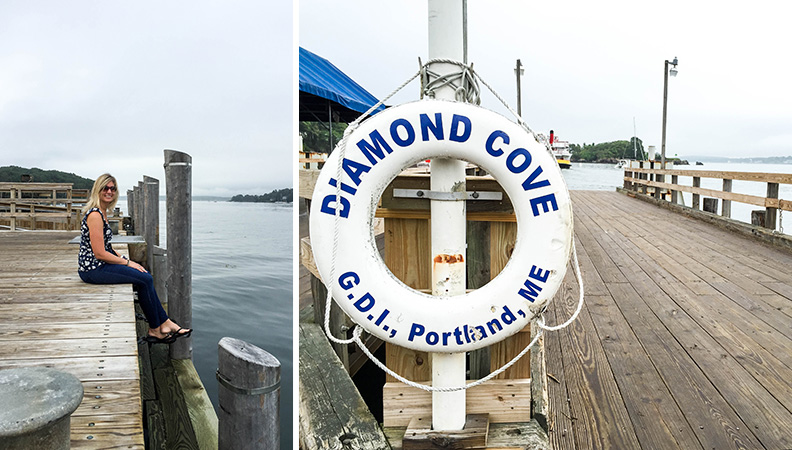 I didn't want to leave Great Diamond Island, but I knew good things were waiting for me in Kennebunkport. Including melt-in-your mouth blueberry pancakes with lemon curd from Salt & Honey. And delicious cold beers from Shipyard Brewing Co. at Federal Jacks. I just about tried them all.
One of my favorite aspects of the trip was getting to visit Hidden Pond. Hidden Pond is a luxury resort nestled on a beautifully wooded property that feels like it's a million miles away from the nearby bustling downtown streets of Kennebunkport. The private cabins are studded along dirt roads, interspaced with edible landscaping that you're encouraged to indulge in, and bike racks filled with cruisers that you're welcome to take for a spin.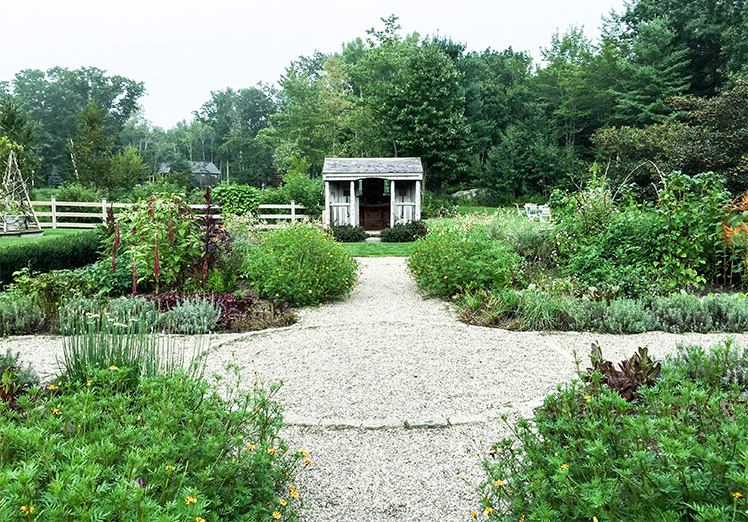 Hidden Pond has a quaint feel. But after about five minutes, you'll realize that this resort is anything but rustic. All the cabins are unique and carefully designed, have full amenities and you can even get pastries and coffee delivered to your front door each morning. I kind of wanted to move right in.
The resort has a pool and spa on the property for guests to enjoy, as well as a farm-to-fork restaurant and bar called Earth. And I'm just going to put this out there: the meal I had at Earth at Hidden Pond might just be the best meal I've ever had in my life. We were able to taste almost everything on the menu and it was all spectacular. Flavor combinations were on point, ingredients were ultra fresh (some of which were grown right on the property) and the service was flawless. It was magical.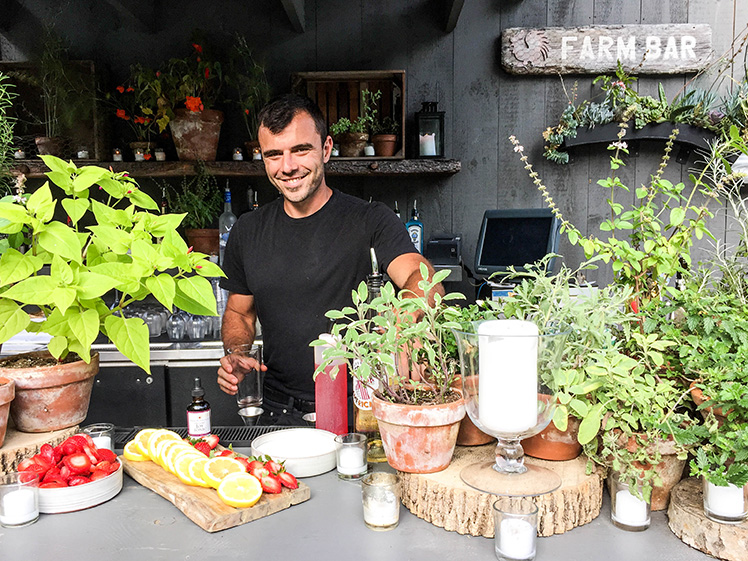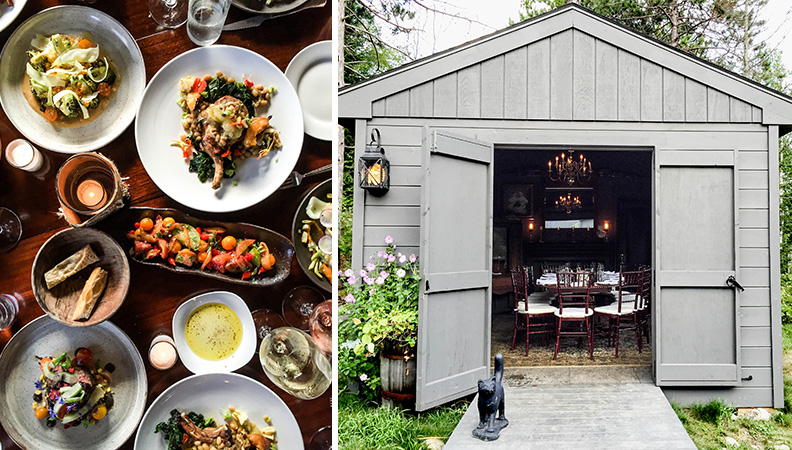 I had a blissful night's sleep at The Grand Hotel, which is one of Kennebunkport's newer hotels. It has classic New England architecture, elegant rooms and an onsite art gallery. And it's within walking distance of all the downtown shops and restaurants.
The last day we did a little shopping, grabbed an ice cream at Rococo's and visited the Bush's (and by "visited" I mean that we admired their massive seaside compound from the street) all before heading out.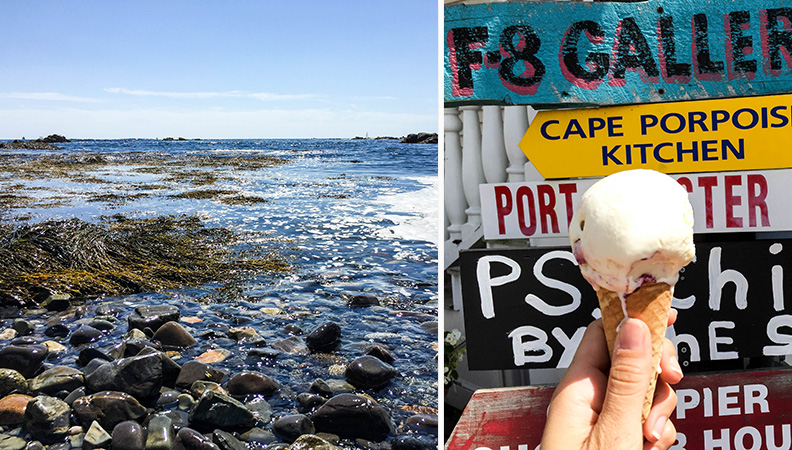 I came home with a renewed love of Maine. And a belly full of whoopie pies. I might have eaten one or two on my trip. Or maybe five. Shhh…don't tell.
Cheers,
Liz
Recipe from What's Cooking America
Ingredients
For the Cake
2 cups all-purpose flour
1/4 cup unsweetened cocoa powder
1 tsp. baking powder
1 tsp. baking soda
1 tsp. salt
1 tsp. vanilla extract
1 cup whole milk
1 cup packed brown sugar
1/2 cup vegetable shortening
1 egg

For the Filling
2 cups marshmallow creme/fluff
1 1/2 cups powdered sugar
1 cup vegetable shortening
1 1/2 tsp. vanilla extract
*Note: I ended up doubling this filling recipe
Instructions
Pre-heat your oven to 350 degrees. Grease a couple large baking sheets with non-stick cooking spray and set aside.
In a medium bowl, combine the flour, cocoa powder, baking powder, baking soda and salt. In a separate small bowl, combine the milk and vanilla extract. Set both aside.
In the bowl of your stand mixer with the paddle attachment, cream together the sugar, shortening and egg. Slowly add in the dry ingredients and the milk mixture, alternating back and forth between the two, beating until the batter is well combined and smooth.
Scoop the batter out into mounds on your prepared baking sheets, using a scant 1/4 cup for each mound and making sure to leave a couple inches in-between. Using the back of a spoon, spread the batter out into 4-inch circles. The batter will be thick and slightly sticky. Coating your spoon with a little non-stick cooking spray will help make this last step easier.
Transfer the baking sheets to your pre-heated oven and bake for 15 minutes. The cakes should be slightly firm to the touch when done. Remove them from the oven and allow the cakes to cool on their baking sheets for 5 minutes. Then transfer the cakes to a wire rack to cool completely.
While the cakes are cooling, make the filling. In the bowl of your stand mixer with the whisk attachment, beat together the marshmallow creme/fluff, powdered sugar and shortening until well combined. Beat in the vanilla extract. Note: I ended up doubling this filling recipe, making it in two separate batches, because I wanted a thicker layer of filling.
Assemble the whoopie pies. Spread some of the filling onto the flat side of one of the cakes. Top with a second cake, pressing down gently to distribute the filling evenly. Continue until all the whoopie pies are assembled.
Whoopie pies can be enjoyed immediately, or wrapped individually in plastic wrap and stored in your refrigerator for 2-3 days.
https://www.floatingkitchen.net/classic-whoopie-pies/