I'm just here to make sure we can all enjoy chocolate and beer at breakfast time.
It's a tough job. But somebody's got to do it.
These Double Chocolate Guinness Muffins are wonderfully soft and delicious. And while they don't taste strongly of Guinness, they do taste strongly of chocolate. And that's pretty darn cool. I dare you to try and eat just one. I didn't stop until two. OK, three. Possibly four. Don't judge me!
Truth be told, these babies are kind of teeter tottering on cupcake status. But don't tell anyone. Let's keep some secrets between us. It's way more fun that way.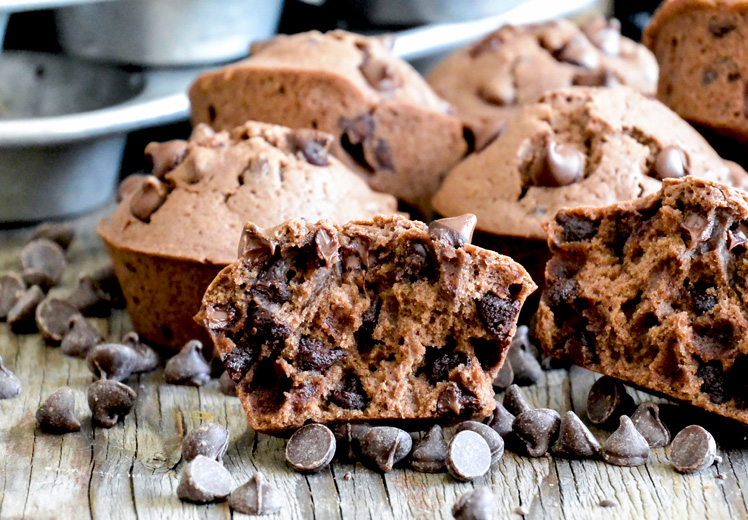 Yesterday I had the pleasure of having brunch with Carrie and Nicole, a couple other New England-based food bloggers. The thing I like so much about brunch is that you can usually get away with eating foods that you would never normally consider acceptable at breakfast time. Like duck fat french fries. And champagne. Yeah, we had both of those things. And also perhaps chocolate and beer disguised as a muffin. Just saying.
Cheers,
Liz
Ingredients
1/2 cup (8 tablespoons), unsalted butter, melted and cooled
1/2 cup Guinness stout beer
2 eggs
1 3/4 cups all-purpose flour
3/4 cups sugar
1/4 cup unsweetened cocoa powder
1 tsp. baking powder
3/4 tsp. salt
1 1/4 cups semi-sweet chocolate chips
Instructions
Pre-heat your oven to 375 degrees. Line a standard 12-cup muffin tin with liners or coat with non-stick cooking spray. Set aside.
In your stand mixer with the paddle attachment, beat the butter, Guinness and eggs on medium speed until combined. With the mixer on low speed, slowly add in the flour, sugar, cocoa powder, baking powder and salt, beating until the dry ingredients are just incorporated. Fold in the chocolate chips.
Scoop the muffin batter into your prepared muffin tin, dividing the batter evenly between the 12 cups. Transfer to your pre-heated oven and bake for 20-25 minutes, or until a toothpick inserted into the center comes out clean. Allow the muffins to cool in their tin for about 10 minutes, then remove and transfer them to a wire rack to continue cooling.
Muffins can be stored at room temperature in an airtight container for 2-3 days.
https://www.floatingkitchen.net/double-chocolate-guinness-muffins/