Hi Friends! How are you? How was your Christmas? Did you eat ALL the cookies?
We had some crazy warm weather here in New England. I wore flip flops and a tank top. Sat outside in my beach chair. Grilled lamb chops. And even debated going for a swim in the ocean. Which I decided against doing in the end, opting instead to send this cake into the crashing waves in place of myself. It was all very bizarre.
Anyways, now I'm busy trying to avoid consuming any more cookies and thinking about New Year's Eve plans. What do you traditionally make or eat on New Year's Eve? Do you slurp noodles? Sauté fish? Or just skip straight to the champagne?
I hope you answered "skip straight to the champagne". Because if so, then I have the perfect drink recipe for you today.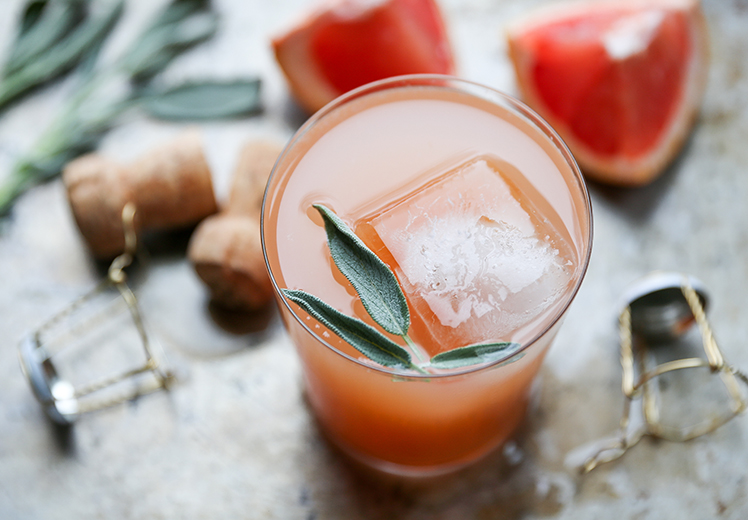 The history of this blog tells me that I apparently have a thing for grapefruit juice + champagne on New Year's Eve. Last year, I posted these Pink Grapefruit-Champagne Sorbet Floats. And this year, I'm sharing these easy Grapefruit and Sage Champagne Cocktails. I suppose the brightness of grapefruit juice is what makes it such an appealing way to celebrate the start of something new. And grapefruits are at their peak right now, so I just can't help buying up armfuls of them at the grocery store. And of course, bubbles are a must-have for any New Year's Eve party!
Given the seasonal abundance of grapefruits, squeezing your own juice is ideal. But if you're going to be making these Grapefruit and Sage Champagne Cocktails for a big crowd, then store bought grapefruit juice would do just fine.
Cheers,
Liz
Ingredients
For the Simple Syrup
1 cup sugar
1 cup water
2 bunches of fresh sage leaves

For the Cocktails
Pink grapefruit juice
Sage simple syrup
Angostura bitters
Ice cubes
Champagne or other sparkling white wine
Fresh sage leaves
Instructions
Make the simple syrup. Combine the sugar and water over medium-high heat, stirring occasionally, until the mixture starts to simmer and the sugar is completely dissolved. Stir in the sage and cook for 30 seconds more. Then remove the saucepan from the heat and set it aside to cool. Once the simple syrup has cooled to room temperature, remove and discard the sage. Transfer the simple syrup to a clean re-sealable container and store it in your refrigerator until you are ready to use it.
Make the cocktails. For a single cocktail, vigorously shake 3 ounces (6 tablespoons) grapefruit juice, 1 1/2 ounces (3 tablespoons) of the sage simple syrup and 2-3 dashes of bitters in a shaker with ice. Strain into a glass with fresh ice. Top with about 1/2 cup of champagne. Garnish with fresh sage leaves, if desired. Serve immediately.
Notes
1. If you don't have a cocktail shaker, you can use a mason jar and strain the mixture using a fine mesh strainer.
https://www.floatingkitchen.net/grapefruit-and-sage-champagne-cocktails/