Have you been watching Shark Week? Apparently it's in it's 27th year on the air. Umm…when did I get so old? Also, people who live on floating homes and who have irrational fears of sharks (see number 10) probably shouldn't obsessively watch television series that involve shark attacks. Just saying.
OK. Moving on. Sorry, I have no good segue from that.
Let's talk about this green salad. Which is unlike all the other green salads that you've probably made. It's got juicy honeydew melon, snap peas, peas, edamame and fresh mint, all wrapped up in a savory-sweet dressing.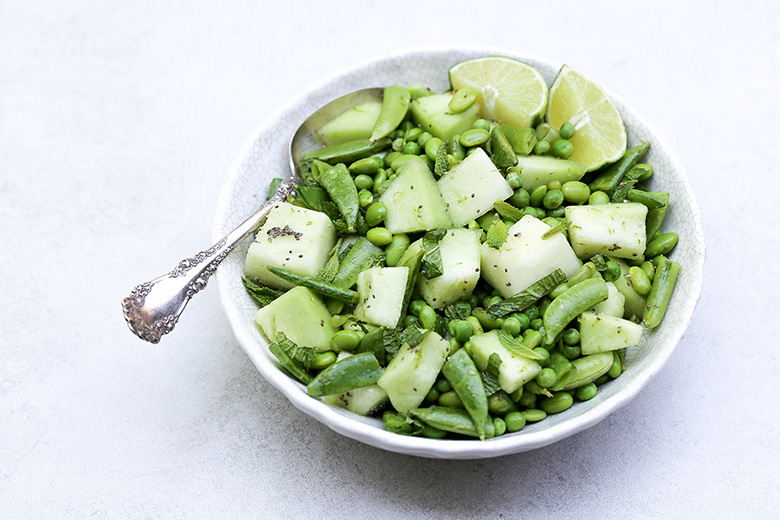 This creation has humble beginnings. Basically, I walked into my kitchen and threw everything I had in the refrigerator into a big bowl. I wasn't sure if the combination of honeydew melon with vegetables would be weird or not. But I went with it. And the results were damn fine. So much so, that I deemed it worthy of sharing with all of you.
This Honeydew, Pea and Edamame Salad with Sesame-Ginger Dressing is incredibly cool and refreshing. And it makes you feel like a million bucks when you eat it! It's perfect for even the hottest of Summer days!
Cheers,
Liz
Ingredients
For the Salad
4 cups honeydew melon, cubed
2 cups sugar snap peas, cut in half
1 cup shelled peas, thawed if frozen
1 cup shelled edamame, thawed if frozen
2 tablespoons fresh mint leaves, chopped

For the Dressing
1/4 cup apple cider vinegar
2 tablespoons sesame oil
1 tablespoon chia seeds
2 tsp. agave nectar
1/2 tsp. fresh grated ginger
Zest and juice of 1/2 lime
1/8 tsp. salt
1/8 tsp. pepper
Instructions
In a large bowl, combine the honeydew, peas, edamame and mint.
Whisk together all of the ingredients for the dressing. Pour the dressing over the salad, tossing gently to combine.
This salad can be served immediately. Or covered and refrigerated for a couple hours before serving.
https://www.floatingkitchen.net/honeydew-pea-and-edamame-salad-with-sesame-ginger-dressing/