CONFESSION: I drank one of these boozy milkshakes before noon.
I'm sorry. But I just couldn't help myself. I really like ice cream. And booze.
Also, I hate wasting food. It would have been a terrible, horrible, no good, very bad thing to dump this down the drain after I finished shooting it, right? Right?!?! Please someone tell me I'm right.
But let's not dwell on my limited self control and unwillingness to throw away food. Let's talk a little bit about the recipe.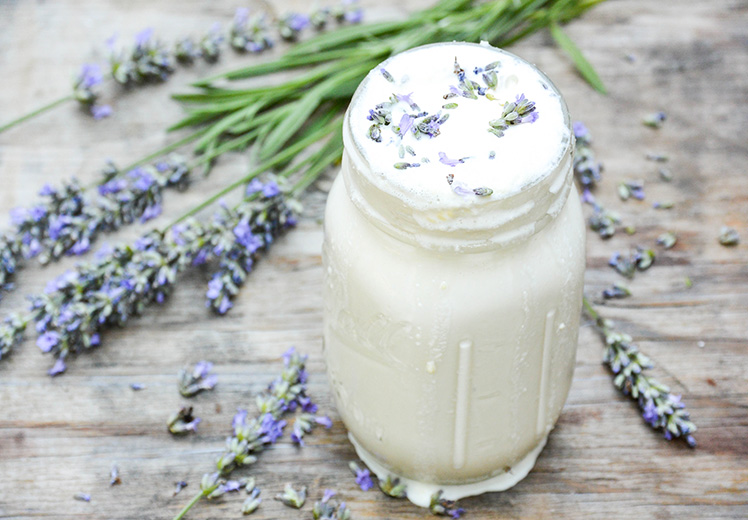 These Lavender and White Chocolate Boozy Milkshakes are truly an "adult beverage". And I don't just mean because of the vodka. The subtle floral elements give this drink a somewhat sophisticated feel. If there was ever such a thing as a high class milkshake, this is definitely it. This treat is totally worthy of a party, girls weekend or for when you're just sitting at home by yourself at 11am. Not that I know anyone who would do that last thing.
I was inspired to mix up these boozy milkshakes after spending some time in the rows of lavender that we currently have growing at Donabedian Farms. The plants are at their peak right now, and the purple, fragrant buds were being bombarded with pollinators of the six-legged variety the day that I was visiting (see if you can spot the dragonfly and ladybug in my photos!). Apparently, I find lavender just as tempting as the insects do, because I couldn't resist snatching some up to bring home and use in my kitchen.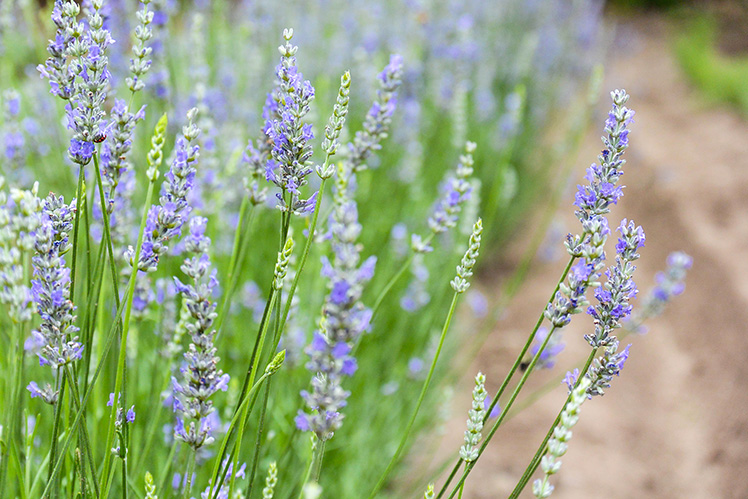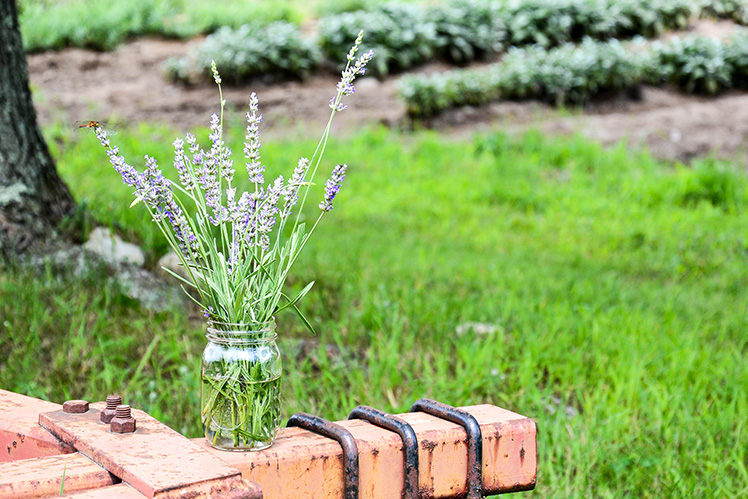 Please be aware that not all lavender is culinary grade lavender. Some is grown for ornamental purposes only. So make sure you are buying and using lavender that is safe to use in cooking. Dried culinary lavender can be found in specialty markets and in some grocery store chains. And if you're using fresh culinary lavender, just use the buds/flowers and not the stems/leaves.
Oh and one last note. The vodka takes a couple days to infuse with the lavender, so make sure you plan ahead!
Cheers,
Liz
Ingredients
For the Infused Vodka
3/4 cups vodka
1 tablespoon culinary lavender

For the Milkshakes
1 cup half and half
1 tablespoon culinary lavender
4 ounces white chocolate, chopped
8 cups vanilla ice cream
Instructions
Infuse the vodka. In a small re-sealable container (Mason jars work great for this), combine the vodka and the lavender. Seal and let the vodka sit for 36-48 hours (longer would be OK too) at room temperature. Then strain the vodka, collecting the infused vodka into a clean container. Discard the lavender.
Infuse the half and half. In a saucepan over medium heat, warm the half and half and the lavender until bubbles are just starting to form around the edges of the saucepan. Do not bring the mixture to a boil. Remove from the heat, cover and let the mixture sit for about 30 minutes. Then strain the mixture, collecting the infused half and half into a clean bowl. Discard the lavender. Place the infused half and half back into the saucepan and add the chopped white chocolate. Warm gently over low-medium heat, stirring frequently, until the white chocolate is just melted. Remove from the heat and set aside to cool.
Make the milkshakes. For one large milkshake, place 2 cups of ice cream, 1 1/2 ounces (3 tablespoons) of the infused vodka and 1/4 cup of the infused half and half/white chocolate mixture into your blender. Blend on high until smooth. Pour into a glass and enjoy immediately. You'll have enough ingredients to make four milkshakes.
https://www.floatingkitchen.net/lavender-and-white-chocolate-boozy-milkshakes/