So…am I being a total jerk for posting a cake recipe during the second week of January?
If I am, you guys can totally tell me. Be honest.
Well…maybe not too honest. I don't want my feelings to get hurt.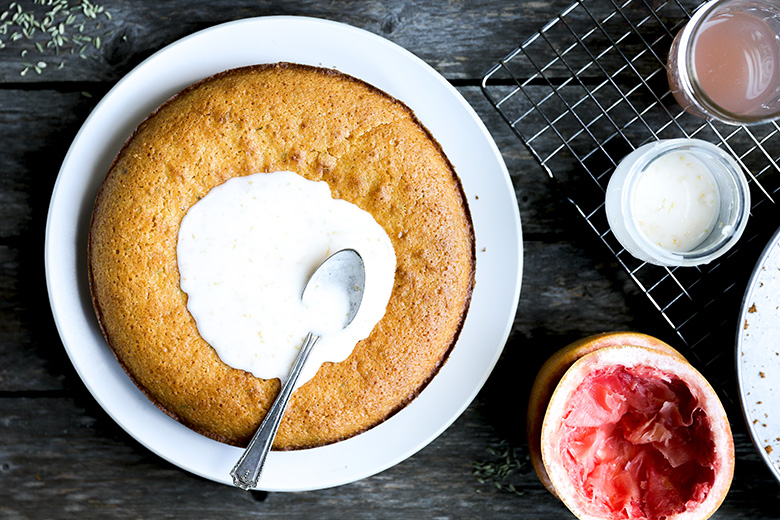 But here's the thing: I like cake. I like baking it. I like sharing it with friends. And I like eating it. So I'm going to continue to do those things. Maybe with a little less frequency than I was doing in December. But I'm not going to abandon desserts altogether. Deprivation doesn't jive well with me. Someone always ends up getting hurt in the end.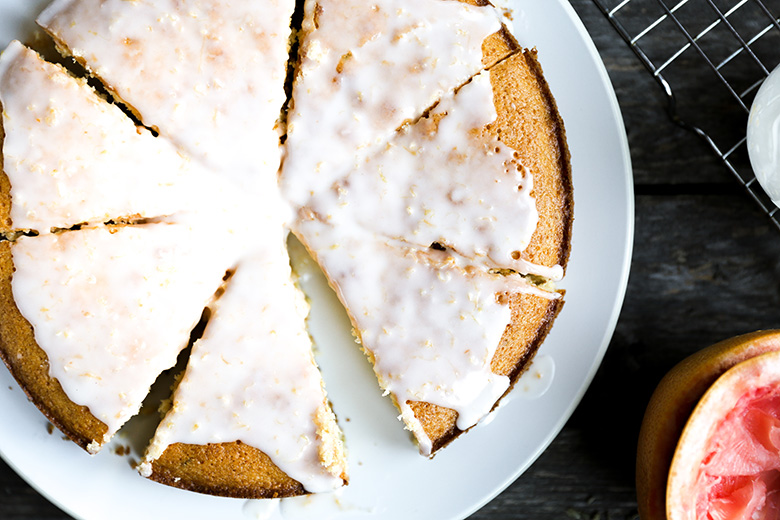 And this Olive Oil Cornmeal Cake with Grapefruit and Fennel is just barely crossing the threshold into the "dessert" category. The cake itself isn't too terribly sweet. In fact, I'd say it's definitely leaning more on the cornbread side of the equation than on the cake side of the equation. And if you skip the glaze, it would totally be acceptable to enjoy a slice (or two!) at breakfast or brunch. No one would judge you.
The fennel seeds were a last minute addition, spurred by the all mighty Google machine. When I was researching recipes, I found several sweet cornmeal cake recipes (usually Italian or Brazilian in origin) that used them. And that sounded like a pretty good idea to me. So I gave it a go. And holy moly, it might just be my favorite part of this recipe. So whatever you do, definitely don't skip the fennel seeds!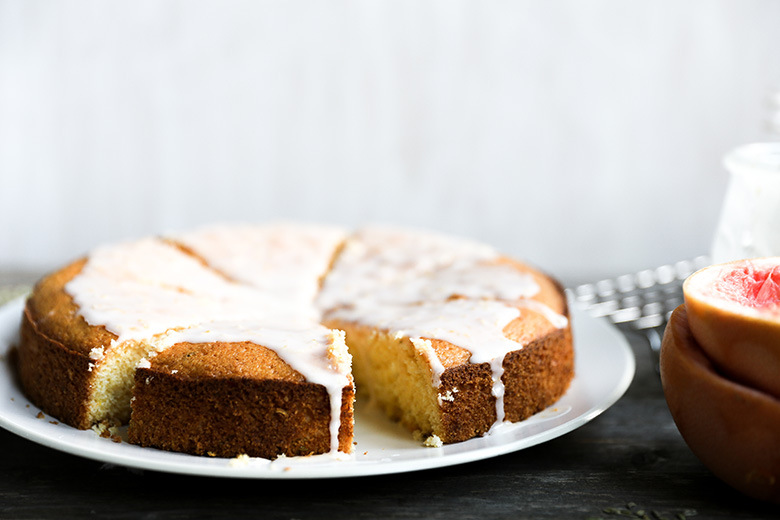 I'm sharing this Olive Oil Cornmeal Cake with Grapefruit and Fennel as part of our monthly seasonal eating round-up organized by Becky from Vintage Mixer. At the start of each month, Becky posts a guide outlining which fruits and vegetables are currently at their peak, along with recipe suggestions for how to use them. You can find her January produce guide here. And then myself and a few other bloggers make new recipes to further highlight those ingredients. Check out the links below to see what everyone has created for the month of January. And follow along with the hashtag #eatseasonal on social media to see even more inspiring seasonal recipes!
Cheers,
Liz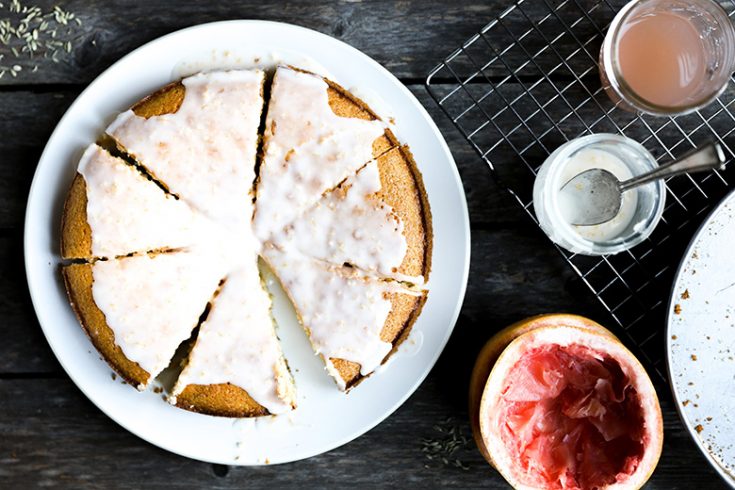 Olive Oil Cornmeal Cake with Grapefruit and Fennel
Yield: Makes one 8- or 9-inch cake
Prep Time: 10 minutes
Cook Time: 30 minutes
Total Time: 40 minutes
Ingredients
For the Cake:
1/2 cup extra-virgin olive oil, plus more for greasing the pan
2 eggs
1 cup granulated sugar
1/2 cup fresh squeezed grapefruit juice
1 1/4 cups all-purpose flour
1/2 cup yellow cornmeal
2 tsp. baking powder
1 tsp. salt
1 tablespoon fennel seeds
1 tablespoon finely grated grapefruit zest
For the Glaze:
1 cup powdered sugar
2 tablespoons fresh squeezed grapefruit juice
1 tsp. finely grated grapefruit zest
Instructions
Pre-heat your oven to 375 degrees. Cut out a round of parchment paper to fit in the bottom of your cake pan. Coat the bottom and sides of your cake pan with a thin layer of olive oil. Then lay the parchment paper-round down in the bottom of the pan. Brush some olive oil on top of the parchment paper-round. Set your prepared pan aside.
In the bowl of your mixer with the whisk attachment, combine the olive oil, eggs, sugar and grapefruit juice. Add the flour, cornmeal, baking powder and salt and mix until the flour is just incorporated. Whisk in the fennel seeds and grapefruit zest.
Pour the cake batter into your prepared pan and smooth the surface. Transfer the pan to your pre-heated oven and bake for about 30 minutes, or until a toothpick inserted in the center comes out clean and the top is golden. Remove the pan from the oven and set it on a wire rack to cool for 20 minutes. Then run a knife around the edge of the cake to help separate it from the sides of the pan and invert the pan onto a plate. Remove and discard the parchment paper from the cake. Then carefully re-invert the cake back onto the wire rack to finish cooling.
While the cake is cooling, combine all of the ingredients for the glaze in a small bowl until smooth.
Pour the glaze over the cooled cake. Slice and serve.
Leftovers can be stored in an airtight container at room temperature for 2 days.
January Eat Seasonal Recipes
Healthy Tangerine Julius Smoothie by Letty's Kitchen
Leek and Turnip Soup by Vintage Mixer
Apple Almond Bircher Meusli with Winter Fruits by Simple Bites
Saucy Sweet Potatoes with Coconut Curry and Mint by Healthy Seasonal Recipes
Garlic and Herb Spaghetti Squash Boats by She Likes Food
Peanut Butter Crusted Sweet Potato Fries by JoyFoodSunshine
Raw Brussels Sprouts Salad with Harissa Vinaigrette by Project Domestication
Winter Cauliflower Rice Bowl with Cranberry-Mustard Sauce by Cafe Johnsonia
Meyer Lemon Coconut Panna Cotta by Kitchen Confidante
Maple Orange Teriyaki Salmon Bowls by Flavor the Moments