Last month I FINALLY bought myself a waffle maker. It's something that has been on my wish list for a while now. But waffle makers can be surprisingly expensive, so I never got around to coughing up the cash for one. Then I happen to be in Williams and Sonoma when they were on a sale AND I had a gift card left over from Christmas (gasp!) that was burning a hole in my wallet. So I decided it was a sign and I went for it. And I'm super happy that I did. Because now I'm eating ALL the waffles ALL the time. Breakfast, brunch and even dessert! There are no restrictions on what time of day waffles can be enjoyed.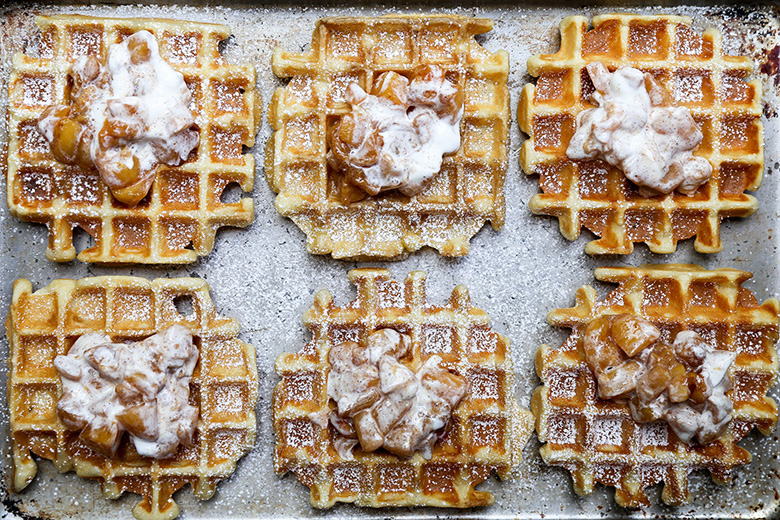 I wanted to summer-ize (is this a word?) some waffles, and what better way to do that than with ripe, juicy peaches. I started by cooking down the peaches with some maple syrup, cinnamon, vanilla extract and a little bourbon (hooray!) until they were nice and soft. Then I stirred a small amount of this peach mixture into my sour cream waffle batter, reserving the rest to use as a topping for the waffles. So incredibly delicious. And definitely worth going out and buying a waffle maker for.
Try my Peaches and Cream Waffles out this weekend and then come back and tell me about it!
Cheers,
Liz
Recipe for Sour Cream Waffles slightly adapted from The Sugar Hit
Ingredients
For the Peach Topping
2 lbs peaches (about 4 medium), pitted and peeled
1/2 cup water
3 tablespoons maple syrup
1 tsp. vanilla extract
1 tsp. ground cinnamon
1/4 tsp. salt
2 tablespoons bourbon
1/2 cup sour cream

For the Sour Cream Waffles
1 1/4 cups all-purpose flour
1 tablespoon sugar
2 tsp. baking powder
1/8 tsp. salt
2 eggs
2 tsp. vanilla extract
1/2 cup sour cream
1/2 cup milk
6 tablespoons unsalted butter, melted and cooled
1/3 cup peach topping
Instructions
Make the peach topping. Chop the peaches into 1/2-inch chunks. Add the chopped peaches to a medium saucepan along with the water, maple syrup, vanilla extract, cinnamon and salt. Heat over medium-high heat, stirring frequently for about 10-15 minutes or until the peaches have softened. Stir in the bourbon and cook for 1-2 minutes more. Remove from the heat and set aside.
Make the waffles. In a large bowl, whisk together the flour, sugar, baking powder and salt. Begin incorporating in the eggs, vanilla extract and sour cream. Then slowly whisk in the milk and then the butter, mixing until everything is incorporated. Stir 1/3 cup of the peach topping into the waffle batter.
Pre-heat your oven to the lowest temperature. Spray your waffle iron with non-stick cooking spray and then turn it on to the medium-high heat setting. Once heated, scoop the batter into your waffle iron (I used about 1/3 cup of batter in each 4-inch well of my waffle iron) and close the lid. Cook for 3-4 minutes, or until the waffles are golden brown and crisp. You may have to adjust the amount of batter and cooking time, depending on the type of waffle iron you have. Carefully remove the waffles and transfer them to your oven to keep warm (I like to place them directly on the oven racks) until you have finished making all the waffles..
To serve, swirl the remaining 1/2 cup of sour cream into the peach topping. Then dollop on top of the warm waffles. Serve immediately with a dusting of powdered sugar or a drizzle of maple syrup, if desired.
Notes
1. To freeze these waffles, lay the cooled waffles in a single layer on a baking sheet and place in your freezer until firm. Once frozen, you can transfer the waffles to a ziplock freezer bag. To thaw, re-heat the frozen waffles in your toaster or oven.
https://www.floatingkitchen.net/peaches-and-cream-waffles/