I've been taking a little time off since Christmas to re-charge and re-group. But I couldn't resist stopping in quickly today to bring you a festive cocktail. Because this is our last chance to indulge before those gosh darn resolutions kick in and we have to behave ourselves. Or in my case, pretend to behave.
New Year's Eve is all about the champagne. And this year I'm making it extra special with the addition of some homemade sorbet made with pink grapefruit juice and champagne. In other words, my love for boozy frozen treats has just reached new levels!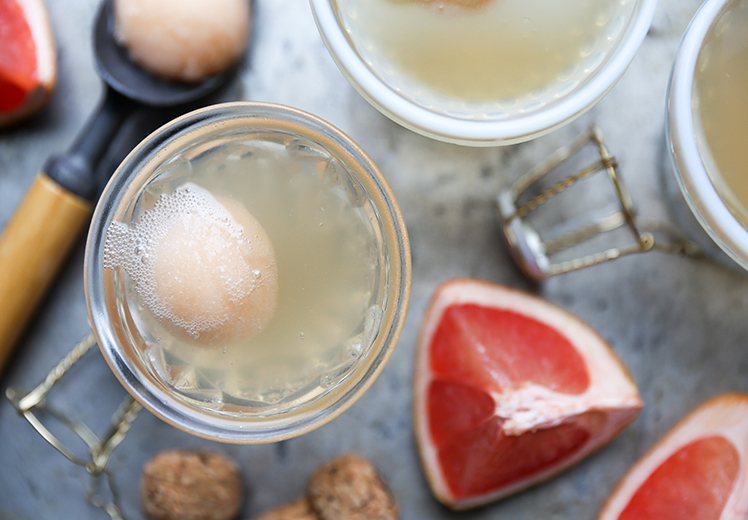 Just a small scope of this pink grapefruit-champagne sorbet is all you need to add some brightness to your glass of champagne or sparkling wine. And bonus: the sorbet keeps your drink cool without watering down the flavor at all. Now THAT is how you celebrate in style!
The sorbet needs some time of chill, so be sure to plan on making it at least several hours in advance of when you're going to serve it.
Cheers,
Liz
Ingredients
For the Sorbet
2 1/2 cups pink grapefruit juice, divided
1/2 cup champagne
3/4 cups sugar

For the Floats
Pink grapefruit-champagne sorbet
Champagne
Pink grapefruit, thinly sliced for garnish
Instructions
Before starting, make sure the canister of your ice cream maker is frozen. To freeze completely, the canister should be in your freezer for at least 6 hours before you attempt to churn the sorbet.
Make the sorbet. In a saucepan over medium heat, stir together 1 cup of the grapefruit juice, the champagne and the sugar until the sugar is completely dissolved. Remove from the heat and stir in the remaining grapefruit juice. Transfer the mixture to a clean bowl and refrigerate it until well chilled, about 4 hours.
Once chilled, pour the sorbet base into the canister of your ice cream maker. Churn until the mixture is nearly frozen and slush-like, about 20 minutes. Transfer the sorbet to a freezer-safe container and place in your freezer until it becomes firm, about 2-4 hours. The recipe makes enough sorbet for approximately 16-18 floats.
Make the floats. Scoop a small amount of sorbet into your glasses. Top with champagne. Garnish with slices of pink grapefruit, if desired. Serve immediately.
Notes
1. You can use other sparkling white wine (like Prosecco) in place of the champagne, if desired.
https://www.floatingkitchen.net/pink-grapefruit-champagne-sorbet-floats/