This post was originally published here on August 7, 2013. I've updated the photos and text because trust me, they needed it! Enjoy!
Did you know that you can eat beets raw? This was something that I only discovered a couple of years ago. Until that point, I had always boiled or roasted them into submission. And in the years before that, I wouldn't even have touched a beet with a 10 foot pole.
It's funny how things change.
Now I love beets any way you cook them. And even in ways when you don't cook them.
This Raw Beet and Dill Salad is a favorite of mine. The raw beets are just so damn crunchy. It's irresistible. And they still have that characteristic earthy, sweet taste that I've grown to love. The dill makes this dish extra fresh. And the mustard-vinegar dressing provides the perfect level of tang.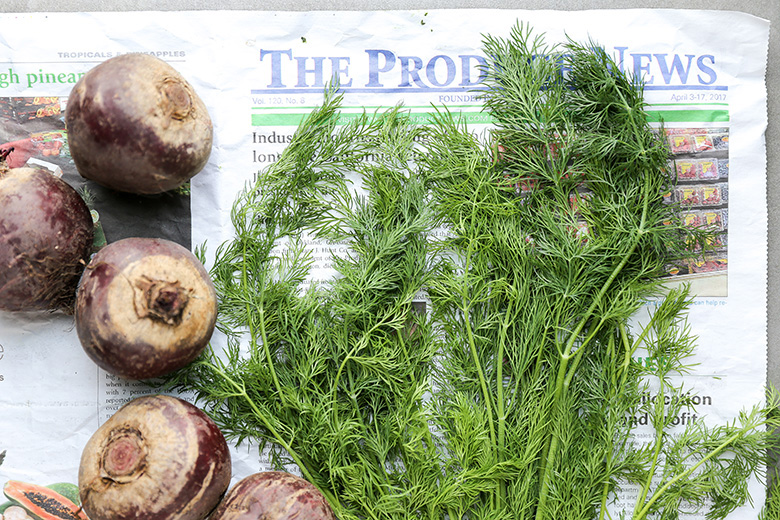 Also, see that photo above? That's how much dill my Mom gave me when I told her I need a couple of sprigs for a recipe. Classic Mom. Always going overboard!
The whole recipe uses only eight ingredients, most of which are pantry staples. And it's a great way to prepare beets in the Summer months when it's WAY to hot to turn on your oven. I typically enjoy this salad straight out of the bowl. But it would also be good as a slaw for topping tacos or sandwiches.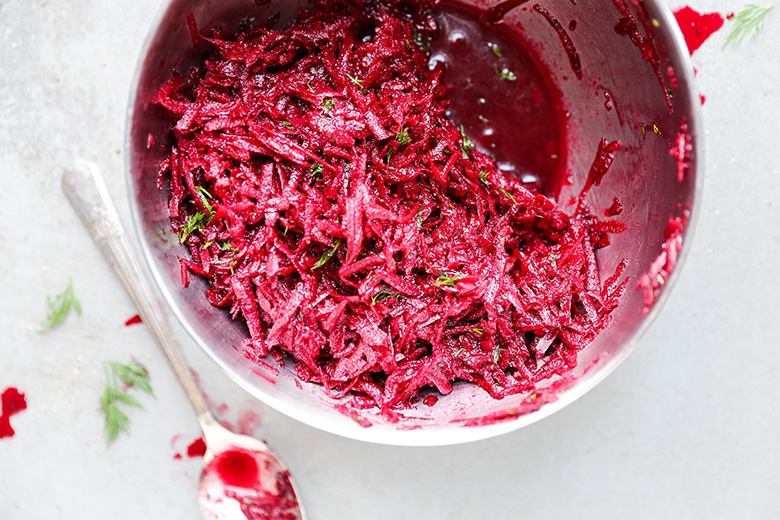 Grating beets is an inherently messy task. There isn't any way around it. You'll likely get splatters over your kitchen countertops and clothes. And you may even end up with pink hands, too. But here are some tips I've learned over the years to help minimize the damage. First and foremost, you could certainly use your food processor with the shredder attachment to grate the beets. That usually results in the least amount of mess. But honestly, I think the size and texture of the shreds is better when I use my trusty box grater. So to that end, I place my box grater on a big plate right in my kitchen sink. Most of the splatters will stay confined within the walls of the sink. And then you can easily just rinse them away with water. Wear gloves if you don't want pink hands. And lastly, try golden beets instead of red beets, which will eliminate the threat of red juices all together!
Cheers,
Liz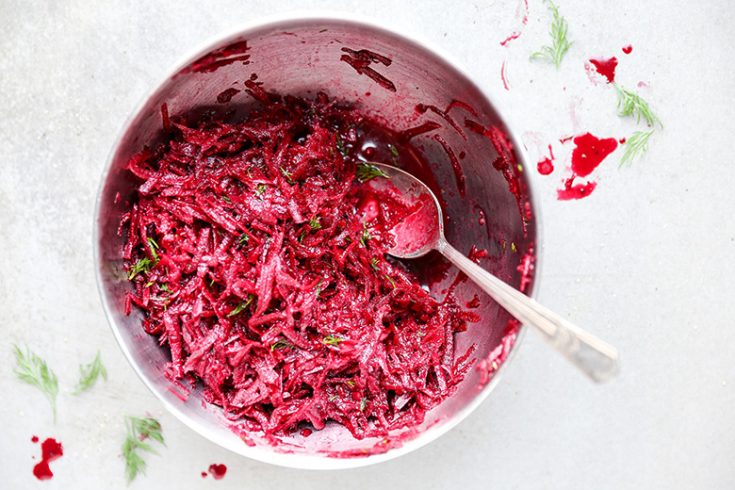 Raw Beet and Dill Salad
Yield: 3 cups
Prep Time: 15 minutes
Total Time: 15 minutes
Ingredients
2-3 tablespoons dill, roughly chopped
1 tablespoon extra-virgin olive oil
1 tablespoon Dijon mustard
1 tablespoon champagne vinegar
1 tsp. sugar
1/4 tsp. salt
1/4 tsp. pepper
3 cups grated beets (from about 4 to 5 medium sized beets)
Instructions
In a small bowl, whisk together the dill and the next six ingredients until well combined.
Add this dressing to the grated beets, tossing until the beets are evenly coated.
You can serve this salad immediately. Or chill it in your refrigerator for several hours before serving. Leftovers can be stored in your refrigerator in an airtight container for up to 2 days.
Notes
You can substitute red wine vinegar or apple cider vinegar for the champagne vinegar.