Disclosure: I'm so happy to be able to give you all a peek into The Love and Lemons Cookbook by Jeanine Donofrio. Thanks for letting me share this beautiful cookbook with you!
If I could only have one food for the rest of my life, I'd choose tacos.
And pizza. And cheeseburgers. And brownies.
Ugh. This is a hard mental exercise.
But you get the gist of what I'm saying, right? Basically, I really love tacos.
So naturally, when I received Jeanine's new book, The Love & Lemons Cookbook, I gravitated straight towards her recipe for Roasted Cauliflower Tacos with Chipotle Cream. Because really, what better way is there to judge the merits of a entire cookbook than by it's taco recipes? Quality tacos are IMPORTANT and should be taken very seriously. You know I'm totally right about this.
And based on the results of these Roasted Cauliflower Tacos with Chipotle Cream, I'm happy to report that I can give The Love & Lemons Cookbook a glowing 5-star review!
Psst…I'm giving away a copy of The Love & Lemons Cookbook to one lucky reader. Keep reading!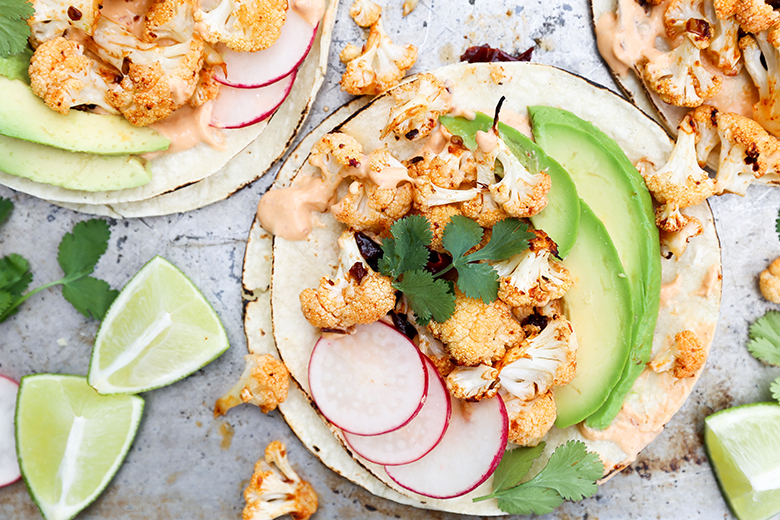 Jeanine's blog, Love & Lemons, has been a favorite of mine for a long time now. Her photography is bright and beautiful. And her recipes are fresh, unique and uncomplicated. Jeanine makes vegetarian cooking both exciting and accessible. And that's what has kept me, and so many other readers, coming back to her site week after week.
Not surprisingly, Jeanine's cookbook gives off the same vibes as her blog. I've spent the last couple of weeks pouring over my copy, preparing my nightly dinners from it's pages. And it's already starting to show the telltale signs of a well loved cookbook: smudges, stains and dog-eared corners. I don't see it leaving my kitchen anytime soon.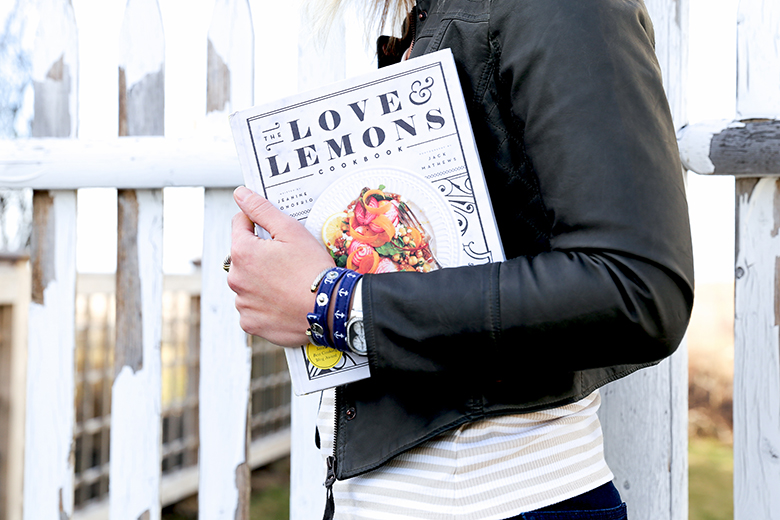 The Love & Lemons Cookbook is so much more than just a simple collection of recipes. Organized by ingredient, this cookbook will become your go-to reference guide when you accidently buy 10 pounds of fresh berries at the farmers market (oops!), or when your summer garden is exploding with zucchini. Treat it like an encyclopedia for fruits and vegetables, and let it help you learn to cook with what's currently in season and abundant. Also, Jeanine has added some really cool mix and match charts at the back of the book that will have you easily transforming your kitchen staples (like pesto and guacamole) into something new and exciting. And who doesn't love that?
Check out Jeanine's post here with all the details of how you can purchase your very own copy of the cookbook. Trust me. You want this one. AND also be sure to enter the giveaway below for your chance to win a copy of The Love & Lemons Cookbook. Yahoo! Scroll down past the recipe to read the giveaway fine print and enter to win using the Rafflecopter widget. Good luck! Update: This giveaway has ended and a winner has been selected. Thank you to everyone who participated!
Cheers,
Liz
Recipe reprinted from The Love & Lemons Cookbook by arrangement with Avery Books, a member of Penguin Group (USA) LLC, A Penguin Random House Company. Copyright © 2016, Jeanine Donofrio.
Ingredients
For the Tacos
1 medium head of cauliflower, cut into small florets
1-2 tablespoons extra-virgin olive oil
Sea salt and black pepper
2 chipotle peppers in adobo sauce
8 corn tortillas, warmed or grilled
1 medium avocado, sliced
1-2 radishes, thinly sliced
Fresh cilantro
1 lime, cut into wedges

For the Chipotle Yogurt Sauce
7 ounces full-fat Greek yogurt
1 chipotle pepper in adobo sauce
1 garlic clove, peeled
1 tsp. fresh squeezed lime juice
1 tsp. extra-virgin olive oil
1 tsp. honey
Sea salt and black pepper
Instructions
Pre-heat your oven to 400 degrees. Line a large rimmed baking pan with parchment paper. Add the cauliflower and drizzle with just enough olive oil so that it's lightly coated. Sprinkle with a pinch of salt and black pepper. Toss to combine.
Working over the baking pan, use your hands to break up the 2 chipotle peppers, making sure you add some of the adobo sauce to the baking pan as well. Toss again to coat the cauliflower. Then transfer the baking pan to your pre-heated oven and roast the cauliflower for 25-30 minutes, until it's golden brown. Remove from the oven and set aside.
Meanwhile, make the chipotle yogurt sauce. In your food processor with the blade attachment, combine all of the ingredients until smooth. Taste and adjust the seasonings as desired.
Assemble the tacos. Fill each tortilla with a spoonful of sauce, the roasted cauliflower, avocado slices and radish slices. Top with fresh cilantro and a squeeze of fresh lime juice. Serve immediately with additional cilantro and lime wedges, if desired.
https://www.floatingkitchen.net/roasted-cauliflower-tacos-with-chipotle-cream/