It's usually around this time of year that I start getting stressed out about the bounty of Summer produce that's available. Tomatoes! Zucchini! Corn! Peaches! Berries! Basil! It seems like there is so much to eat and so little time left to eat it.
And let's not even talk about all the ice cream that I still need to shove in my face before the temperatures start dropping.
Thankfully Kimberley Hasselbrink is here to help me manage my anxieties about making the most out of all this seasonal produce. Her new cookbook, Vibrant Food, is a collection of beautifully photographed, sophisticated (yet blissfully unfussy) recipes that will inspire you over and over again throughout the course of the year. Vibrant Food is like a journey through the seasons. With the ingredients acting as your tour guide.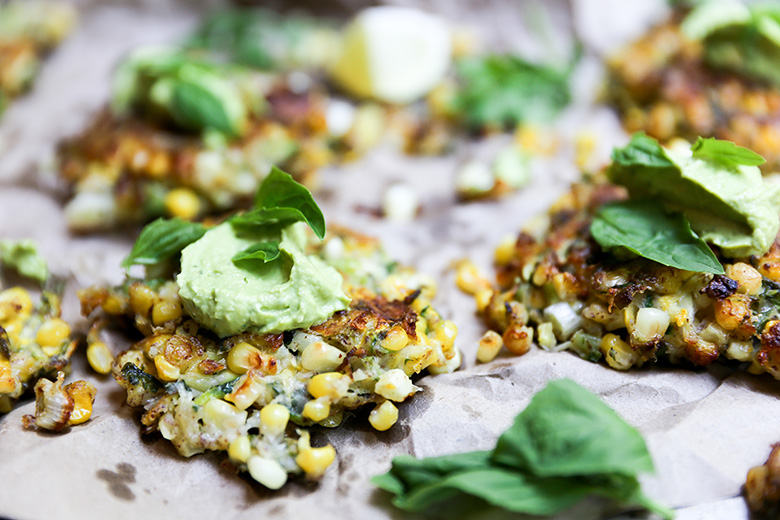 These Sweet Corn and Squash Fritters with Avocado Crema were the first thing I made from Kimberley's cookbook. And get this: I had the pleasure of meeting Kimberley last night at The Book Larder and she said this was one of her favorite recipes in the book!
This recipe highlights so many wonderfully abundant Summer staples: sweet corn, tender squashes and fragrant herbs. And it is delightfully uncomplicated, making it perfectly suited for the leisure that is characteristic of long Summer days. Served over some lightly dressed greens, these fritters make a perfect lunch or light dinner. And they are also a fabulous side dish for whatever meat or seafood you may have cooking up on the grill.
I replaced the egg in this recipe with a flax egg, but you can use one large beaten egg if you prefer.
Cheers,
Liz
Recipe slightly adapted from Kimberley Hasselbrink's Vibrant Food
Ingredients
For the Fritters
1 tablespoon flaxseed meal
3 tablespoons water
2 ears of corn, husks and silks removed
1/2 cup grated zucchini
1/2 cup grated yellow squash
1/2 jalapeño pepper, seeded and finely diced
5 green onions, white and light green parts thinly sliced
1/4 cup basil, chopped
3 tablespoons cilantro, chopped
1 tsp. salt
About 1/4 cup all-purpose flour
2-3 tablespoons extra-virgin olive oil

For the Avocado Crema
1 avocado, pitted and peeled
1/2 cup plain Greek yogurt
2 tablespoons fresh basil leaves, plus more for garnish
1 tablespoon lime juice
1/4 tsp. salt
Instructions
In a large bowl, mix the flaxseed meal and the water. Let sit for 5 minutes. Slice the kernels off the corn cobs and add them to the bowl along with the zucchini, yellow squash, jalapeño pepper, green onions, basil, cilantro and salt. Mix until everything is evenly combined. Add 1/4 cup of flour, mixing until well combined. The batter should be moist, but not wet and runny. If necessary, add another tablespoon of flour to get the right consistency. Set the batter aside to rest for about 10 minutes.
While the batter rests, make the avocado crema. Combine the avocado, yogurt, basil, lime juice and salt in your food processor or blender until smooth and creamy. Set aside.
Heat 1 tablespoon of the olive oil in a large, heavy-bottomed skillet over medium heat. Working in batches, drop about 1/4 cup of batter into the skillet for each fritter. Allow them to cook undisturbed for about 4 to 5 minutes, or until the edges are lightly browned. Then flip the fritters and cook them on the second side about 3-4 minutes more. Remove and place on a paper towel-lined plate to drain. Continue working until all the batter has been cooked, adding more olive oil to the pan if necessary.
Serve the fritters warm with a dollop of avocado crema and a few fresh basil leaves, if desired.
https://www.floatingkitchen.net/sweet-corn-and-squash-fritters-with-avocado-crema/