This post was originally published here on August 7, 2013. I've updated the photos and text because trust me, they needed it! Enjoy!
Did you know that you can eat beets raw? This was something that I only discovered a couple of years ago. Until that point, I had always boiled or roasted them into submission. And in the years before that, I wouldn't even have touched a beet with a 10 foot pole.
It's funny how things change.
Now I love beets any way you cook them. And even in ways when you don't cook them.
This Raw Beet and Dill Salad is a favorite of mine. The raw beets are just so damn crunchy. It's irresistible. And they still have that characteristic earthy, sweet taste that I've grown to love. The dill makes this dish extra fresh. And the mustard-vinegar dressing provides the perfect level of tang.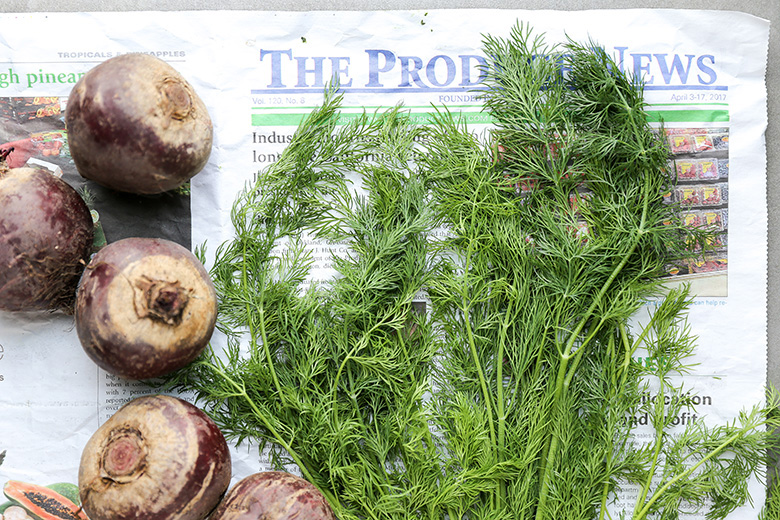 Also, see that photo above? That's how much dill my Mom gave me when I told her I need a couple of sprigs for a recipe. Classic Mom. Always going overboard!
The whole recipe uses only eight ingredients, most of which are pantry staples. And it's a great way to prepare beets in the Summer months when it's WAY to hot to turn on your oven. I typically enjoy this salad straight out of the bowl. But it would also be good as a slaw for topping tacos or sandwiches.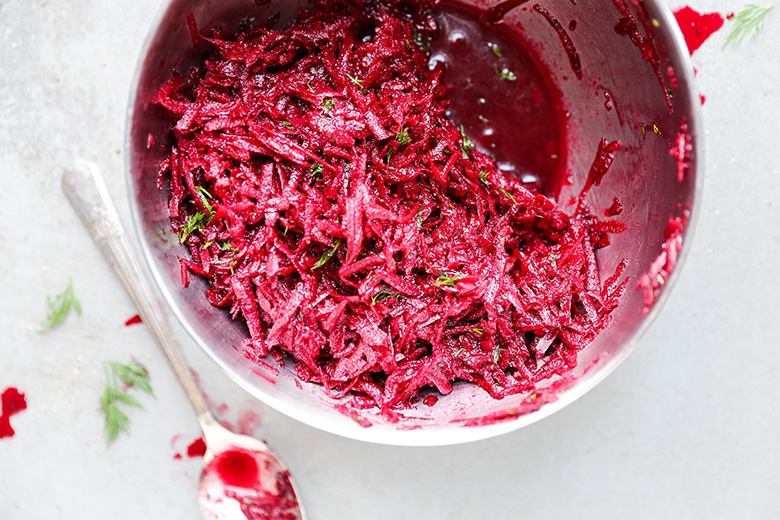 Grating beets is an inherently messy task. There isn't any way around it. You'll likely get splatters over your kitchen countertops and clothes. And you may even end up with pink hands, too. But here are some tips I've learned over the years to help minimize the damage. First and foremost, you could certainly use your food processor with the shredder attachment to grate the beets. That usually results in the least amount of mess. But honestly, I think the size and texture of the shreds is better when I use my trusty box grater. So to that end, I place my box grater on a big plate right in my kitchen sink. Most of the splatters will stay confined within the walls of the sink. And then you can easily just rinse them away with water. Wear gloves if you don't want pink hands. And lastly, try golden beets instead of red beets, which will eliminate the threat of red juices all together!
Cheers,
Liz
Ingredients
2-3 tablespoons dill, roughly chopped
1 tablespoon extra-virgin olive oil
1 tablespoon Dijon mustard
1 tablespoon champagne vinegar (can substitute red wine vinegar or apple cider vinegar)
1 tsp. sugar
1/4 tsp. salt
1/4 tsp. pepper
3 cups grated beets (from about 4 to 5 medium sized beets)
Instructions
In a small bowl, whisk together the dill and the next six ingredients until well combined.
Add this dressing to the grated beets, tossing until the beets are evenly coated.
You can serve this salad immediately. Or chill it in your refrigerator for several hours before serving. Leftovers can be stored in your refrigerator in an airtight container for up to 2 days.
https://www.floatingkitchen.net/raw-beet-and-dill-salad/
Did you make anything new for Thanksgiving this year? I try to make one or two new recipes each year. But it can be a hard sell sometimes. Most people like their traditional Holiday eats. My family and friends would probably get cranky if I went hog wild and completely changed the menu on them. So instead, I try to sneak in a new side dish or appetizer. I find most people tolerate that pretty well!
This Carrot Mash with Orange and Mint was one of the new recipes I tried this Thanksgiving. I must admit that if I ran across this recipe in a magazine, I never would have made it. Because pureed carrots just seem kind of plain, and dare I even say boring. Snooze-ville. But the guys over at The Bitten Word convinced me that I could not miss out on this side dish. So I listened. And they were right. Because this Carrot Mash with Orange and Mint is fresh, creamy, sweet, savory and simple. Essentially it's everything that a Holiday side dish should be.
And while this dish is certainly Holiday worthy, it's also great for any old night of the week. No special occasion necessary. It's easy to make, fairly healthy (you could use half and half instead of cream if you wanted to be a little bit more virtuous) and can be made 1-2 days in advance.
The recipe below is doubled from the original printed recipe (I was feeding a crowd at Thanksgiving!). Feel free to cut it in half to make a more manageable amount.
Cheers,
Liz
Recipe slightly adapted from The Bitten Word via Fine Cooking
Ingredients
4 lbs carrots, peeled, trimmed and cut into 1-inch pieces
1/4 cup (4 tablespoons) butter, cubed
1/4 cup heavy cream
1/4 cup extra-virgin olive oil
3 tablespoons fresh mint, finely chopped (plus more for garnish)
1 tsp. finely grated orange zest
1 1/2 tsp. salt
1 tsp. pepper
Instructions
Place the chopped carrots in a large saucepan. Add enough cold water to cover the carrots by 1-2 inches. Bring to a boil, then turn down the heat to maintain a simmer. Simmer, uncovered, for about 25-30 minutes, or until the carrots are very soft and can be easily pierced with a fork. Drain the carrots and set aside to cool slightly.
In your still warm saucepan, melt the butter. Stir in the cream, olive oil, mint and orange zest.
Transfer the carrots to your food processor with the blade attachment and blend until they are smooth, working in batches if necessary. Transfer the pureed carrots back to the saucepan and stir to combine. Stir in the salt and pepper. Garnish with a few springs of fresh mint before serving.
Leftovers can be stored for 3-4 days in a airtight container in the refrigerator.
https://www.floatingkitchen.net/carrot-mash-with-orange-and-mint/