This post was originally published here on July 24, 2014. I've updated the photographs and text to better showcase this delicious (and easy!) Summer dinner.
Eeeek! You guys! I'm starting to have anxiety about the end of Summer.
I know, I know. It's only mid-July. But last week my grocery store put out their Halloween candy and that kind of sent me into a feverish downward spiral. I literally just stood in the aisle staring at the rows of pumpkins and ghosts and felt an equal mix of extreme sadness and intense rage.
Cue anxiety attack.
Also, can we seriously talk about Halloween candy at the grocery store in July. WTF is wrong with everyone. Just NO! No, no, no, no, no, no, no…!!!
Ugh.
Anyways. Since eating always improves my mood, I went home and decided to whip up the ultimate Summer dinner: Spicy Grilled Shrimp with Coconut Lime Rice and Peach Salsa.
Fall: stand down. You've been warned.
This recipe has a couple separate parts that you need to prepare. But it's so worth it. And all the steps are super easy. I promise.
The shrimp are spicy and crazy flavorful. And they take only a few minutes to cook up on the grill. And the fresh peach salsa is the perfect blend of savory and sweet notes. It's great not only in this dish, but also on just about anything grilled: chicken, pork, salmon, etc. You can also put it on tacos. Or just scoop it straight onto some tortilla chips. You get the idea. Find a way to get this peach salsa into your body in any way possible.
But the coconut-lime rice might just be my favorite part about this whole recipe. Seriously. Making rice with canned coconut milk instead of water is a total game changer. It feels tropical and luxurious, but still easy. Just like how Summer should feel.
So tell me, how are YOU celebrating Summer these days? Give me some more ideas for my Summer bucket list. Because it's not over yet, and I tend to make the most of it!
Cheers,
Liz
Ingredients
For the Peach Salsa
2 peaches, pitted and diced
1/2 small red onion, diced
1/2 jalapeño pepper, finely diced
1/4 cup cilantro, roughly chopped
1 tsp. sugar
Zest and juice of 1 lime

For the Coconut-Lime Rice
1 (14 ounce) can light coconut milk
1/4 cup water
1/8 tsp. salt
1 tablespoon coconut oil or extra-virgin olive oil
1 cup basmati or jasmine rice
Zest and juice of 1 lime

For the Spicy Shrimp
24 large raw shrimp, peeled and deveined (I like the "tail-on" variety)
4 tablespoons extra-virgin olive oil, divided
Zest and juice of 2 limes
1/2 jalapeño pepper, finely diced
1/4 cup cilantro, roughly chopped
1/2 tsp. salt
Instructions
Combine all of the ingredients for the peach salsa in a small bowl. Cover and refrigerate until you're ready to use it.
In a medium saucepan bring the coconut milk, water, salt and oil to a low boil. Stir in the rice and turn the heat down to low. Cover and simmer for 15 minutes. The coconut milk has a greater tendency to over boil or scorch on the bottom, so keep the heat lower than you typically would for cooking rice in water/broth. After 15 minutes, turn off the heat and keep the lid on your saucepan and let the rice sit for 5-7 minutes. Then remove the lid and fluff the rice with a fork. Gently stir in the lime juice and zest. Cover to keep warm while you prepare the shrimp.
Pre-heat your grill to medium-high. Rinse the shrimp under cold water and then toss them in a bowl with 2 tablespoons of the olive oil. In a separate bowl, combine the remaining olive oil, lime zest and juice, diced jalapeño, cilantro and salt. Place the shrimp on your pre-heated grill and grill for about 2-3 minutes, flipping once during this time. The shrimp are cooked when they turn from translucent to white and their tails curl in slightly. Remove the shrimp from the grill and toss them gently in the lime/jalapeño/cilantro mixture.
To serve, divide the coconut-lime rice between bowls. Top with the grilled shrimp and a spoonful of the peach salsa. Enjoy immediately.
https://www.floatingkitchen.net/spicy-grilled-shrimp-with-coconut-lime-rice-and-peach-salsa/
Disclosure: This post is sponsored by Rodelle. All opinions are my own. Thank you for supporting companies and brands that help keep my kitchen afloat!
This is my third grilling recipe in a row. Which I think makes this some kind of grilling hat trick.
Not that I have any baseline level of knowledge about organized sports (nor do I care, really), which makes me very unqualified to be throwing around phrases like "hat trick". So let's just pretend that I didn't say that. OK?
I am, however, very qualified to talk about grilling. But even as a self proclaimed griller of ALL THE THINGS, I was missing one very important item in my arsenal: grilled salmon.
Kind of hard to believe, right? I have grilled some pretty unconventional things over the years, yet somehow I seemed to have overlooked a Summer entertaining staple like grilled salmon. Doh.
Well, I decided I couldn't let another grilling season pass me by without tackling this problem. So I grabbed a gorgeous fillet of salmon and turned it into these healthy, crowd pleasing Grilled Salmon, Potato and Tomato Kebabs. Your Memorial Day party just got way tastier!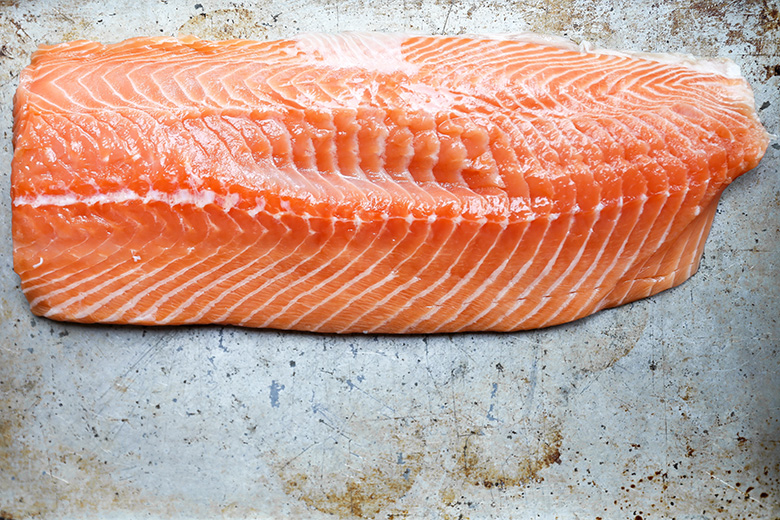 I know you're all familiar with Rodelle's amazing vanilla extracts and other baking essentials, but did you know that they also have a fabulous line of savory spices and spice blends too? Well, they do! I used their Herbes de Provence in this recipe, and the mixture of thyme, fennel, basil, savory and lavender perfectly compliments and brightens the flavors of the grilled salmon, potatoes and tomatoes. And I love that all that deliciousness comes from just reaching for a single bottle in my pantry. It makes cooking out-of-this world dishes super easy and fun!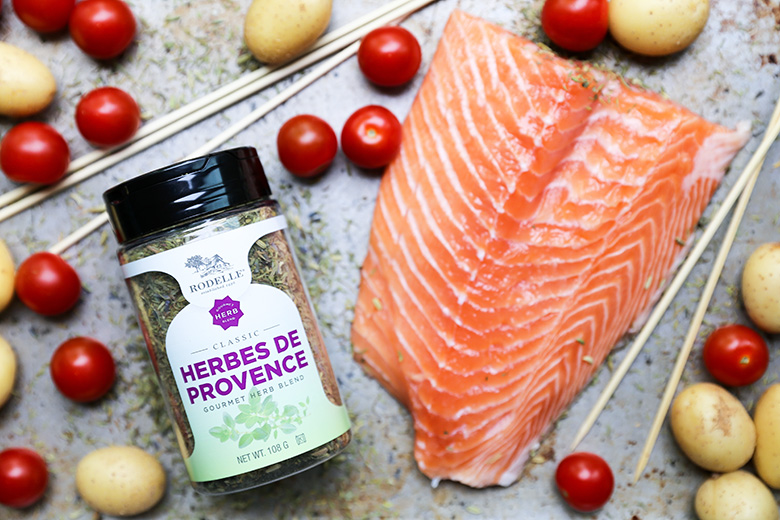 If you've ever cooked salmon before, you've probably noticed that sometimes there is some white stuff that leaches out. That's albumin. And it's totally normal. But admittedly, it doesn't look very pretty. The solution: a fish brine. The brine minimizes the amount of albumin that coagulates near the surface during cooking. And it also helps with overall moisture retention and seasoning, too. So definitely try it out next time you're grilling or baking up some salmon!
Cheers,
Liz
Ingredients
For the Salmon
1 1/4 lb salmon fillet, skin removed
2 cups water
2 tablespoons salt
1 tablespoon agave nectar

For the Kebabs
1 lb baby potatoes
1 pint cherry tomatoes
1/4 cup extra-virgin olive oil, plus more for brushing the grill
2 tablespoons white/golden balsamic vinegar
1 tablespoon Rodelle Herbes de Provence
1/4 tsp. salt
Instructions
Brine the salmon. Cut the salmon fillet in half and arrange it so both pieces fit into an 8 X 8-inch baking dish. Stir together the water, salt and agave nectar. Then pour this liquid over the salmon. Cover and refrigerate for 30-60 minutes. Once finished, remove the salmon from the brine and rinse it briefly with cold water. Pat the salmon dry and then cut it into approximately 1-inch cubes.
Meanwhile, cook the potatoes. Add the potatoes to a medium saucepan with enough cold water to cover them by about 1-inch. Bring to a boil over medium-high heat and cook, uncovered, until the potatoes are easily pierced with a small knife, about 10-12 minutes. Drain and set aside to cool slightly.
Pre-heat your grill to medium-high.
Prepare the kebabs. Thread the tomatoes, cooked potatoes and cubed salmon onto wooden or metal skewers. In a small bowl, combine the olive oil, balsamic vinegar, Herbes de Provence and the salt. Brush this dressing generously over all sides of the kebabs.
Lightly oil your grill grates. Then add the kebabs and cook, turning once, about 6 minutes. The salmon is done when it's opaque throughout. Carefully remove the kebabs from the grill and transfer them to a clean plate. Serve immediately.
https://www.floatingkitchen.net/grilled-salmon-potato-and-tomato-kebabs/