And POOF! Just like that, we have Summer.
One week ago, I was using my fireplace to keep warm at night. And then the next thing I knew, it was a balmy 90 degrees.
I guess the only thing that's ever been consistent about the weather here in New England, is that it's wildly inconsistent.
I think this current heat wave is just a flash in the pan, and we'll be returning to somewhat cooler temperatures this week. But oh my gosh, it's been SO glorious to revel in all my favorite Summer activities. I've been walking the beach and reading by the pool almost every single day. I've already managed to eat my weight in ice cream. And I've enjoyed several outdoor "patio beers" at sunset.
I finally feel re-charged after our long, cold Winter (and our nearly non-existent Spring). It's like all is right with the world once again.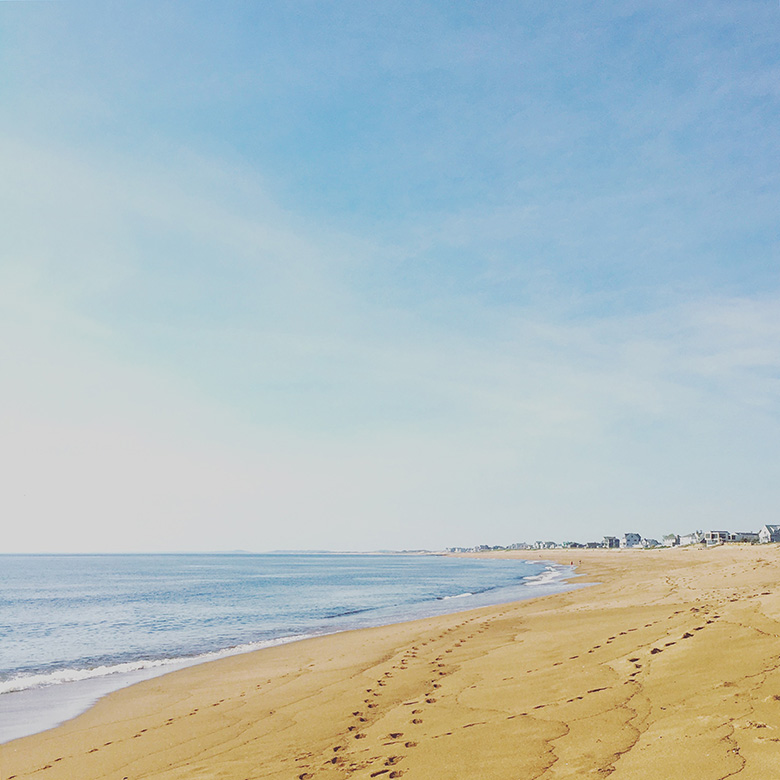 Needless to say, all this warm weather has got me dreaming wildly about Summer foods. Which is how I ended up creating this Tropical Summer Caprese Salad. It's amazing what you can invent when you refuse to turn your oven on for fear of sweating through your clothing.
On a hot day, there is nothing I crave more than a caprese salad. I could easily eat one every single day between the months of June and August. Sometimes, I like to bulk up my caprese salads with additional greens and baked almond-crusted chicken. And sometimes, I like to serve my caprese salad on skewers for easy eating at parties.
But today, we're going super tropical. I'm mixing fresh mozzarella and basil with kiwi, pineapple, cilantro, hazelnuts (hooray for crunch!) and a little bit of heat from a dash of cayenne pepper. It's a salad that I can just about guarantee you'll be making (and eating!) all Summer long.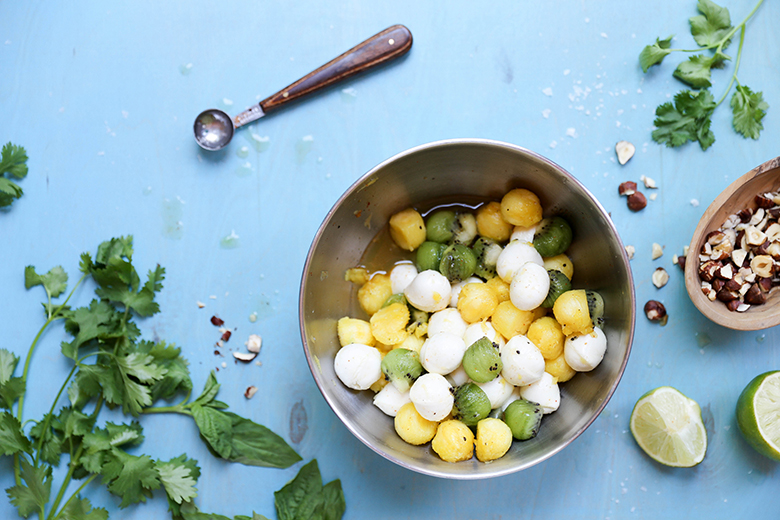 Inspired by the shape of the fresh ciliegine mozzarella, I decided to use my melon baller for the kiwi and pineapple. This, of course, isn't necessary. You could cut the fruit into small cubes. But I had fun doing it this way (and I think it looks cute!). And it was nice to dust off my poor melon baller, which is a utensil that only gets used two or three times a year at most.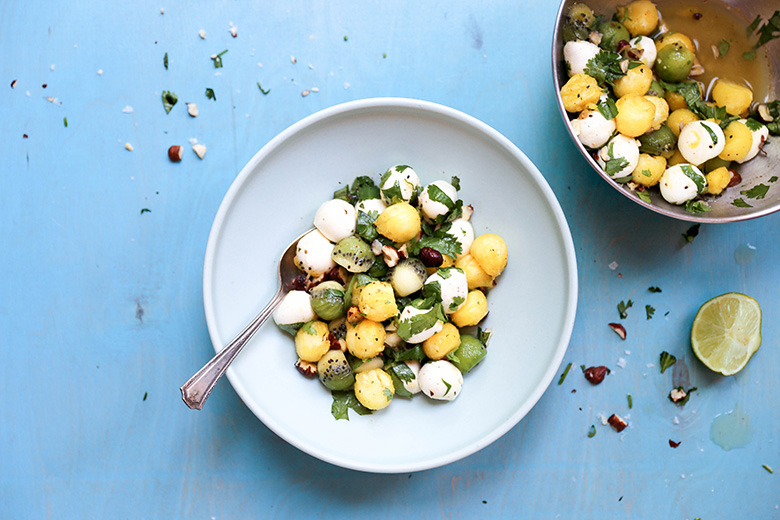 You don't need a lot of dressing for this Tropical Summer Caprese Salad, because the fruit will release a lot of juice once it's been cut. I might have added even a bit more cayenne pepper than the recipe calls for, because I like spice. But feel free to go as light or heavy as you dare with the cayenne. The heat provides a wonderful contrast to the cool, sweet fruit. So whatever you do, don't skip it entirely.
This salad is best when it's enjoyed immediately after making it. And it should be eaten cold. So make sure your pineapple and kiwi are chilled to start. Then just toss and enjoy!
Cheers,
Liz
Tropical Summer Caprese Salad
Ingredients
8 ounces fresh ciliegine mozzarella balls, drained
2 cups chopped (or balled) pineapple
4 kiwi, peeled and chopped (or balled)
1 tablespoon extra-virgin olive oil
1/2 tablespoon lime juice
1 tsp. agave nectar
1/2 tsp. salt
1/4 tsp. black pepper
1/8 tsp. cayenne pepper
1/2 cup hazelnuts, roughly chopped
1/4 cup fresh cilantro, roughly chopped
1/4 cup fresh basil, roughly chopped
Instructions
Add the mozzarella, pineapple and kiwi to a large bowl.
In a separate small bowl, stir together the olive oil, lime juice, agave, salt, black pepper and cayenne pepper. Pour this dressing over the mozzarella and fruit, tossing gently to combine.
Add the hazelnuts, cilantro and basil. Toss to combine. Serve immediately.
http://www.floatingkitchen.net/tropical-summer-caprese-salad/
This post was originally published here on January 23, 2014. I've since updated the photos and text. Enjoy!
Great fitting jeans. A copy of The Catcher in the Rye. And a recipe for The Best Blueberry Muffins.
These are all classics that will never go out of style. And they are all things that everyone should have in their collection.
And while it would be awesome if we could all go clothes shopping together to find some booty-licious pants. Or have a book club meeting to discuss teenage rebellion. Neither of those things seems very practical right now (unless you all want to hop on an airplane!). So instead, I'm going to help you out in the blueberry muffin department.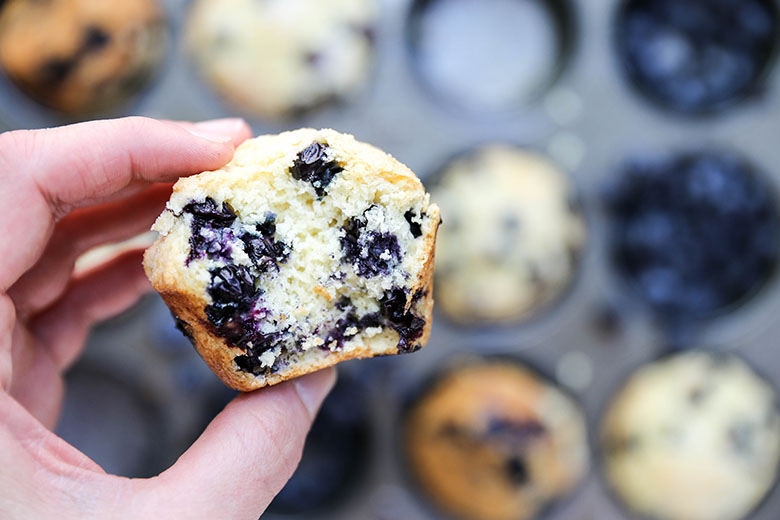 This blueberry muffin recipe is slightly adapted from Gwyneth Paltrow's cookbook, My Father's Daughter. It's a recipe that I've been making for years now (playing with many different mix-ins along the way), so I know it by heart. It's my go-to baked good that I'm constantly whipping up for any special breakfast or brunch gathering. Or just whenever my mood requires a little pick-me-up. Because you certainly don't need a special occasion to make and enjoy these babies. They are wonderful any day of the week. And any month out of the year, too. Classics like blueberry muffins are season-less, in my humble opinion (although being able to use local blueberries during the Summer months is a real treat!).
And you know what's even better? This recipe requires only one mixing bowl and 10 ingredients.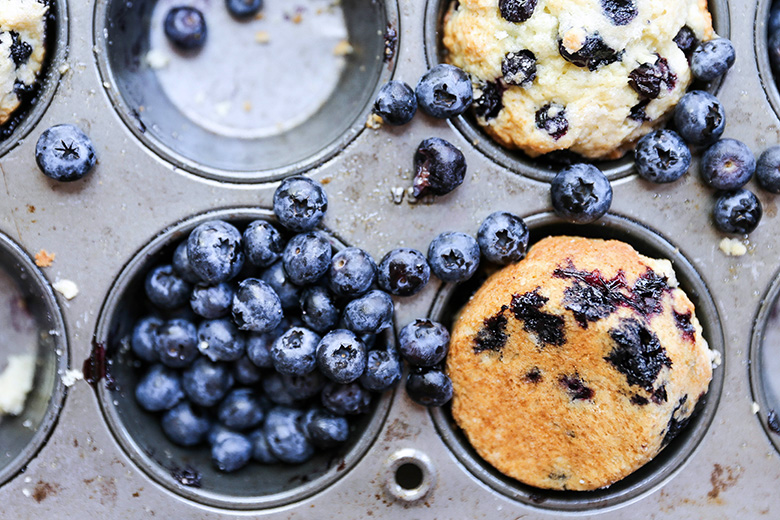 A few notes on the recipe that are worth mentioning up front. First, the batter is extremely thick. Like whoa. Probably way thicker than other muffin recipes you've made in the past. Second, the muffins cups get filled all the way to the brim. But don't worry. They won't spill over. And finally, 2 ½ cups of fresh blueberries will seem like way too many blueberries than will reasonably fit in a muffin without resulting in an exploding blue mess. But just trust me when I say it's all going to be fine. You got this! And I bet these blueberry muffins will soon become a favorite in your house, too!
Cheers,
Liz
The Best Blueberry Muffins
Ingredients
1/2 cup (8 tablespoons) unsalted butter, melted and cooled
2 eggs
1/2 cup whole milk
1 tsp. lemon zest
2 cups all-purpose flour
3/4 cups plus 1 tablespoon sugar
2 tsp. baking powder
1 tsp. salt
1/2 tsp. ground cinnamon
2 1/2 cups fresh blueberries
Instructions
Pre-heat your oven to 375 degrees. Line a standard 12-cup muffin tin with liners or coat with non-stick cooking spray. Set aside.
In your stand mixer with the paddle attachment, beat the butter, eggs, milk and lemon zest on medium speed until well combined, about 2-3 minutes. With the mixer on low speed, slowly add in the flour, 3/4 cups sugar, baking powder, salt and cinnamon, beating until the dry ingredients are just incorporated. Then gently fold in the blueberries using a spatula or wooden spoon.
Scoop the muffin batter into your prepared muffin tin, dividing the batter evenly between the 12 cups. Sprinkle the tops of the muffins with the remaining tablespoon of sugar. Transfer to your pre-heated oven and bake for 25-28 minutes, or until a toothpick inserted into the center comes out clean. Allow the muffins to cool in their tin for 5-10 minutes. Then remove and transfer them to a wire rack to continue cooling.
These blueberry muffins can be stored at room temperature in an airtight container for 2-3 days.
http://www.floatingkitchen.net/the-best-blueberry-muffins/