If you've been visiting this blog for a while now, then you know that I really like toppings. My motto: the more toppings, the better.
Part of the reason for this mild obsession with adding ALL THE THINGS to my foods is because I truly feel like certain food items (like puréed soups, for example) just shouldn't be naked. But also, I really like the artistic aspect of it all. Food can be a wonderful canvas to play with different colors and textures. In fact, some of my most creative moments can come when I'm staring down at a smoothie bowl or a slice of avocado toast.
But even I have to admit that sometimes I can get a little out of control with the garnishes. Like, did we really need cilantro on that?
The answer is yes, by the way. We always need cilantro.
So when I first pulled these roasted red cabbage wedges out of the oven, I was tempted to hit them with chopped hazelnuts. Maybe a drizzle of tahini-lemon sauce. And of course, a sprinkling of fresh cilantro. But I resisted. Because these vibrant purple wedges were just too gosh darn beautiful to cover up. And they tasted amazing as well. For once, no extra embellishments were necessary.
I must admit that cabbage was never really a vegetable that I loved. Because I mostly associated it with coleslaw, which is kind of yuck in my humble opinion. But now I'm proud to shout from the rooftops that I'm an official cabbage lover! Seriously, sign me up for more of this stuff. It's incredible. If you ever wanted to know how to eat an entire head of cabbage in one sitting, this is most definitely the way. In fact, I'm so confident that my Roasted Red Cabbage Wedges with Za'atar will convert anyone into a bona fide cabbage lover, that there is a money back guarantee on this recipe. Which is freely available on the internet, so there you go. Sorry.
These Roasted Red Cabbage Wedges with Za'atar would make a gorgeous side dish for any hearty Fall meal. In fact, you might even want to bookmark this recipe for Thanksgiving. Just saying.
Za'atar seasoning is a blend of herbs and spices that is frequently used in Middle Eastern cooking. And it's an incredibly easy way to add a big punch of flavor to any dish. You can find za'atar in most large grocery stores, either with the other spices or in the aisle with the international items.
I've created this recipe as part of our monthly #eatseasonal round-up organized by my friend Becky from Vintage Mixer. October is a fun month in the kitchen, because there are still a few hints of Summer produce lingering. And lots of sturdy Fall fruits and vegetables, too. Check out Becky's October Produce Guide for the low down on everything that's seasonal and delicious this month. And scroll down below the recipe to see what some of my other blogging friends were inspired to create this October!
Cheers,
Liz
Roasted Red Cabbage Wedges with Za'atar
Ingredients
1 head red cabbage
2 tablespoons melted coconut oil
1 1/2 tsp. za'atar
Scant 1/2 tsp. salt
1 tsp. red wine vinegar
Instructions
Pre-heat your oven to 400 degrees.
Remove and discard any outer leaves from the cabbage that are tough or wilted. Then slice the cabbage into 8 equal sized wedges. The core and stem should keep the individual wedges intact.
Arrange the cabbage wedges in a single layer on a large rimmed baking sheet. Drizzle with the coconut oil. Then sprinkle with the za'atar and salt. Transfer the baking sheet to your pre-heated oven and roast the cabbage for 20-25 minutes. The cabbage should be softened and starting to brown in a few spots. Remove from the oven. While the cabbage wedges are still warm, sprinkle them with the red wine vinegar. Serve immediately.
http://www.floatingkitchen.net/roasted-red-cabbage-wedges-with-zaatar/
October Eat Seasonal Recipes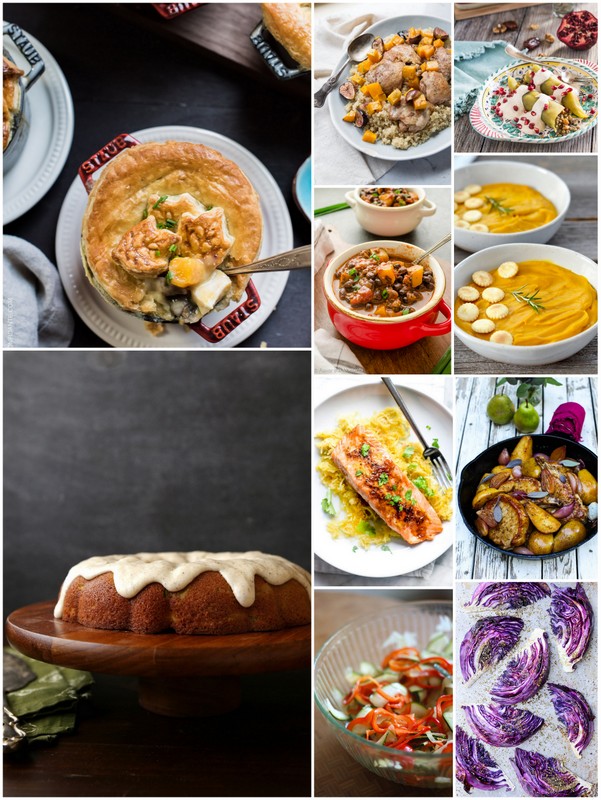 Turkey Pumpkin Pot Pie by Kitchen Confidante
Roasted Chicken with Figs and Butternut Squash by Vintage Mixer
Lentil Chile Rellenos with Creamy Walnut Sauce by Letty's Kitchen
Chorizo, Black Bean, and Kabocha Squash Chili by Flavor the Moments
Roasted Vegetable Soup by Joy Food Sunshine
Spiced Zucchini Pear Cake with Brown Butter Glaze by Completely Delicious
Orange Spiced Salmon with Spaghetti Squash by Foodie Crush
Pork Chops with Roasted Pears, Sage and Shallots by Simple Bites
Marinated Zucchini with Red Peppers and Garlic by Project Domestication
During the Summer months, I pretty much leave my oven dial set squarely in the "OFF" position. I occasionally break the rules to bake up a batch of perfectly moist muffins. Or if there is some emotional crisis that calls for chocolate therapy, then a pan of fudgy brownies is a fair trade for a little brow sweat. But other than that, it's kind of not worth the risk of turning my kitchen into Satan's den.
Which is why I was starting to get just a teeny tiny bit excited about Fall baking. I even had big plans for this past weekend: blondies, sticky buns and cookies were all on the menu. But then it ended up being crazy hot and humid here. So my oven dial stayed put. Which is kind of a shame. But probably better for my waistline in the long run, if I'm being completely honest with myself.
However, I did manage to sneak in this Pear and Blackberry Almond Cake last week when we had a cooler day. And I'm super excited to share the recipe with you guys today.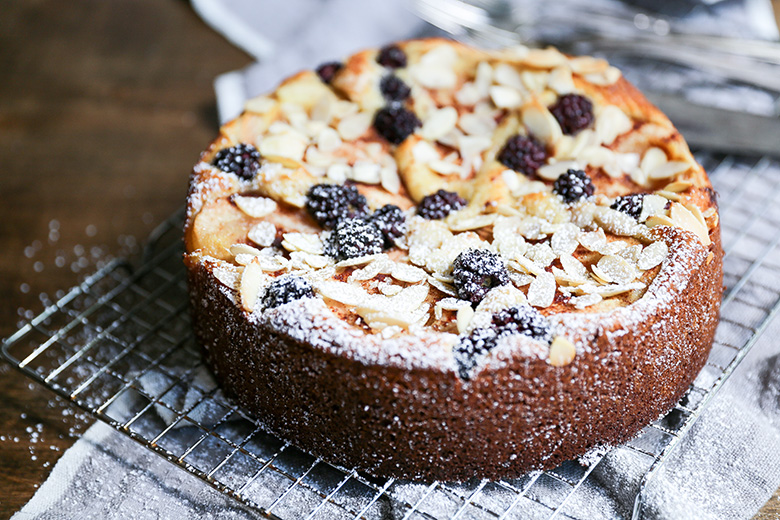 I find that pears are so underused in the Fall. Everyone is in some kind of pumpkin-induced delirium. Which causes pears (and even apples) to get overlooked. So I always try to give them a little bit of loving when I get the chance. These pear and ginger scones and this sweet potato and pear soup are two of my personal favorites from last year, if you're at all interested.
This cake is the perfect way to highlight seasonal pears and blackberries. And it feels kind of like a transitional cake. Not too heavy, not too light. With notes of both Summer and Fall flavors. You could serve this cake for brunch. Or add a scoop of vanilla ice cream for dessert. I don't think you can really go wrong here. I definitely had a slice or two for breakfast!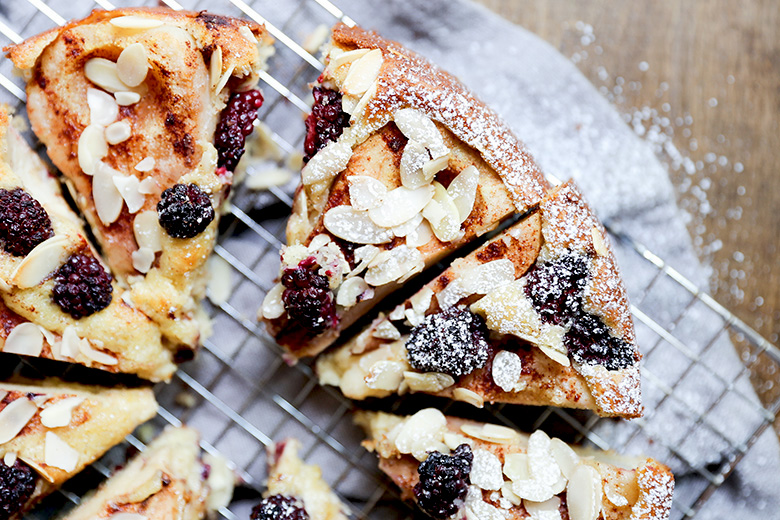 Make sure to buy pears that are ripe, but still firm. If they are overly ripe, they will release a lot of juice and the cake directly underneath the pears will turn out a bit on the gummy side. And that's no bueno.
I'm sharing my Pear and Blackberry Almond Cake as part of our monthly #eatseasonal round-up organized by Becky from Vintage Mixer. Check out Becky's September produce guide for the low down on what's in season this month (there is A LOT!). And see what some of my blogging friends made this month to celebrate September's bounty of fruits and vegetables. The links are below!
Cheers,
Liz
Recipe adapted from my Rhubarb-Almond Cake
Pear and Blackberry Almond Cake
Ingredients
1 cup plus 1 tsp. sugar, divided
1/2 cup (8 tablespoons) unsalted butter, softened at room temperature
2 eggs
1 cup Greek yogurt
1 tablespoon lemon zest
3/4 tsp. vanilla extract
1/4 tsp. almond extract
1 1/2 cups all-purpose flour
1/2 cup almond meal
1 tsp. ground cinnamon, divided
1 tsp. baking powder
1/2 tsp. baking soda
1/4 tsp. salt
3 pears, peeled, halved and cored (make sure they are ripe but still firm)
3/4 cups blackberries
1/3 cup sliced almonds
Powdered sugar for serving, if desired
Instructions
Pre-heat your oven to 350 degrees. Line the bottom of a 10-inch springform pan with a round of parchment paper. Then generously coat the parchment paper and the sides of the springform pan with non-stick cooking spray. Set aside.
In the bowl of your stand mixer with the paddle attachment, beat 1 cup of the sugar and the butter on medium speed until light and creamy, about 2-3 minutes. Add the eggs in one at a time, mixing after each addition. Then beat in the yogurt, lemon zest and the extracts.
In a medium bowl, combine the flours, 1/2 tsp. of the cinnamon, the baking powder, baking soda and salt. Add these dry ingredients to the cake batter, adding in about one-third at a time, mixing on low speed until no more white streaks remain.
Spread the cake batter into your prepared springform pan, making sure the top is even. The batter will be thick and a bit tacky. Arrange the pears, cut side up, on top of the batter, pressing them down slightly into the batter. Sprinkle the pears with the remaining 1 tsp. of sugar and 1/2 tsp. of cinnamon. Top with the blackberries and sliced almonds.
Transfer the cake to your pre-heated oven and bake for about 50 minutes, or until a toothpick inserted into the middle comes out clean. Remove the cake form the oven and set it on a wire rack to cool. Once cooled, run a knife around the outer edge of the cake and release the sides of the springform pan. Cut the cake into slices and serve with a dusting of powder sugar, if desired.
The cake is best served the day it's made, but it can be stored at room temperature in an airtight container for up to 1 day.
http://www.floatingkitchen.net/pear-and-blackberry-almond-cake/
September Eat Seasonal Recipes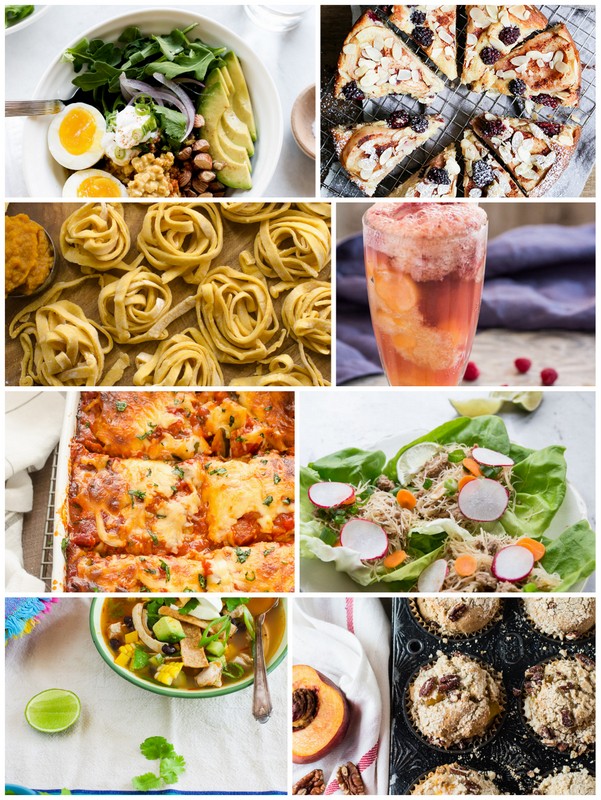 Coconut Curry Cauliflower Rice Bowls by Kitchen Confidante
Homemade Pumpkin Pasta by Bless this Mess
Melon and Raspberry Soda Float by Letty's Kitchen
Ratatouille Lasagna by Flavor the Moments
Asian Chicken Lettuce Wraps with Carrots and Radishes by Vintage Mixer
Harvest Tortilla Soup by Simple Bites
Peach Muffins with Pecan Streusel by Cafe Johnsonia
Pear and Fig Tarts with Goat Cheese and Honey by Food for My Family
Double Chocolate Zucchini Bread by Foodie Crush