This post was originally published here on May 8, 2015. I've updated the photos and text to showcase just how delicious these miniature scones really are! Enjoy!
I have a mega soft spot in my heart for fresh rhubarb. I can't resist those slender stalks and crimson hues. In fact, just take a peak inside my refrigerator at any point between the months of April and June, and you'll consistently find rhubarb lining the shelves.
I'm hoping to get into some more savory applications for rhubarb this Spring, but in the meantime, I'm happy to be incorporating it into all sorts of baked goods. It's tart bite makes it ideal for everything from cakes to pies to scones. And rhubarb is even good in cocktails, as I happily discovered last year.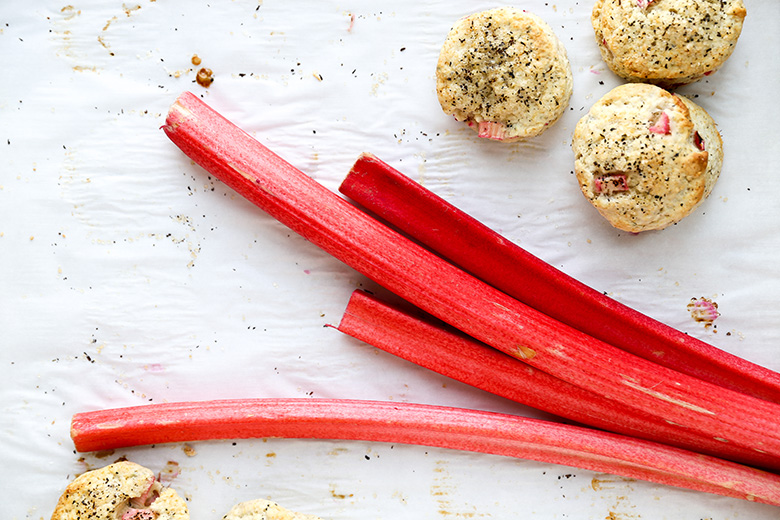 Also, anyone else totally digging Springtime baking right now? It seems so light and easy. Pretty much the exact opposite of how I feel about Christmas baking, which usually leaves me in a sweaty puddle of anxiety and self loathing (how many Santa cookies did I really just eat?). I can't fully explain it. All I know is that I want to fit in as much baking as possible before it becomes way too hot to use my oven.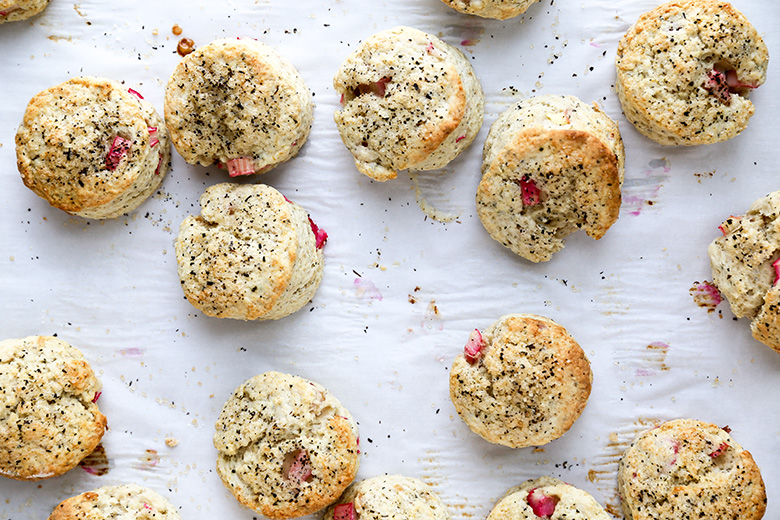 These Mini Rhubarb and Jasmine Tea Cream Scones have brunch written all over them. They would be perfect for Easter or Mother's Day. I love that they are miniature, because that means either (a) eating one won't fill you up so you can comfortably enjoy the rest of your meal, or (b) you can eat three of them! Both scenarios have happened to me. And both are likely to occur again in the future. This is real life.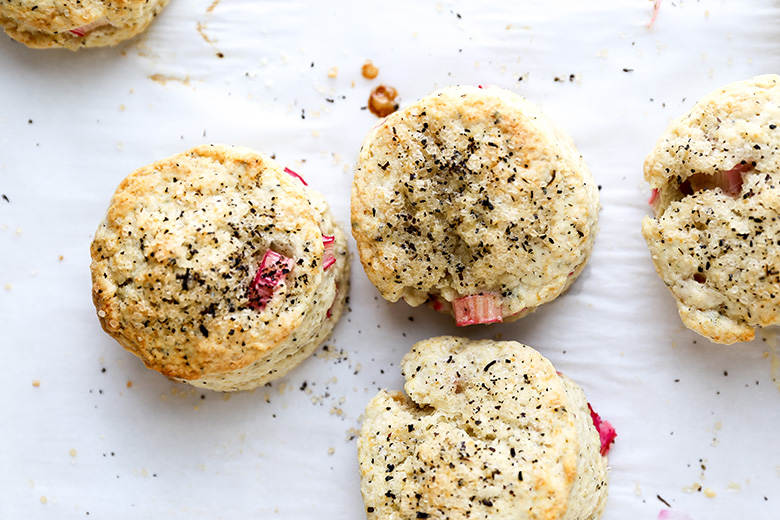 The tea is a fun addition that makes these scones feel extra "Springy" to me. I stir some into the dough. Then sprinkle the rest on top before baking. I used jasmine tea for this recipe, but chamomile or other varieties would work equally well. Loose leaf tea is probably your best option. But if you can't find it, you can purchase tea bags and simply tear them open to access the tea leaves inside.
Make sure to keep the rhubarb pieces small-ish for this recipe. Because these scones are miniature, they cook up relatively fast. And you don't want to be left with any overly firm pieces of rhubarb. I try to keep the pieces about a 1/2-inch in size (like the size of an almond).
Cheers,
Liz
Recipe adapted from Joy the Baker
Mini Rhubarb and Jasmine Tea Cream Scones
Ingredients
3 cups all-purpose flour
1/3 cup granulated sugar
1 tablespoon plus 1/2 tsp. jasmine tea leaves, divided
1 tablespoon baking powder
1 tsp. salt
About 1 1/2 cups heavy cream, plus more for brushing the tops
1 tsp. vanilla extract
1 cup chopped rhubarb (keep the pieces about 1/2-inch in size)
1/4 cup turbinado sugar
Instructions
Pre-heat your oven to 425 degrees. Line a baking sheet with parchment paper and set it aside.
In a large bowl, whisk together the flour, granulated sugar, baking powder, salt and 1 tablespoon of the jasmine tea leaves.
Measure out 1 1/3 cups of heavy cream. Mix in the vanilla extract. Slowly add the cream mixture to the dry ingredients, stirring with a wooden spoon as you pour in the cream. Gently stir in the rhubarb. Add more cream if necessary, one tablespoon at a time, so the dough is moist and holds together loosely (it will be a bit shaggy).
Dump the dough out onto a lightly floured surface and use your hands to form it into a disk about 3/4-inches thick. Using a small round biscuit or cookie cutter (I used a 2-inch cookie cutter), cut out small circles from the dough disk. Transfer the circles to your baking sheet, placing them about 1-inch apart. Gently re-shape the scraps and continue cutting out circles until all the dough has been used.
Brush the top of each circle with heavy cream. In a small bowl, mix together the turbinado sugar with the remaining 1/2 tsp. of jasmine tea leaves. Sprinkle the sugar mixture over top of the circles.
Transfer to your pre-heated oven and bake for 15-18 minutes, or until golden brown on top. Remove from the oven and set aside to cool slightly.
Scones are best when served while still slightly warm. Once fully cooled, they can be stored in an airtight container for 1-2 days at room temperature.
http://www.floatingkitchen.net/mini-rhubarb-and-jasmine-tea-cream-scones/
As promised (or threatened?), I'm back today with another recipe using kumquats.
I've been working diligently on that case that my Mom gave me a couple of weeks ago. But progress seems slow. I even tried to give some away. But people stare at you funny when you try to force a zip-closure bag full of miniature looking oranges onto them.
Oh well. I can't really complain. Kumquats are only available around here for a short period of time, so I'm happy to indulge in them while they're in season.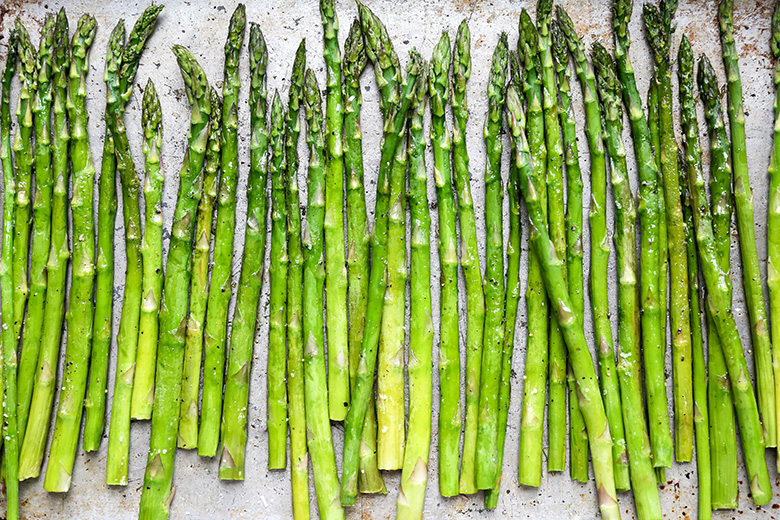 The other seasonal item that I'm binging on right now is asparagus. And it seems that you guys are doing the same. Because when I asked you to tell me what Spring vegetable was your favorite, the results came back loud and clear. Asparagus takes the cake.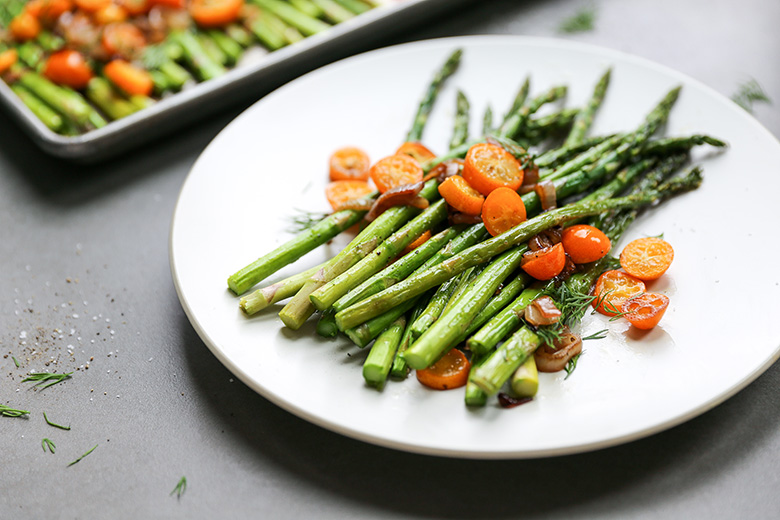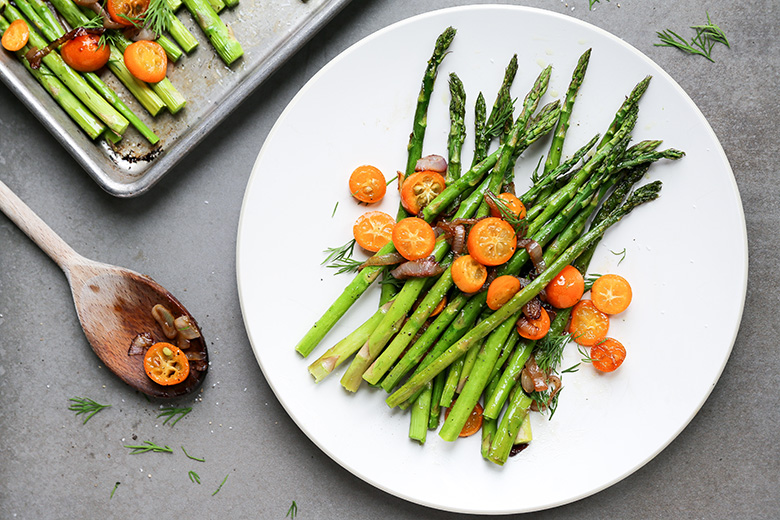 So armed with the knowledge that you all love asparagus, and my bottomless case of kumquats, I created this easy recipe for Roasted Asparagus with Sautéed Shallots and Kumquats. You only need seven ingredients for this dish. And about 15 minutes of time. Easy peasy. It's vegan and gluten free, too. Try it out as a side dish for Easter or Mother's Day brunch. Or use it to top grain bowls, savory waffles, etc. It's completely addicting. I ate the entire pan by myself in just two sittings!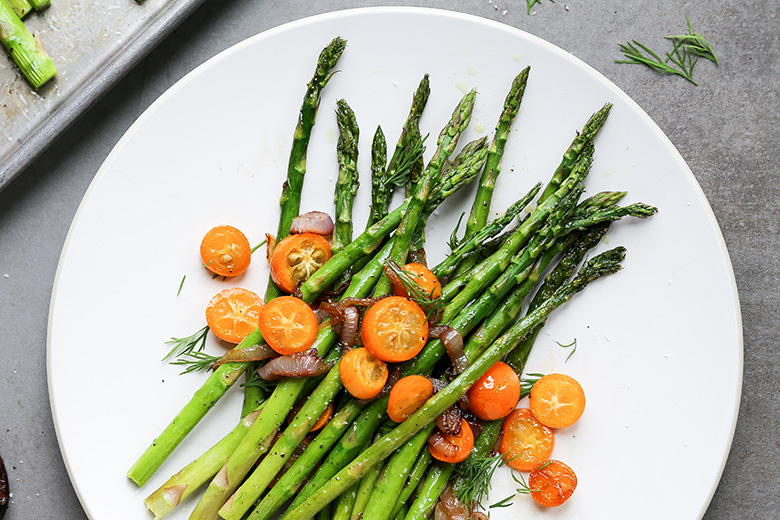 I'm sharing this delicious recipe as part of our monthly seasonal produce round-up organized by Becky from Vintage Mixer. Check out Becky's April Produce Guide to learn about which fruits and vegetables are best to be enjoyed this month. You'll also find plenty of recipe ideas, too. And for additional April inspiration (say that five times fast!), click on the links below to see what new creations some of my blogging friends whipped up this month.
Cheers,
Liz
Roasted Asparagus with Sautéed Shallots and Kumquats
Ingredients
1 lb asparagus, bottom 1-inch trimmed and discarded
2 tablespoons extra-virgin olive oil, divided
1/2 tsp. salt
1/2 tsp. black pepper
1 cup sliced shallots (from about 2 medium shallots)
1 cup sliced kumquats
1 tablespoon fresh dill, chopped
Instructions
Pre-heat your oven to 400 degrees. Spread the asparagus out onto a large rimmed baking sheet. Drizzle with 1 tablespoon of the olive oil and sprinkle with the salt and black pepper. Transfer to your oven and roast for 10-12 minutes. Remove and cover to keep warm.
Meanwhile, heat the remaining tablespoon of olive oil in a skillet over medium heat. Add the shallot and cook, stirring frequently, until softened and browned, about 5 minutes. Add the sliced kumquats and cook for 1 minute more. Remove the skillet from the heat.
To serve, place the asparagus on a serving plate. Top the asparagus with the shallot-kumquat mixture. Then sprinkle with the fresh dill. Enjoy immediately.
http://www.floatingkitchen.net/roasted-asparagus-with-sauteed-shallots-and-kumquats/
April Eat Seasonal Recipes
Sugar Snap Pea and Bacon Salad by Completely Delicious
BBQ Cauliflower & Chickpea Veggie Burgers by She Likes Food
Asparagus Grilled Cheese by Vintage Mixer
Frittata with Ham and Asparagus by Healthy Seasonal Recipes
Easy Homemade Guacamole by Joy Food Sunshine
Sorghum Vegetable Salad with Cumin-Lime Vinaigrette by Cafe Johnsonia
Mushroom Rosemary Olive Oil Bread by Cookin' Canuck
Roasted Asparagus with Balsamic, Gorgonzola and Walnuts by Aggie's Kitchen
Polenta Cauliflower Torta with Roasted Asparagus by Letty's Kitchen
Herbed Potato Rösti with Peas, Shallots, and Bacon by Food for My Family
Maple-Glazed Sweet Potatoes with Walnut-Bacon Crumble by Simple Bites
Creamy Pasta with Salmon and Asparagus by Foodie Crush
Ultimate Veggie Sandwich with Lemon Herb Cream Cheese by Flavor the Moments
Spring Mint & Papaya Batido by Suitcase Foodist
Skillet Shrimp with Lime and Green Curry Compound Butter by Kitchen Confidante
Loaded Guacamole Tacos by Mountain Mama Cooks