In my humble opinion, Reese's is the undisputed King of Halloween candy. Their peanut butter cups and Halloween-colored hard shell candies have always been my favorite. And I always make sure to include them in some form in my Halloween-themed treats.
So when I decided to take my favorite chocolate chip cookie recipe and give it a Halloween spin, I knew I wanted to include Reese's Pieces in the mix. And thus, these Peanuty Chocolate Chip Cookies were born. Or as I like to affectionately call them: E.T.'s Favorite Cookies!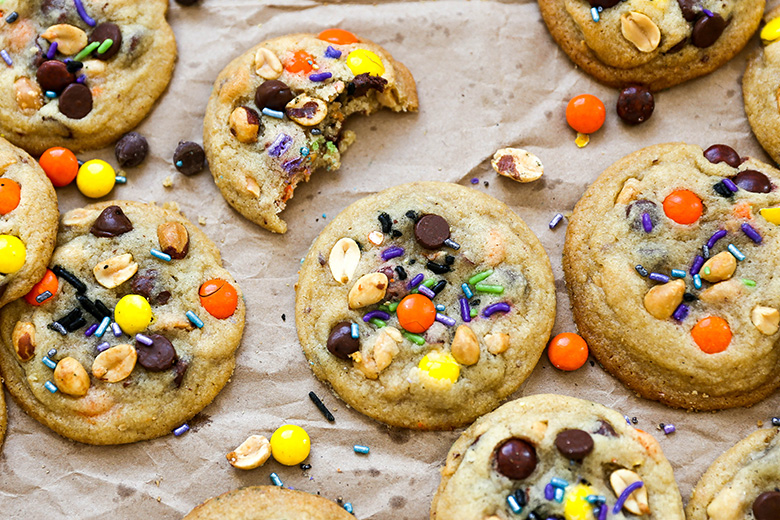 There is no peanut butter in these cookies. But between the Reese's Pieces and the roasted peanuts, there is peanut/peanut butter flavor in every single bite. These cookies are salty-sweet perfection! I brought them to the farm and they were gone by 10am. Clearly a hit with everyone!
To get the "loaded" look that you see in the photographs, don't skip pressing extras of all the toppings into your cookie dough balls before baking them (steps 5-6 in the instructions below). It really makes the cookies stand out. And who doesn't want more toppings, right? I also tossed in a few Halloween-colored sprinkles for good measure. But that's totally optional.
Cheers,
Liz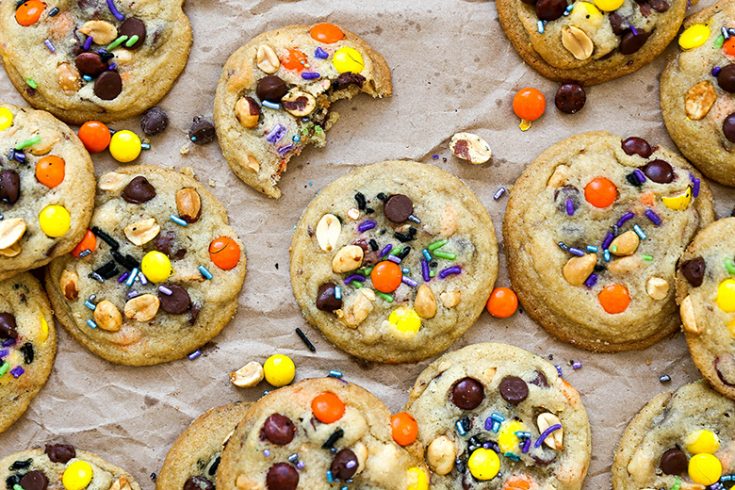 Peanuty Chocolate Chip Cookies
Yield: Makes about 3 dozen
Prep Time: 15 minutes
Cook Time: 25 minutes
Additional Time: 2 hours
Total Time: 2 hours 40 minutes
Ingredients
For the Cookie Dough:
1/2 cup (8 tablespoons) salted butter, softened at room temperature
1/2 cup (8 tablespoons) vegetable shortening
3/4 cups granulated sugar
3/4 cups packed brown sugar
2 eggs, at room temperature
1 tsp. vanilla extract
2 1/4 cups all-purpose flour
1 tsp. baking soda
1/2 tsp. salt
1/2 tsp. ground cinnamon
1 cup semi-sweet or dark chocolate chips
3/4 cups Reese's Pieces
3/4 cups dry roasted, salted peanuts
To Finish the Cookies:
About 1/4 cup semi-sweet or dark chocolate chips
About 1/4 cup Reese's Pieces
About 1/4 cup dry roasted, salted peanuts
About 2 tablespoons colored sprinkled (I used a mix of black, green and purple)
Instructions
In the bowl of your stand mixer with the paddle attachment, beat together the butter, shortening and sugars on medium-high until light and fluffy, about 2-3 minutes. Add the eggs one at a time, beating after each addition, and the vanilla extract and beat until well combined. Scrap down the sides and bottom of the bowl.
In a medium bowl, stir together the flour, baking soda, salt and cinnamon. With your mixer on low speed, add in the dry ingredients one-third at a time. Beat just until no more white streaks remain, stopping to scrap down the sides and bottom of the bowl as necessary. Stir in the chocolate chips, Reese's Pieces and peanuts.
Cover your mixing bowl with plastic wrap and place it in your refrigerator to chill the dough for at least 2 hours or up to overnight.
Pre-heat your oven to 375 degrees.
Combine the remaining chocolate chips, Reese's Pieces, peanuts and the sprinkled on a plate. Set aside.
Scoop out tablespoon sized portions of the chilled cookie dough and roll into balls. Lightly press the top of each cookie dough ball onto the plate with the toppings so that several pieces adhere to the surface. Then place on a baking sheet, leaving about 2-inches between each cookie dough ball.
Transfer the baking sheets to your pre-heated oven and bake for 10 minutes. Rotate the baking sheets and bake for an additional 2 minutes, or until the edges of the cookies are golden brown and look firm.
Remove from the oven and allow the cookies to cool on their baking sheets for 5 minutes before transferring them to a wire rack to finish cooling. Once completely cooled, the cookies can be stored in an airtight container at room temperature for 3-4 days.