I apologize for all the frozen treats lately.
Yeah, that was a silly sentence to write. Because it would be a sad, dark day if September rolled around and I realized that I hadn't eaten enough ice cream and popsicles over the summer. So I think we should continue at the current pace. Do you agree? Good. Because today we're talking about Beer-sicles (i.e. popsicles made with beer!).
But before we enjoy our beer in frozen form, I wanted to tell you all that I'm in Portland, Oregon right now! Yipee!
Portland is one of my favorite West Coast cities, so I always get excited for my trips here. I'm currently visiting some friends. And over the weekend I'll be attending Indulge Conference. I'm eager to meet up with some of my best blogging buddies, learn some new business tricks and, for lack of a better word, "indulge" in all the food and drink that Portland has to offer. This is going to be good! If you want to follow along with our shenanigans, be sure to check out the hashtag #indulgeconpdx.
So, let's get back to more important things like beer in popsicles. Because you need these adult frozen treats in your life STAT! It's all very simple really. Just blend up some gorgeous, ripe summer berries (I used equal amounts of raspberries, blackberries, blueberries and strawberries) with a little beer and a homemade rosemary-simple syrup. Then sit back and let your freezer do all the work. This is my kind of desserts. Easy AND it has alcohol in it!
To honor my trip to Oregon, I made up my Berry-Beer Popsicles with one of my favorite Oregon beers: Rogue's Marionberry Braggot. Now, Rogue Ales & Spirits is on the Pacific Ocean and I'm dangling on the Atlantic Ocean. So if I can find this beer in my hometown, then I know that you can find it too. I highly suggest seeking it out. But, that being said, don't stress out about it too much. Your favorite fruity beer would be most excellent here. I'm absolutely sure of it!
Cheers,
Liz
Ingredients
For the Rosemary-Simple Syrup
½ cup water
½ cup sugar
2 sprigs fresh rosemary

For the Beer-sicles
2 cups fresh mixed berries
¼ cup rosemary-simple syrup
1 cup fruity beer
Instructions
Make the simple syrup. In a small saucepan combine all of the ingredients over medium-high heat. Bring to a low boil and cook, stirring frequently, until the sugar is completely dissolved, about 2-3 minutes. Remove the saucepan from the heat. Allow the simple syrup to cool to room temperature. Once cooled, the simple syrup can be used. But the longer it sits, the more the rosemary flavor will develop. So consider making it several hours in advance if time permits. This recipe makes more simple syrup than you'll need for the popsicles. The rosemary can be strained out and the syrup can be stored in an airtight container in your refrigerator for 1-2 weeks. Hint: it's great in cocktails!
Make the beer-sicles. Add the mixed berries, ¼ cup of the simple syrup and ¼ cup of the beer to your blender. Blend on high until smooth. Stir in the remaining beer. Pour the mixture into your popsicle molds. Transfer the molds to your freezer and allow them to partially set, about 30-60 minutes, before inserting wooden sticks or dowels. Continue to freeze until solid, about 6 hours. The popsicles will be slightly softer than regular popsicles (that whole thing about alcohol lowering freezing temperatures is true!).
Remove the popsicles from their molds before serving. You can run a little warm water over the molds to help loosen the popsicles from their molds.
https://www.floatingkitchen.net/berry-beer-popsicles-beer-sicles/
Disclosure: This post is sponsored by Castello. I'm partnering with Castello for a Summer of Blue and helping them turn Tuesday's into #BluesdayTuesday! As always, all opinions expressed are my own. Thanks for supporting brands and companies that help keep my kitchen afloat!
Happy Tuesday! I hope you all had a fun and relaxing Memorial Day weekend! Typical of New England, I was bundled in wool socks and a sweatshirt on Saturday. And then I rocked a bathing suit all day Sunday and Monday. Which makes no sense whatsoever. We have the strangest weather sometimes.
I'm sure you won't be surprised to learn that I was a grilling machine this past weekend. I know. I sound like a broken record lately with respect to the grilling. But hey, we've got to take advantage of these warm days and long nights while we've got 'em. Am I right? I'm totally right.
While I'm developing a reputation for throwing absolutely anything and everything on the grill (salads! sides! desserts!), a good old-fashioned beef burger still holds the number one spot in my book.
And when I say "old-fashioned" I totally mean "over-the-top".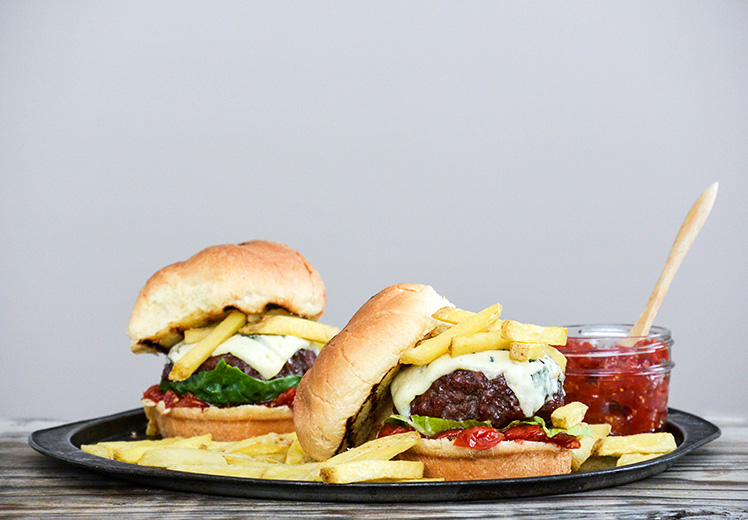 Sliced tomatoes on a burger = boring. So I made up a savory-sweet tomato-shallot jam to spread on our buns (ha!) instead. And OH MY GOSH is this stuff amazing. It pairs perfectly with the smoky flavors from the grill. And it brings a much more exquisite tomato flavor to our burgers than ketchup could ever do.
And French fries. We are going to put them RIGHT ON the burger. I mean, life is short so why the heck not. If you want to be a total champion, you can whip up some French fries from scratch (go you!). But I just used some frozen ones that I popped into the oven while I was prepping the burgers. Easy peasy.
And of course, we all know that no burger is complete without the cheese. Blue cheese is my go-to for burgers, because there is just something about the tangy-ness of the blue cheese that does magical things in my mouth when paired with a burger. And Castello is making it even easier for us to get that "umami" factor that we all crave with their Castello Burger Blue. Conveniently sliced (um…if you've ever tried to slice blue cheese before then you know this activity can be a crumbly mess) and totally melt-able, with Castello Burger Blue you are on your way to burger perfection in no time! And my Blue Cheese Burger with Tomato-Shallot Jam is pretty darn perfect, if I do say so myself. So definitely make sure to check out Castello Burger Blue for all your summer grilling needs!
Cheers,
Liz
Ingredients
For the Tomato-Shallot Jam
1 pint cherry tomatoes
1/3 cup sugar
1/3 cup shallots, minced
Juice and zest of 1 lime
½ tsp. salt

For the Burgers
1 lb ground beef (I used Laura's Lean Beef 92%)
1 tablespoon brown sugar
1 tablespoon Worcestershire sauce
1 tsp. extra-virgin olive oil
Salt and black pepper
3-4 slices Castello Burger Blue
3-4 hamburger buns
Lettuce
French fries for serving and topping
Instructions
Make the tomato-shallot jam. Cut the cherry tomatoes in half and toss them in a bowl with the sugar. Let them sit at room temperature for about 1 hour, stirring once or twice during this time. Then heat a large non-stick skillet over medium-high heat. Add the tomatoes, any accumulated juices and the shallots. Cook, stirring frequently for 12-15 minutes, or until the jam is thick, glossy and the tomatoes are almost broken down. Stir in the remaining ingredients and cook for an additional 1-2 minutes. Remove from the heat and set aside. Once cooled, the tomato-shallot jam can be stored in an airtight container in your refrigerator for 7-10 days. This recipe makes enough jam for 6-8 burgers.
If you want French fries (trust me, you do) for serving and topping your burger, start them cooking during this time.
Pre-heat your grill to high.
Make the burger patties. Add the ground beef, brown sugar, Worcestershire sauce, olive oil and about ½ tsp. salt and black pepper to a medium bowl. Using your hands, combine the ingredients together, being carefully not to over mix. Form the mixture into 3 or 4 patties, depending on your preferred burger size (I always make 1/3 lb patties = 3 patties). Sprinkle the tops of the patties with additional black pepper.
Add the burger patties to your grill and cook for about 4-5 minutes per side, depending on your desired level of doneness. During the last minute, add one slice of Castello Burger Blue to each burger. You can also add your hamburger buns to the grill at this time if you want them lightly toasted. Remove the burgers and hamburger buns from the grill.
Assemble the burgers. Spread some of the tomato-shallot jam onto the bottom half of each hamburger bun. Top with lettuce, burger patties, French fries and the top half of the hamburger bun. Serve immediately.
https://www.floatingkitchen.net/blue-cheese-burger-with-tomato-shallot-jam/