This post was originally published here February 8, 2015. I've since adjusted the recipe slightly and updated the text and photographs to reflect those changes.
Valentine's Day is a day that people love to hate. I've gone back and forth on my own opinions about this day over the years. But now I'm pretty content with it. It doesn't bother me, per se. And it's a chance to enjoy all my favorite chocolates and make cute heart-shaped foods. So that's good enough for me!
I always associate Valentine's Day with brunch foods. So I retrieved this Baked Tiramisu French Toast Casserole from the archives and gave it a facelift. It's unabashed over-the-top-ness is right on par for this Holiday!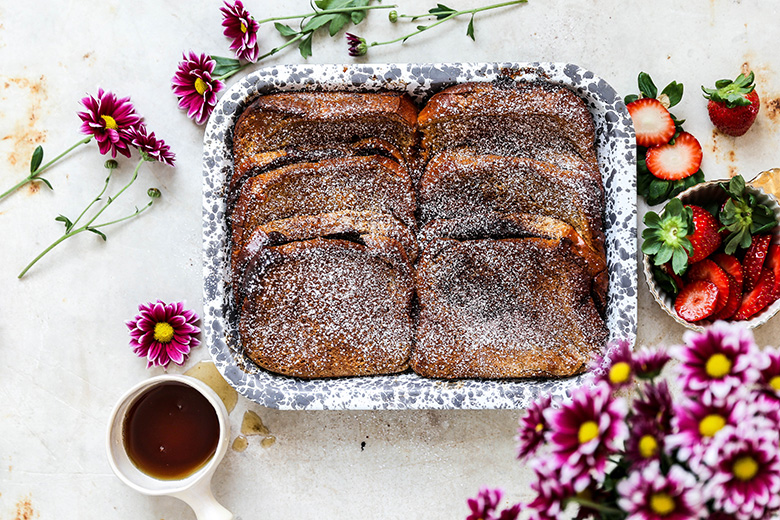 If you've ever made a sandwich before (I'm sure you have!), then making this Baked Tiramisu French Toast Casserole isn't going to be that much of a stretch for you. Because that's basically half of the work that we're doing here. You're going to fill two slices of challah or brioche bread with a combination of mascarpone cheese and melted chocolate. And then you're going to dip those "sandwiches" in an egg mixture flavored with a little bit of espresso powder before shingling them all into a baking dish. No big deal at all.
Are you catching the tiramisu theme now? Mascarpone + chocolate + espresso = YUM!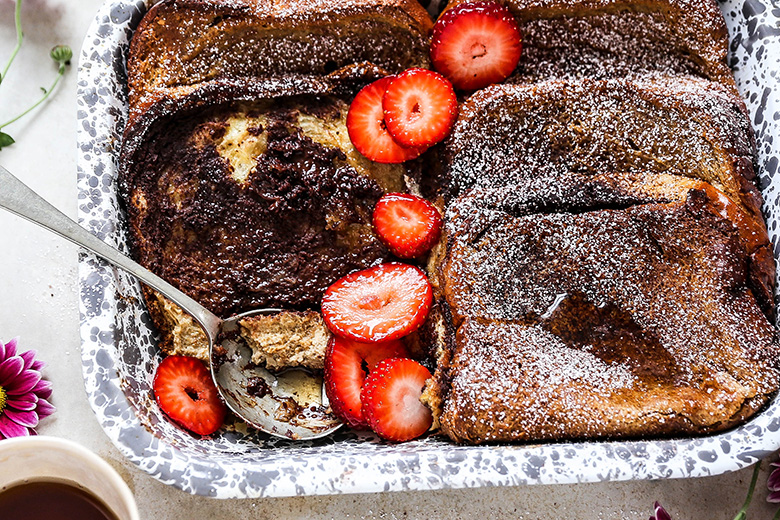 The parts of the casserole where the bread is mostly submerged in the egg mixture turn out kind of custard-like. While the parts that are more exposed get a nice little crust on the outside. Gah. It's the best of both worlds. And the filling stays perfectly ooey and gooey. If you've got a sweet tooth in the morning, then this recipe is definitely for you!
I like to make this Baked Tiramisu French Toast Casserole even more decadent by covering it with powdered sugar, cocoa powder, maple syrup and fresh berries before serving. A dollop of whipped cream is also a good decision. Basically, I'm giving you permission to add ALL THE THINGS. And then some.
Hope you all have a lovely Valentine's Day! XOXO!
Cheers,
Liz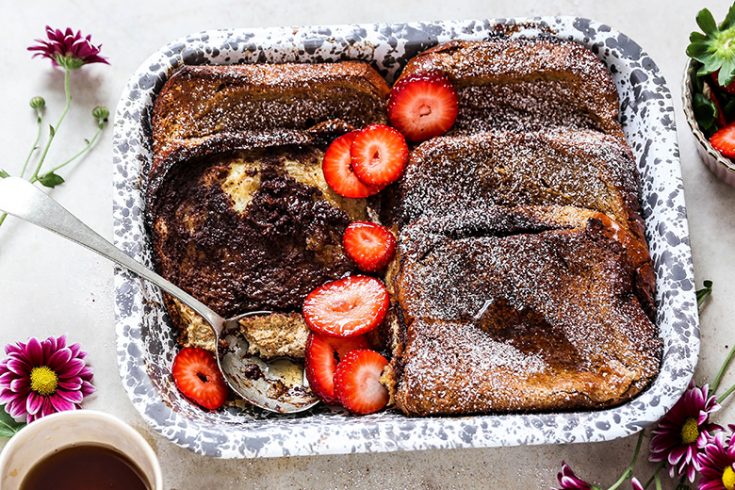 Baked Tiramisu French Toast Casserole
Yield: Serves 4-6
Prep Time: 15 minutes
Cook Time: 40 minutes
Additional Time: 2 hours
Total Time: 2 hours 55 minutes
Ingredients
For the French Toast:
3 eggs
1 cup whole milk
1/2 cup half and half
1 tablespoon granulated sugar
1 tsp. instant espresso powder
1 tsp. vanilla extract
4 ounces dark chocolate, chopped
6 ounces mascarpone cheese, softened at room temperature
12 slices day-old challah or brioche bread
For Serving:
Cocoa powder
Powdered sugar
Maple syrup
Fresh berries
Instructions
Lightly coat a baking pan with non-stick cooking spray and set it aside.
Whisk together the eggs, milk, half and half, sugar, espresso powder and vanilla extract until well combined. Pour this mixture into a shallow pan and set aside.
Gently warm the chopped chocolate, either in your microwave or on your stove-top, until it's fully melted. Add the mascarpone cheese and stir until the mixture is smooth.
Lay out 6 of the bread slices and divide the chocolate/mascarpone mixture evenly between the slices, spreading it out over each slice. Place the remaining 6 slices of bread on top (as if you're making a sandwich).
Working with one "sandwich" at a time, dunk it in the egg mixture and flip it so both sides get well moistened. Then place it in your prepared baking pan. Repeat this process with the remaining sandwiches, overlapping them slightly as necessary to fit into your baking pan. Slowly pour the remaining egg mixture over top. Then cover the baking pan with aluminum foil and refrigerate it for 1-2 hours.
Pre-heat your oven to 375 degrees. Remove the baking pan from your refrigerator and let it sit at room temperature while your oven pre-heats. Then transfer it to your pre-heated oven and bake, uncovered, for 30 minutes. After 30 minutes, loosely cover the pan with aluminum foil and bake the French toast for an additional 10 minutes. Remove from the oven and set aside to rest for about 5 minutes.
Sprinkle the French toast with cocoa powder and/or powdered sugar. Serve warm with maple syrup and fresh berries, if desired.