Disclosure: This post is sponsored by Driscoll's. All opinions are my own. Thank you for supporting companies that help to support Floating Kitchen!
Hi Friends! How are you today?
I'm actually feeling rather giddy. It's going to be a beautiful, sunny day. And I've got all the ingredients for these Blackberry-Ginger Shrub Rum Cocktails at the ready (I've also got a container of this Blackberry-Chocolate Chip Ice Cream in my freezer – yahoo!). My Thirsty Thursday is shaping up rather nicely, if I do say so myself. I hope you'll join me in celebrating!
Let's talk about shrubs for a second. Not the short, green, leafy plants. But the "acidulated beverages" that were popular back in the colonial days. Have you heard of them?
Shrubs were once used as a way to preserve natures bounty of seasonal fruits (before the advent of modern refrigeration), but now they have become a rather trendy addition to both alcoholic and non-alcoholic beverages alike. You'll find shrubs listed as an ingredient on modern cocktail menus. And in mason jars lining the shelves of all your mixologist friend's refrigerators.
In fact, they have become so popular lately, that I'm a bit embarrassed to admit that this was my first time making one. The whole process was so easy (and the final results so tasty!) that I know I'll be "shrubbing" on a regular basis from here on out. I followed the tips and instructions from this Serious Eats article. It's got a lot of great information that I recommend checking out if you're planning to embark on your own shrubbing journey.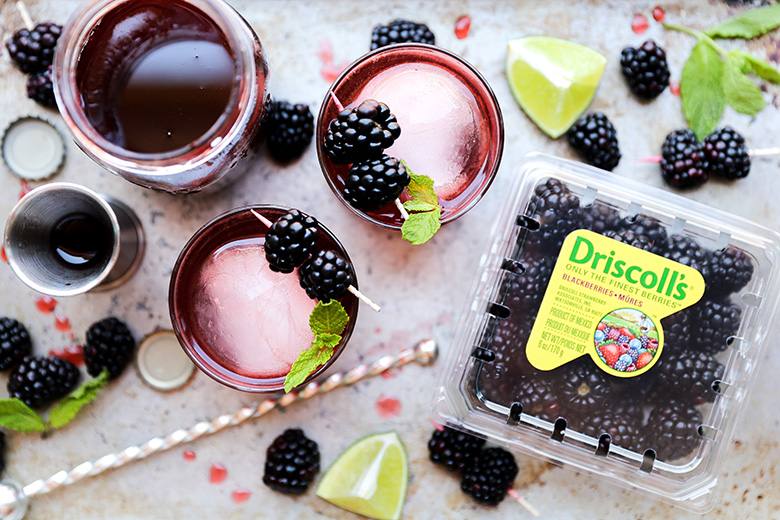 Shrubs require very few ingredients to make. So definitely make sure you're using the best ingredients that you can get your hands on. I'm so happy to be partnering with Driscoll's for today's recipe. Their gorgeous, juicy blackberries created one heck of a rich and flavorful shrub!
This blackberry-ginger shrub is the perfect mixer for all kinds of cocktail recipes. But I'm partial to combining it with some ginger beer, white rum and a squeeze of fresh lime juice. It's fruity and refreshing and a wonderful way to say "cheers" to Spring! Oh and don't forget to grab an extra package of Driscoll's blackberries for garnishing your cocktail glasses. Because presentation is key!
Cheers,
Liz
Ingredients
For the Blackberry-Ginger Shrub
1 package (6 ounces or 1 1/4 cups) Driscoll's Blackberries
1 cup sugar
1 tablespoon peeled and minced fresh ginger
1 tablespoon water
3/4 cups apple cider vinegar
2 tablespoons balsamic vinegar

For the Cocktails
Blackberry-Ginger Shrub
White rum
Lime wedges
Ice cubes
Ginger beer
Driscoll's Blackberries
Fresh mint leaves
Instructions
Make the shrub. In a large non-reactive bowl, combine the blackberries, sugar, minced ginger and water. Use the back of a spoon to crush the blackberries so they begin to release some of their juices. Cover the bowl with plastic wrap and refrigerate it for 24 hours, stirring the contents two or three times during this time. After 24 hours, strain the mixture through a fine mesh strainer into a clean bowl. Use a spatula to press down on the solids, removing as much of the liquid as possible. Discard the solids. Mix the apple cider vinegar and balsamic vinegar with the collected liquid. Transfer to a clean, re-sealable container (a 16 ounce mason jar works great for this) and place in your refrigerator. The flavor of the shrub will be sharp initially, but will mellow out over the course of several days. If stored and handled properly, the shrub will keep for many weeks in your refrigerator.
Make the cocktails. For one cocktail, add 3 ounces of the shrub, 1 1/2 ounces of the rum and a squeeze of fresh lime juice to a cocktail shaker with ice. Shake vigorously. Then strain into a glass with fresh ice. Top with about 3-5 ounces of the ginger beer, depending on your taste preferences. Garnish with blackberries and a couple of fresh mint leaves. Enjoy!
Notes
1. If you don't have a cocktail shaker, you can use a mason jar with ice and a re-sealable lid.
https://www.floatingkitchen.net/blackberry-ginger-shrub-rum-cocktail/