Disclosure: This is a sponsored post written by me on behalf of Andre Champagne for IZEA. All opinions are 100% mine.
When you reside in a seaside town, it's ALL about the summer months. We live and breath by the summer here. The downtown shops and restaurants come alive. Tourism brings new faces and new opportunities. And we celebrate and enjoy all the amazingness that the beach and surrounding water has to offer.
Maybe that's why I've been so resistant for summer to end.
This past weekend, I decided to give summer the proper send off it deserves. I gathered my close friends down at the beach and we had ourselves a little party complete with all the fixings, including this Champagne-Elderflower Cocktail with Pear and Thyme. It was a really fun (and at times epic!) event, and now I can confidently say that I've gotten out there and successfully enjoyed every last drop of summer.
There are a lot of things that can elevate an ordinary party into an extraordinary party. Great music, awesome snacks, a beautiful location and a specialty house cocktail are a few things that immediately come to mind. Carefully choosing all of these different elements, and thinking about how they will create a unified theme, is something that I really love about the art of party planning.
For this particular party, I knew that I wanted to make a cocktail that bridged the gap between summer and fall. Something that was still light and refreshing, but with hints of what's to come. So I grabbed a couple bottles of Andre Champagne and got to mixing!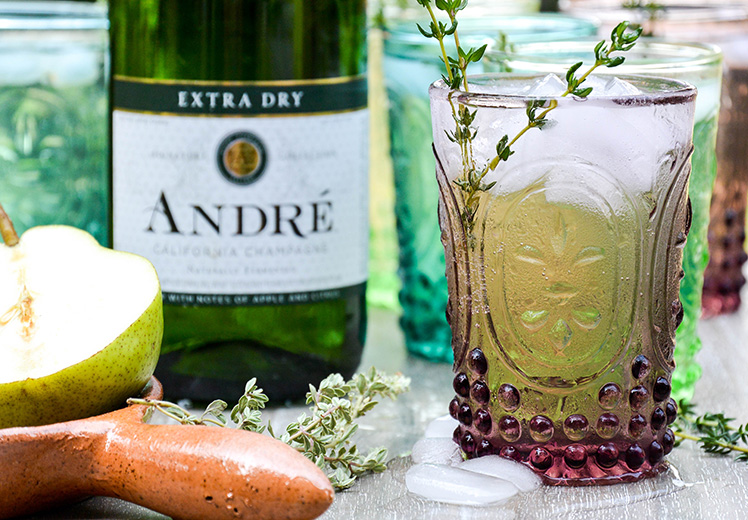 I decided to use Andre Extra Dry because it's a bit on the sweeter side, which makes it a great cocktail mixer in my opinion. But if you prefer something less sweet, try a bottle of Andre Brut instead. You really can't go wrong, no matter which one you choose.
For a fall spin, I played up the scent of pear in the Andre Extra Dry with a homemade pear and thyme simple syrup. Then I added a splash of elderflower liquor for a floral, summery note. All the flavors combine to create a cocktail that's equally well suited to honor summer, all while welcoming fall with open arms. I hope you give it a try!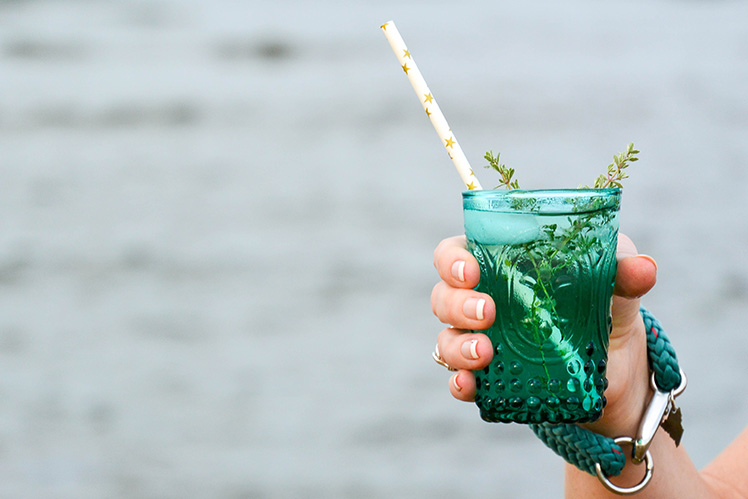 What was your most epic memory from this summer? And how have YOU made something #EpicWithAndre? I want to hear all about it!
Cheers,
Liz
P.S. Be cool. Drink responsibly. You know the drill.
Ingredients
For the Simple Syrup
1/2 cup water
1/2 cup sugar
1 ripe pear, cored and chopped
4 sprigs fresh thyme

For the Cocktails
Ice cubes
Pear and thyme simple syrup
Elderflower liqueur
Andre Extra Dry Champagne
Instructions
Make the simple syrup. In a medium saucepan, combine all of the ingredients over medium-high heat. Bring the mixture to a simmer and cook for about 5 minutes, stirring occasionally. Remove the saucepan from the heat, cover and set it aside for about 1 hour to cool. This will also give the flavors time to further develop. Strain the simple syrup, collecting the liquid into a clean re-sealable container. Discard the solids. Store the simple syrup in your refrigerator until you're ready to use it.
Make the cocktails. Place a few ice cubes into a 6 ounce glass. Add 1/2 ounce (1 tablespoon) each of the simple syrup and elderflower liqueur. Top with Andre Extra Dry Champagne. Garnish with a sprig of fresh thyme, if desired. Serve and enjoy.
https://www.floatingkitchen.net/champagne-elderflower-cocktail-with-pear-and-thyme/