Did you all know that I used to work as a baker in a pie shop?
Well, I did. For a whole year of my life it was all pie, all the time.
So needless to say, these nimble hands of mine have rolled out a lot of dough, crimped thousands of pretty pie edges (and some not so pretty edges = learning curve) and peeled more apples than I care to think about right now.
But here is my true confession: I'm not THAT into pie.
I know that's a horrible thing to say. Especially for a former pie baker turned food blogger on the week before Thanksgiving. But I needed to get that statement off my chest. Phew. I feel better now.
Given that it's almost Thanksgiving, I did want to bring you something resembling a traditional dessert. So here is my feeble attempt: a Pumpkin-Chocolate Swirl Tart.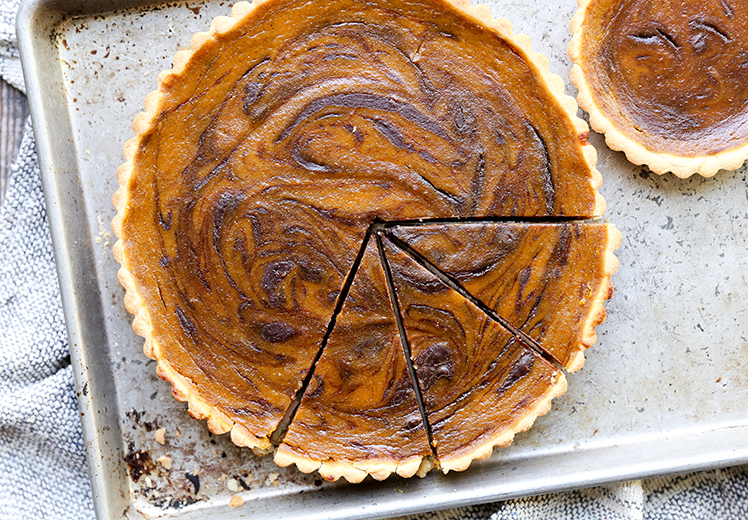 The crust here is more shortbread-like than pie crust-like. And the chocolate swirl is kind of like having a brownie baked right into a pumpkin pie. These are both very good things, in my humble opinion.
Oh and I just love how pretty (yet imperfect) the swirl is on top. If you get a crack in the top of your tart (which is fairly common with pumpkin pie filling), no one will even notice or care. It's all part of the rustic elegance of this Pumpkin-Chocolate Swirl Tart.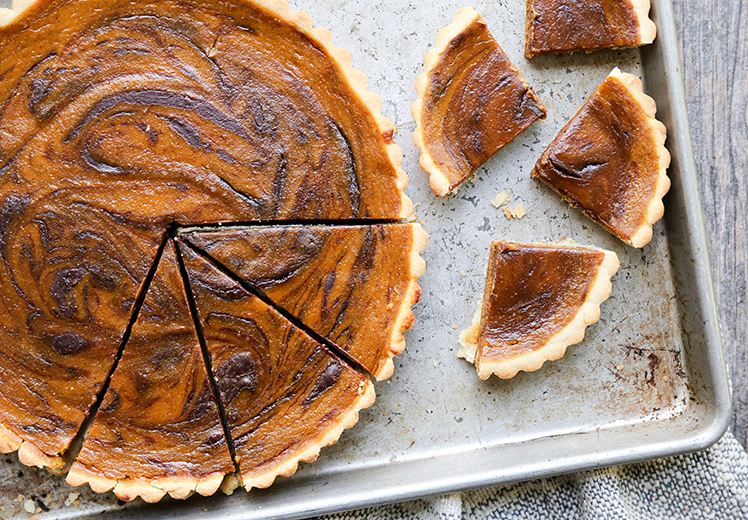 I have a few notes on the recipe that I thought were worth mentioning up front. First, you can (and should!) make the tart dough one or two days in advance, which will save you some work on Thanksgiving Day. Second, don't let the chocolate filling get too cold, or it will thicken and become difficult to swirl together with the pumpkin filling. And third, tart pans can vary widely in size. So instead of me trying to adapt the recipe to fit every and all tart pans out there, I'm going to ask you to use your best judgement here. This recipe should work out OK with anything between a 9- and 11-inch tart pan. My tart pan is 9-inches, and I ended up with enough leftover dough and filling to make the mini-tart that you see in the images. If your tart pan is 10- or 11-inches, you should be able to fit all (or almost all) of the filling into a single pan. Just don't overfill your pan. And if you happen to have some leftover, consider making a mini-version and eating it all up before your guests arrive. That's the perk of being the chef!
Cheers,
Liz
Recipe for the tart dough from The Cook's Illustrated Baking Book
Recipe for the pumpkin filling adapted from Joy the Baker's Homemade Decadence
Ingredients
For the Tart Dough
1 egg yolk
1 tablespoon heavy cream
1/2 tsp. vanilla extract
1 1/4 cups all-purpose flour
2/3 cups powdered sugar
1/4 tsp. salt
8 tablespoons (1/2 cup) unsalted butter, cubed and chilled

For the Pumpkin Filling
1 (15-ounce) can pumpkin purée
1/2 cup brown sugar, packed
1/4 cup granulated sugar
2 tablespoons bourbon
2 tsp. pumpkin pie spice mix
1/4 tsp. salt
1 1/4 cups heavy cream
2 eggs, lightly beaten
2 tsp. vanilla extract

For the Chocolate Filling
4 ounces dark chocolate, chopped
2 tablespoons unsalted butter
1 egg, lightly beaten
1/2 cup granulated sugar
1 tablespoon unsweetened cocoa powder
Instructions
Make the tart dough. In a small bowl, whisk together the egg yolk, heavy cream and vanilla extract. Set aside. In the bowl of your food processor with the blade attachment, pulse together the flour, powdered sugar and salt. Add the butter and pulse 10-12 times. Then add the egg mixture and process just until the dough comes together and starts to form a ball around the blade attachment. Remove the dough from the food processor and form it into a disk. Then wrap it tightly in plastic wrap and refrigerate it for at least 1 hour or up to two days.
Place a tart pan with a removable bottom on a rimmed baking sheet and set it aside. Remove the dough disk from your refrigerator and let it sit at room temperature for 10 minutes. Then roll the dough out into a circle about 2-inches larger than the diameter of your tart pan (so for example, if you are using a 9-inch tart pan, roll the dough to approximately 11-inches in diameter) on a lightly floured counter. Transfer the dough to your tart pan by loosely rolling it around your rolling pin (don't worry if it starts to tear in a few places) and then unrolling it over your tart pan, letting the excess dough hang over the edge. Using your fingers, press the dough into the bottom and sides of the pan. Run your rolling pin over top of the tart pan to remove any excess dough. If the dough has torn in any spots or appears thin, use the excess dough to patch and/or reinforce it. Transfer the tart pan to your refrigerator (keeping it on the baking sheet) to chill for 30 minutes.
Pre-heat your oven to 425 degrees and place an oven rack in the center position.
Make the pumpkin filling. Combine the pumpkin purée, sugars, bourbon, pumpkin pie spice mix and salt in a medium heavy-bottom saucepan. Cook over medium heat, stirring frequently, for 5-7 minutes. Remove from the heat and transfer the pumpkin mixture to a large bowl. Stir in the heavy cream. Then whisk in the eggs and vanilla extract, whisking until smooth. Set aside.
Make the chocolate filling. In a small heavy-bottom saucepan over medium heat, melt together the chocolate and butter, stirring frequently. Remove the saucepan from the heat and whisk in the egg. Then stir in the sugar and cocoa powder. Stir the chocolate mixture for about 1 minute. It will go from grainy in texture to smooth and shiny during this time. Set aside, but don't let the chocolate filling get too cold.
Assemble the tart. Remove the tart pan from your refrigerator. Pour the pumpkin filling into your prepared tart pan until the tart is about two-thirds full. Then add the chocolate filling in dollops over the pumpkin filling. Using a knife, swirl the two fillings together.
Transfer the tart (keeping it on the baking sheet) to your pre-heat oven. Bake for 15 minutes. Then turn down the heat to 350 degrees. Bake for an additional 20 minutes, or until the filling is set and no longer jiggles in the center. Remove from the oven and set aside to cool.
Allow the tart to cool completely, about 2-3 hours, before removing the outer ring, slicing and serving.
Leftovers can be stored in an airtight container in your refrigerator for 2-3 days.
https://www.floatingkitchen.net/chocolate-swirled-pumpkin-tart/