Disclosure: Thank you Lavazza for sponsoring this post! I am grateful for opportunities like these, which allow me to continue to develop and share unique content with you. All opinions are 100% my own.
It's Friday AND it's just two weeks until Christmas. So do you know what that means?
It's cocktail time!!!
And not only do I have a great cocktail recipe to share with you today. But I've also got a recipe for an easy to make homemade liqueur. Hip hip hooray!
The inspiration for this intoxicatingly delicious post (see what I did there?) comes from my friends at Lavazza, who sent me some of their Gran Selezione and asked me to come up with a way to spread some #LavazzaCheer with my friends and family this Holiday season. So I decided to make a Homemade Coffee Liqueur, because I knew it would make a great gift for any cocktail lover, coffee aficionado or hostess with the mostess.
And because you can't just give someone a bottle of homemade liqueur without a suggestion for how to use it, I created this Coffee Dark and Stormy recipe (with a tangerine twist instead of the more traditional lime garnish) to go along with it. Move over Martha Stewart. There is a new blonde lady in town!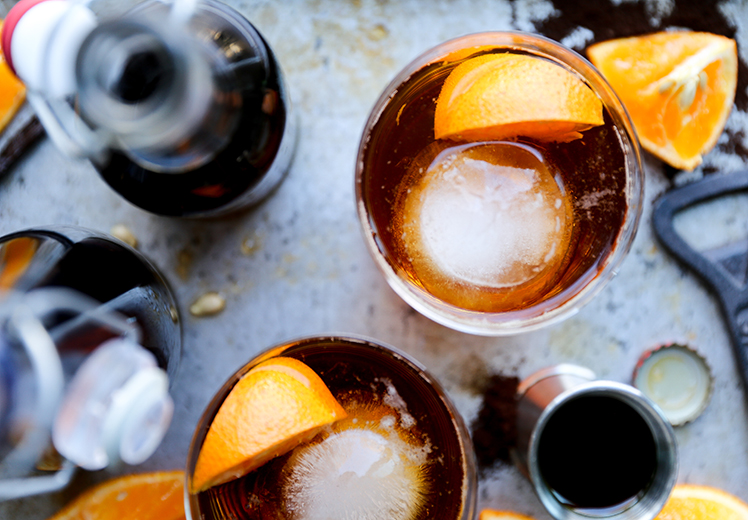 The coffee liqueur is super simple to put together, but it does take a few days to complete the whole process. So you might want to get started on that, like, now. Just saying.
For more ideas on how to spread #LavazzaCheer this Holiday season, be sure to follow along with Lavazza on Facebook, Twitter, Instagram and Pinterest. And if you make my Homemade Coffee Liqueur and have some awesome ways to use it (I'll give you another hint: try adding some to a porter or stout beer!) come back and tell me all about it!
Cheers,
Liz
P.S. Be cool and drink responsibly. You know the drill.
Recipe for the coffee liqueur adapted from Serious Eats
Ingredients
For the Coffee Liqueur
1/4 cup Lavazza coffee grounds (i.e. not brewed coffee)
1 1/2 cups water, divided
1/2 cup turbinado sugar
2 cups dark rum
1 fresh vanilla bean, split

For the Cocktail
Ice
Homemade coffee liqueur
Ginger beer
Tangerine, cut into wedges
Instructions
Cold brew the coffee. In a seal-able container (mason jars work great for this), combine the coffee and 1 cup of the water. Let it sit for 12-16 hours at room temperature. Then strain the mixture through a standard coffee filter, collecting the liquid into a clean container. Set aside.
Make the simple syrup. Combine the remaining 1/2 cup of water and the turbinado sugar in a small saucepan over medium-high heat. Bring the mixture to a simmer and cook, stirring occasionally, until the sugar is completely dissolved. Remove from the heat and set aside to cool.
Make the coffee liqueur. Add the cooled simple syrup, cold brewed coffee, rum and vanilla bean to a seal-able jar. Give it a shake and then let it sit for 4-5 days at room temperature. Remove and discard the vanilla bean. If you're going to be giving the coffee liqueur as gift, bottle it into smaller containers.
Make the cocktail. Add ice to a glass. Pour 3 ounces of the coffee liqueur over the ice. Top with 1/2 cup of the ginger beer. Squeeze the juice from a tangerine wedge into the glass and then garnish with the wedge. Serve immediately.
https://www.floatingkitchen.net/coffee-dark-and-stormy-a-recipe-for-homemade-coffee-liqueur/