Every year I make something fun and celebratory for Cinco de Mayo. And at first I was feeling like maybe I'd skip it this year, since things are so "weird" right now. But then it occurred to me that this might be the MOST important year ever to bring you a delicious, easy margarita recipe that you can make at home. Because duh. We are all staying home!
So I present to you these pantry-friendly Easy Coconut Lime Margaritas!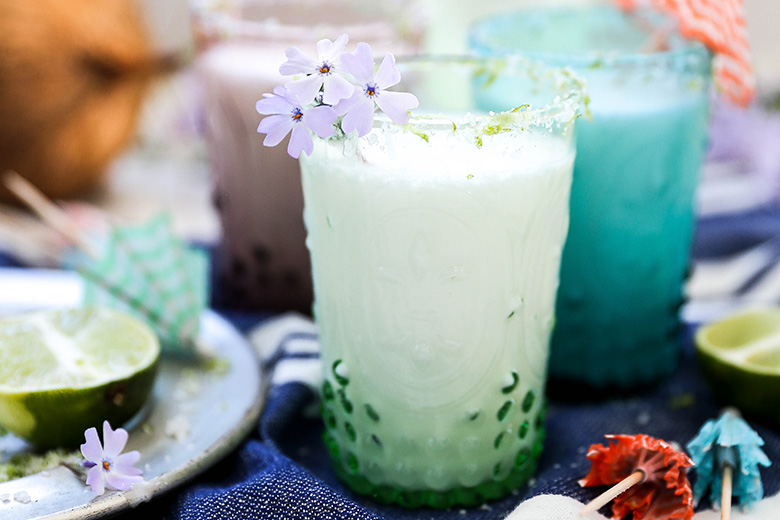 Yes, I said "pantry-friendly". Because all you need is a can of lite coconut milk, salt and sugar (all pantry staples), tequila and orange liqueur (so I guess those would be "liquor cabinet-friendly" items) and a lime, which is the only fresh ingredient required and I know you have one rolling around in the back of your refrigerator somewhere. That's it!
I like adding a splash of ginger beer or ginger ale at the end for a little effervescence fizz. But that's totally optional. And you could even substitute it with some citrus-flavored sparkling water or tonic water, if that's what you have on hand. And if you have more limes or toasted coconut or anything else fun that you want to use for a garnish, that's cool. But all that's just extra fluff. I mean, I love the extra fluff. But don't go and make a special trip to the grocery store just for that.
So what am I pairing these Easy Coconut Lime Margaritas with? My flavor bomb Ginger Guacamole with Slow Roasted Tomatoes that I posted last week. And these Slow Cooker Chipotle Barbecue Beef Tacos with Mango Salsa. I may just be having a party for one, but it's still going to be lit!
Cheers,
Liz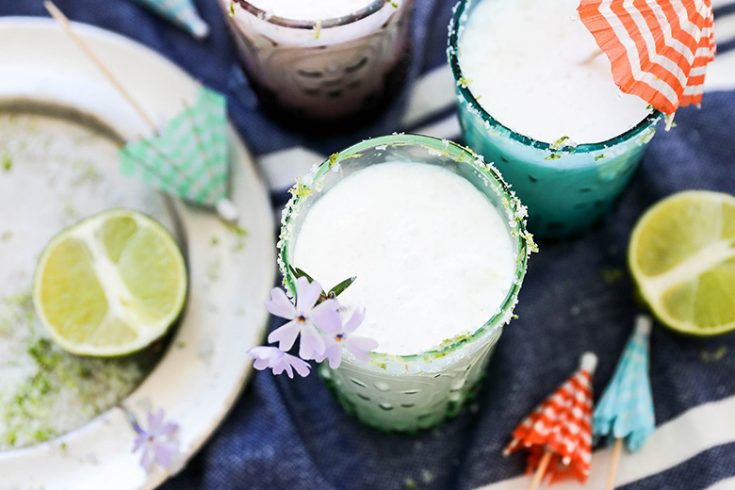 Easy Coconut Lime Margaritas
Yield: Serves 1
Prep Time: 5 minutes
Total Time: 5 minutes
Ingredients
For Garnish:
1 tablespoon flaky sea salt
1/2 tsp. granulated sugar
1 tsp. lime zest
1 lime wedge
For the Cocktail:
3 ounces lite coconut milk
1 1/2 ounces blanco or silver tequila
1/2 ounce orange liqueur
1/2 ounce fresh squeezed lime juice
Ice
Splash of ginger beer or ginger ale
Instructions
Combine the sea salt, sugar and lime zest. Spread the mixture out onto a small plate. Set aside.
Run a lime wedge around the rim of a glass to moisten it. Then gently press the moistened rim down into the salt mixture so that it adheres to the glass. Add ice and set aside.
Add the coconut milk, tequila, orange liqueur and lime juice into a cocktail shaker filled with ice. Shake vigorously. Then strain into your prepared glass. Top with a splash of ginger beer/ginger ale. Garnish with the lime wedge you used for the rim. Serve immediately.