Secret Summer. That's what September is to me.
One of my favorite months of the year, September is filled with the best weather, the best and most abundant local produce and frankly, the best beach days (see ya later, tourists!). And while I'm a firm believer is not rushing away the individual seasons, changing the calendar from August to September is certainly a switch that I can feel good about.
But don't go thinking I'm all about that pumpkin crap-o-la. Not yet, my friends. There are still plenty of "Secret Summer" days left to savor. And I'm going to do just that. Which means we've still got some lighter fare coming down the pipeline. The heavy, comfort food-type recipes will have to wait a little bit longer.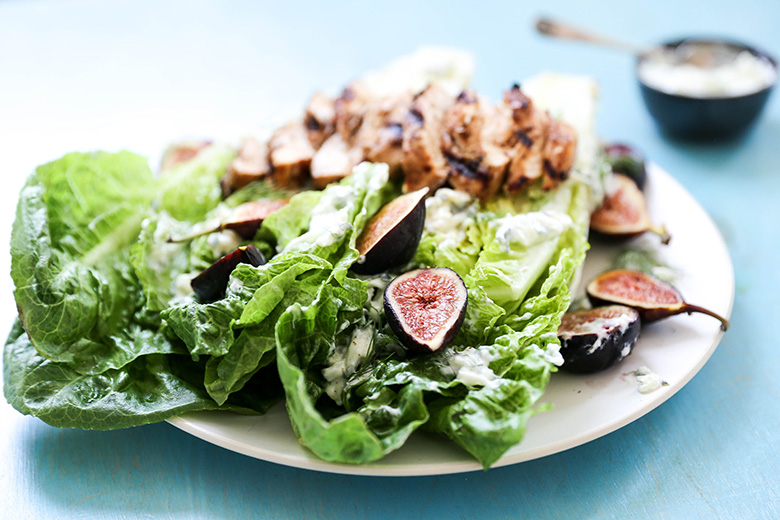 This Grilled Chicken and Romaine Lettuce Heart Salad with Tzatziki Sauce is about as easy as it gets…as far as dinner goes. A quick marinade, a simple homemade dressing, barely any chopping and a pretty presentation. What more could you ask for, really? I added figs, because they are in season right now and I had a pint that needed to be used up. But you could toss in whatever seasonal fruit you happen to have on hand. A few sliced plums would be nice. Or a handful of blueberries.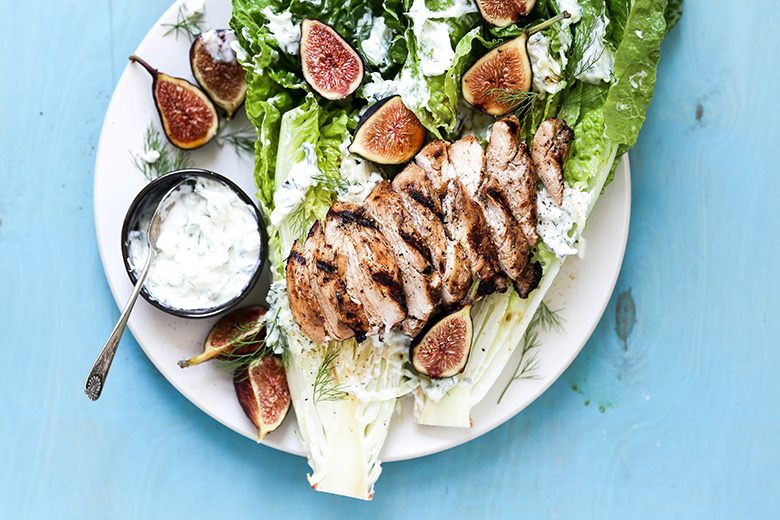 Sometimes I like to grill my romaine lettuce hearts, but for this recipe I was craving a big crunch factor. So I left it cold and crispy. The warm sliced chicken will wilt the romaine slightly in some places, but that's a nice little bit of texture contrast, if you ask me. Feel free to thin the tzatziki sauce further, if you prefer. But I kind of like it in big "dollops" all over the salad.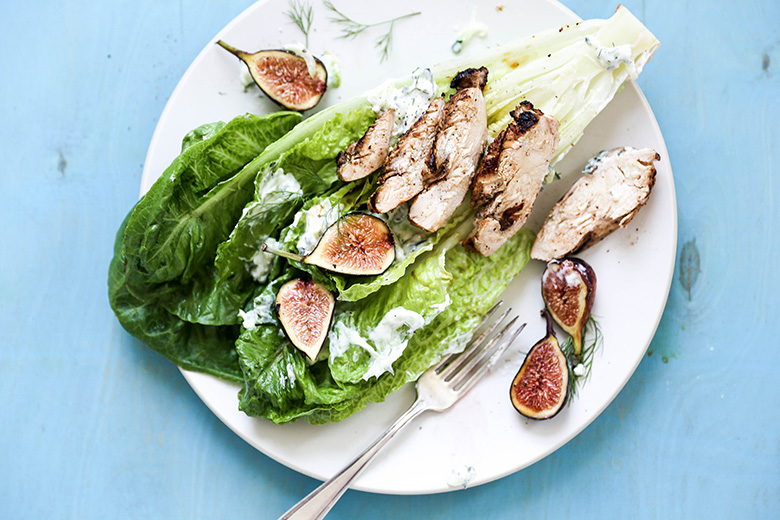 This Grilled Chicken and Romaine Lettuce Heart Salad with Tzatziki Sauce is what I like to call a "main meal salad". The portions are hearty and satisfying. But they can also be easily split and turned into a side dish (= 1 romaine heart half per serving), if you need to stretch things out.
Cheers,
Liz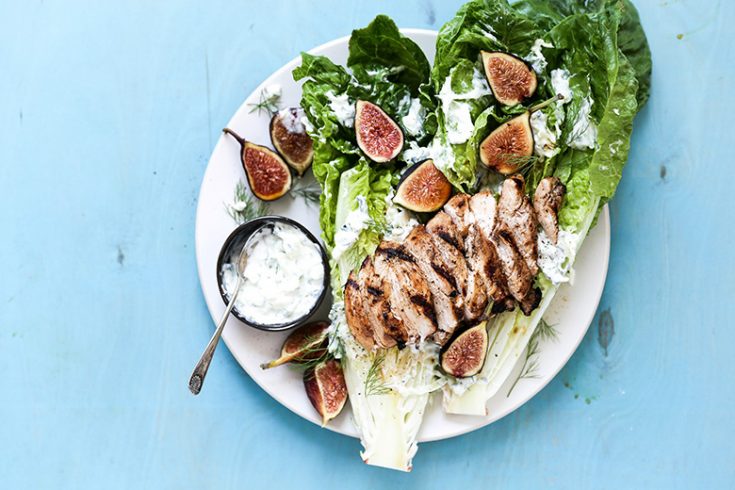 Easy Grilled Chicken and Romaine Lettuce Heart Salad with Tzatziki Sauce
Yield: 2 servings

Prep Time: 1 hour 15 minutes

Cook Time: 20 minutes

Total Time: 1 hour 35 minutes
Ingredients
For the Salad:
2 tablespoons extra-virgin olive oil
2 tablespoons balsamic vinegar
1/2 tsp. salt
1/2 tsp. black pepper
2 boneless, skinless chicken breasts (about 8 ounces each)
2 romaine lettuce hearts, sliced in half lengthwise
8 fresh figs, halved
For the Tzatziki Sauce:
1/2 cup full-fat Greek yogurt
1 garlic clove, peeled and minced
2 tablespoons extra-virgin olive oil
1 tablespoon fresh squeezed lemon juice
1-2 tsp. fresh dill, chopped
1/4 tsp. salt
1/2 cup grated cucumber
Instructions
Combine the olive oil, balsamic vinegar, salt and black pepper in a large zip-closure bag. Add the chicken breasts and seal the bag, pushing out as much of the air as possible so that the marinade coats the chicken breasts on all sides, and place the bag in your refrigerator for 30-60 minutes.
Meanwhile, make the tzatziki sauce. In a small bowl, stir together the yogurt, minced garlic, olive oil, lemon juice, dill and salt. Roll the grated cucumber up into a paper towel and squeeze it firmly over your sink to remove excess moisture. Then add the squeezed cucumber to the bowl with the other ingredients and stir to combine. Cover and refrigerate the tzatziki sauce until you're ready to use it.
Remove the bag with the marinated chicken breasts from your refrigerator and place it on your countertop for 10-15 minutes to take off some of the chill.
Pre-heat your grill to medium-high.
Remove the marinated chicken breasts from the bag and place them directly on your pre-heated grill, discarding any leftover marinade. Cook the chicken breasts until they are no longer pink on the inside and the juices run clear, about 7-9 minutes per side. Transfer the grilled chicken breasts to a clean plate and tent with aluminum foil to keep warm. Allow the chicken breasts to rest for 3-5 minutes before slicing them into strips.
To serve, place the romaine lettuce hearts cut-side up on serving plates. Dollop with the tzatziki sauce. Top with the sliced chicken and figs. Enjoy immediately.
SaveSave
SaveSave