Hello Internet Friends! It's Popsicle Week!
OMG OMG OMG! This is seriously one of my favorite weeks of the whole damn year. I'm so giddy with excitement over the frozen treat apocalypse that's about to descend on the blog-o-sphere (or maybe it's just all the sugar that's coursing through my veins), that I can hardly sit still as a type this.
If you're not intimately familiar with #popsicleweek, then let me give you the quick run-down. It's a yearly event (this is the sixth year!) hosted by Billy from Wit & Vinegar. And it's all about frozen treats on sticks. On Billy's dedicated Popsicle Week webpage, you can find links to ALL the popsicles from ALL the years past. We're talking hundreds of popsicle recipes, people. So if you need some Summer dessert inspiration (and if you want to find some new talented bloggers to obsess over!), then go check it out. As 2018's popsicle recipes roll in, Billy will be updating the page accordingly. So be sure to bookmark that shit!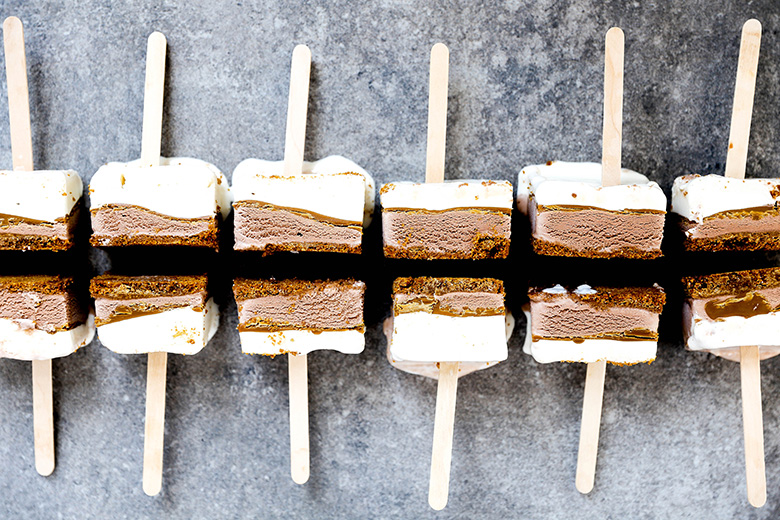 As a lover of all kinds of popsicles, it's hard for me to pick a direction to go in when I'm dreaming up a new recipe idea. Should I go boozy (like here and here), creamy (like here), healthy (like here), etc.? Everything always sounds so good to me, especially when the heat index starts soaring (we're in for a hot week here in New England!). But then I spotted these pretty pastel entertaining ice cream pops from Sugar and Charm and I knew that was exactly the idea that I needed to re-create.
Basically, you (1) press a crust layer into a baking pan, (2) spread your favorite ice cream flavors on top and (3) freeze it. Easy peasy, folks. These babies are totally customizable. You don't need a popsicle mold. And you can easily scale up to make enough for a Summer party. We're winning at life today!
I had some leftover speculoos cookies and speculoos cookie butter (you might know speculoos as Biscoff) from a recent baking experiment, and that is what ultimately inspired the flavor combination for these Easy Layered Ice Cream Speculoos Pops. I used the speculoos cookies for the bottom crust, then layered chocolate and vanilla ice creams over top, with a sneaky layer of cookie butter in between. Pure heaven.
You can easily change up the ice cream flavors (I also wanted to do a layer of coffee ice cream, but my baking pan got too full!). Or add in something for extra crunch (mini chocolate chips or toffee might be nice!). Or just be totally basic like me and stick with this easy combination that everyone is sure to love. I had zero complaints from my friends. And I guarantee you'll get a round of applause as well.
Cheers,
Liz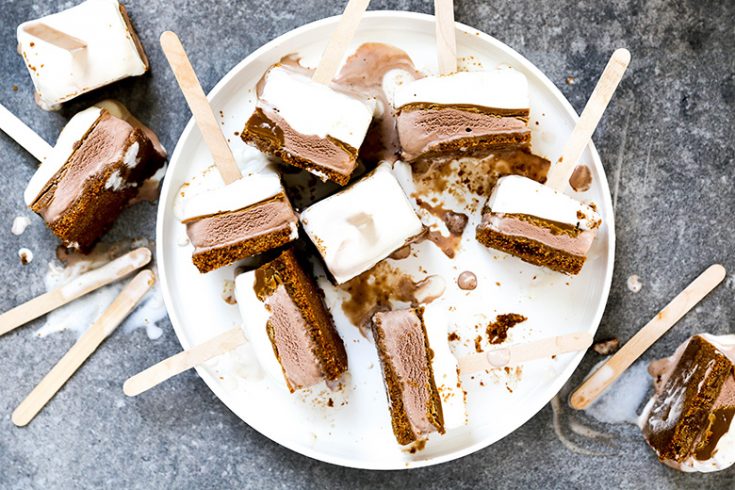 Easy Layered Ice Cream Speculoos Pops
Yield: Makes about 16

Prep Time: 8 hours

Total Time: 8 hours
Ingredients
1 quart chocolate ice cream
1 quart vanilla ice cream
1 (8-ounce) package speculoos cookies
2 tablespoons sugar
4 tablespoons butter, melted
About 1 cup speculoos cookie butter
Instructions
Remove the ice cream from your freezer and allow it to sit at room temperature until it's very soft, about 1 hour.
Meanwhile, line a 9 X 9-inch baking pan with parchment paper, leaving some hanging over the sides. Set aside.
In your food processor with the blade attachment, process the speculoos cookies and sugar until the cookies are fully broken down. Add the melted butter and process until the mixture is evenly moistened and resembles coarse sand. Then dump this mixture into your prepared pan and press it down firmly and evenly to make the bottom crust. Top with the softened chocolate ice cream, using a spatula to spread it out evenly. Then transfer the pan to your freezer for 20 minutes.
Briefly microwave the cookie butter (10-20 seconds) so it's easy to pour. Then pour it over the chocolate ice cream layer. Transfer the pan back to your freezer for an additional 10 minutes.
Top the cookie butter layer with the softened vanilla ice cream and spread it out evenly using a spatula. Then transfer the pan back to your freezer again for 20-30 minutes before inserting popsicle sticks. Continue freezing until fully hardened, about 6 hours or up to overnight.
Once completely frozen, use the overhanging parchment paper to remove the block of ice cream from the pan and place it on a cutting board. With a sharp knife, cut around the popsicle sticks, making cubes. Serve and enjoy.
SaveSave
SaveSave