I feel like everyone around me is being so organized lately. The back-to-school routines have set in. And the carefree, lazy days of Summer are starting to fade away.
But I just can't seem to get my act together. Hence why I haven't managed to get a blog post up here in over a week. I don't know what is wrong with me these past couple of days. Maybe I'm protesting the start of a new season.
I think I say this every year, but it's worth repeating: I actually totally love Fall. In fact, I might even like it as much (if not more!) than Summer. I know it doesn't seem that way, because I'm very vocal in my pumpkin-shaming. But I just want to enjoy Fall when it's ACTUALLY FALL. Does that make sense?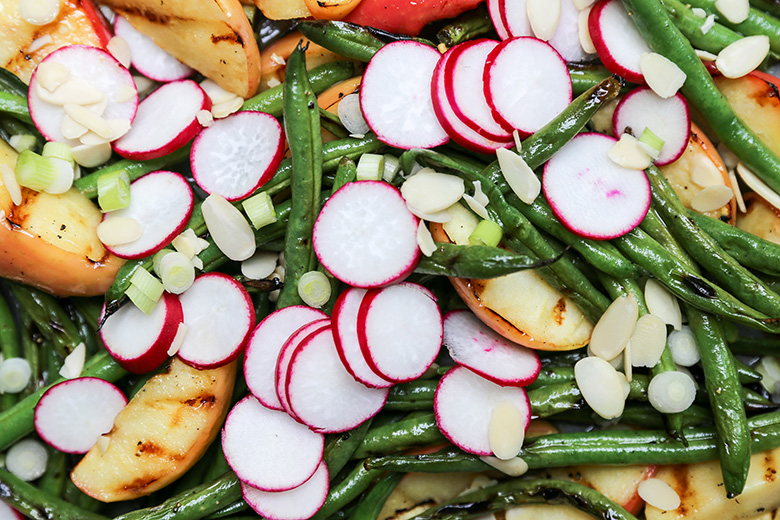 This Grilled Green Bean and Apple Salad is my attempt at sliding one foot into Fall, while still keeping the other foot firmly planted in Summer. It's still very hot and humid here, so my grill is going to continue to be used a lot over these next several weeks. And I find myself still craving light dishes that won't weigh me down. But local apples are popping up everywhere, and I plan to take full advantage of them.
This is a great side dish for Fall, or if you're like me, it can totally swing it as a main dish as well. In fact, I think I should rename this recipe "how to consume an entire pound of green beans in one sitting". Because that is exactly what I did. Everything about this recipe is highly addicting. From the maple syrup-sweetened dressing to the slightly smoky green beans and apples, I guarantee you'll have a hard time stopping yourself from stealing nibbles straight from the pan.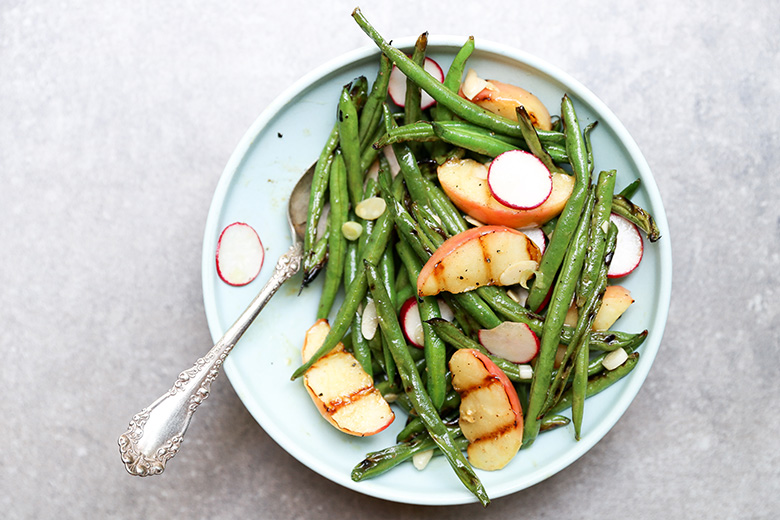 Because I'm some combination of cheap and stubborn, I don't own a grill basket. Which means I toss all my grill-ables straight onto the grates. This totally works. But unless you have some high level of dexterity, you'll probably loose a few green beans through the grates. Not a big deal, in my humble opinion. But if you have a grill basket, this would be a great time to bust it out.
Cheers,
Liz
Ingredients
For the Dressing
2 tablespoons extra-virgin olive oil
1 tablespoon red wine vinegar
1 tsp. Dijon mustard
1 tsp. maple syrup
1/8 tsp. salt
1/8 tsp. black pepper

For the Salad
1 lb green beans, trimmed
2 apples, cut into wedges
2 tablespoons extra-virgin olive oil
Juice from 1 lemon
1/4 tsp. salt
1/4 tsp. black pepper
4 radishes, trimmed and thinly sliced
2 scallions, white and light green parts thinly sliced
1/4 cup sliced almonds
Instructions
Whisk together all of the ingredients for the dressing in a small bowl. Set aside.
Pre-heat your grill to medium-high.
In a 9 X 13-inch baking pan, toss together the green beans, apple wedges, olive oil, lemon juice, salt and pepper until everything is well coated. Add the green beans and apple wedges to your grill and cook until they have started to blackened in a few places, about 3-5 minutes. I place everything directly on the grill grates, but if you have a grill basket that would be helpful at preventing the green beans from slipping through the grates! Remove the green beans and apple wedges from the grill and place them back in the baking pan. While they are still warm, drizzle with the dressing. Then add the sliced radishes, scallions and almonds, tossing gently to combine. This dish can be served warm or at room temperature.
Leftovers can be stored in an airtight container in your refrigerator for 1-2 days.
https://www.floatingkitchen.net/grilled-green-bean-and-apple-salad/