I made us popsicles with beer and brownies.
Can I get a "hallelujah" from the audience, please? Because I think these boozy frozen treats definitely deserve some collective praise. They are just that freaking awesome.
I dreamed these babies up a couple of weeks ago when I was brainstorming recipe ideas for St. Patrick's Day. And I'm not ashamed to admit that I've eaten almost every single one of them by myself. And sometimes, I even dip them in a pint of cold stout beer before consuming them. I highly recommend you try that out too. You won't be sorry.
If you wanted to shout out "hallelujah" again at this point, I wouldn't blame you. Go right ahead. I'll wait…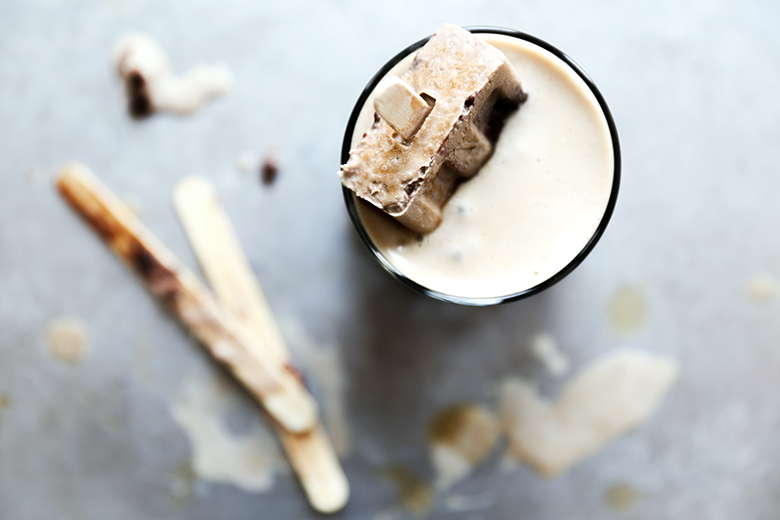 These Guinness Popsicles with Irish Cream Soaked Brownies aren't overly sweet. And they definitely taste like beer. Which is a very good thing, in my humble opinion. There are way too many recipes out there that contain alcohol that you can't even detect in the final product. I want my beer-sicles to taste like beer, damn it! I don't think that's too much to ask.
For the brownies, just make up a batch of whatever your go-to recipe is. Or if you're not feeling it, you could even buy a couple of brownies from your favorite bakery and use those instead. I won't tell.
Make sure to stock up your freezer with these Guinness Popsicles with Irish Cream Soaked Brownies before St. Patrick's Day rolls around! And grab a couple of extra beers while you're at it. For dipping, of course.
Cheers,
Liz
Ingredients
2 cups brownie chunks
1/4 cup Irish cream
12 ounces Guinness stout beer
1 cup heavy cream
1/2 cup whole milk
1 tablespoon chocolate syrup
Instructions
Spread the brownie chunks out into a 8 X 8-inch baking dish. Pour the Irish cream over top, tossing the brownie chunks around to make sure they are all coated. Set aside for a couple minutes to allow the Irish cream to soak into the brownies.
Meanwhile, add the Guinness, heavy cream, milk and chocolate syrup to a large bowl. Whisk to combine. Set aside.
Assemble the popsicles. Add some brownie chunks to each of the popsicle molds, almost filling the molds to the top. But don't packed them in. You want space between the pieces. You can use a popsicle stick to gently push the brownie chunks down into the molds, if necessary. Slowly pour the Guinness mixture into each of the molds, filling the molds until the liquid reaches the top.
Transfer the molds to your freezer for about 1 hour to partially set the popsicles. Then insert wooden popsicle sticks into each mold. Continue to freeze the popsicles until solid, about 6 hours. The popsicles will be slightly softer than regular popsicles due to the alcohol content.
Remove the popsicles from their molds before serving. Running a little warm water over the molds will help to loosen them, if necessary.
https://www.floatingkitchen.net/guinness-popsicles-with-irish-cream-soaked-brownies/