I'm indulging in all the simple pleasures of late Summer right now: watermelon wedges with a squeeze of lime juice, raw corn sliced off the cob (try it raw if you haven't before!) and colorful heirloom tomatoes piled on crisped bread. Uncomplicated and unfussy. Just how I imagine Summer is suppose to be.
This Heirloom Tomato Toast with Purslane Pesto is one of those "non-recipe recipes". I mean, you guys know how to toast bread and put sliced tomatoes on it, right? But this is what I've been eating on a daily basis the entire month of August, so I figured I'd share it with you. And I do have a few tricks up my sleeve, per usual. Some of which might be new to you and will (hopefully) help you take your tomato toasts to the next level.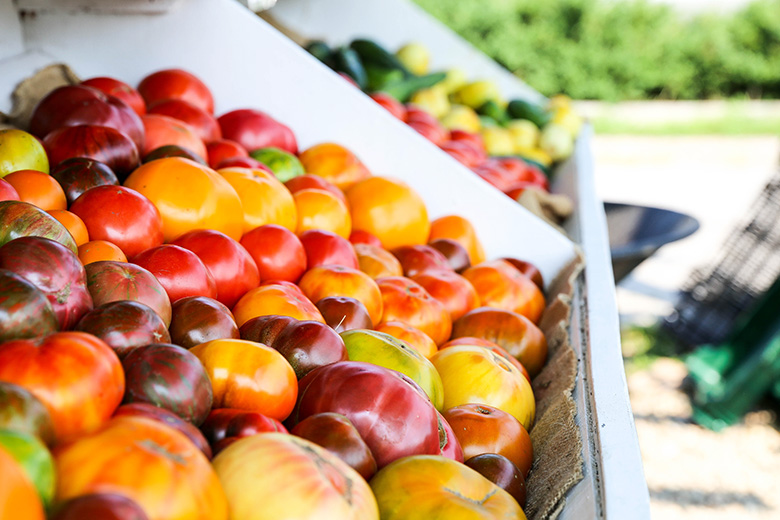 The most important thing is getting the best heirloom tomatoes you can find. I'm lucky to have the most adorable "honor system" farm stand up the street from me, where I can find locally grown tomatoes of every size, shape and color. Next, spurge on a decent loaf of bread. Cut the slices thick and toast them (or grill them) until they have a slight char. Then while they are still warm from the heat, rub a peeled garlic clove all over their surfaces. It's a worthy extra step.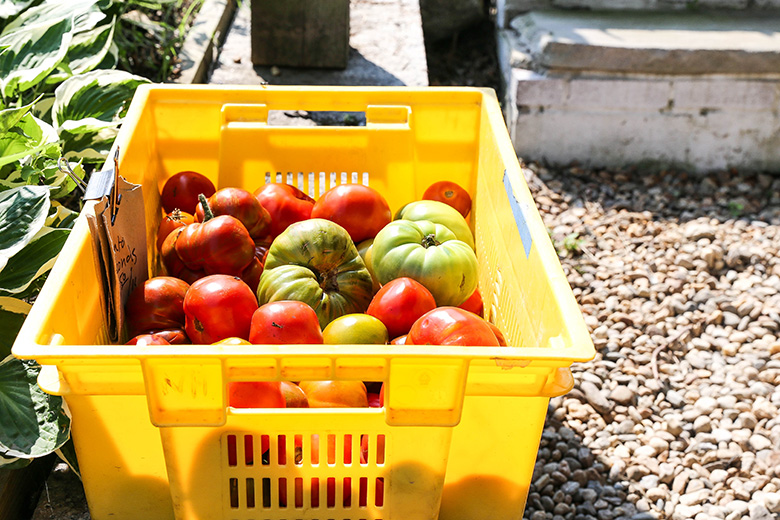 While I typically shy away from soggy bread (right up there with mayonnaise in my book = a major "NO"), in this case I don't mind it so much. In fact, I make sure to lay the tomato slices directly on the toasted bread so their juices can penetrate. Yum. Also, don't be afraid to branch out with your bread choices. I love using cinnamon raisin bread for this recipe. Which may sound odd, but when combined with the other ingredients it's a killer savory-sweet combo. Just trust me.
At this point, you could sprinkle a generous pinch of salt on top of the tomatoes and call it a day. But I like to add one more thing: pesto.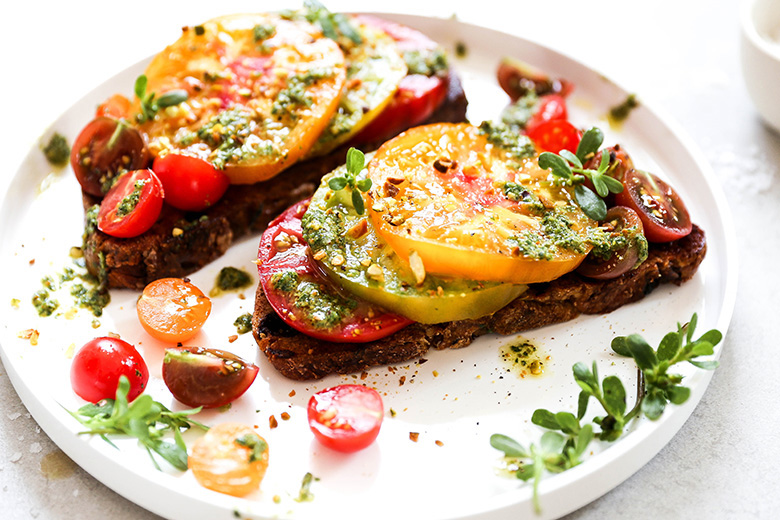 Of course, any homemade pesto will do. If you have bouquets of fragrant basil on hand, then use it up. But for something unique, I encourage you to try making pesto with purslane.
I'm guessing purslane is something you've seen before, but may not have considered eating. Most people treat it like a weed. It's that low growing succulent that you've likely pulled out of your garden, or from between the cracks of your brick patio. But it's totally edible and it's also exceptionally good for you (it contains more omega-3 fatty acids than any other leafy vegetable!). Personally, I like to eat it raw in salads (it has a similar taste to spinach). But I also like to turn it into pesto for use in all the typical ways that pesto can be used.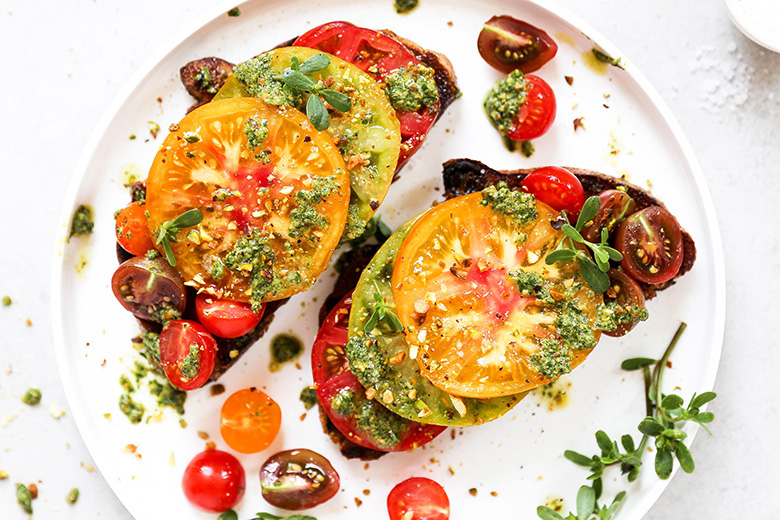 Your local farm stand/farmers market is a good place to find purslane. And so is your own yard. Obviously, you don't want to eat anything that you (1) can't identify and (2) has been sprayed with weed killer. So please keep those important things in mind before embarking on this pesto-making journey.
Have you tried purslane before? If so, let me know you to love to use it!
Cheers,
Liz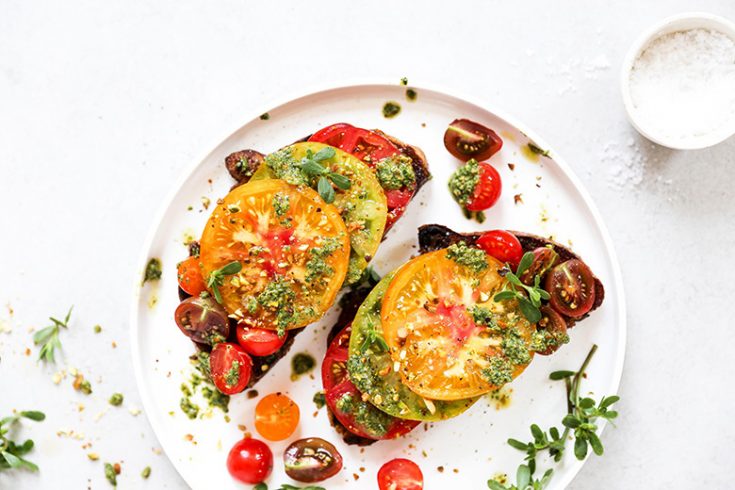 Heirloom Tomato Toast with Purslane Pesto
Prep Time: 15 minutes

Cook Time: 5 minutes

Total Time: 20 minutes
Ingredients
For the Pesto:
2 tablespoons shelled and roasted pistachios
1 garlic clove, peeled
1/2 tsp. salt
1/2 tsp. black pepper
1 1/2 - 2 cups loosely packed purslane, leaves and small stems
Juice from 1/2 lemon
About 1/2 cup extra-virgin olive oil
For the Toast:
Sliced bread
Extra-virgin olive oil
1 garlic clove, peeled
Heirloom tomatoes, thinly sliced
Cherry tomatoes, halved
Shelled and roasted pistachios, chopped
Salt and black pepper
Instructions
In your food processor with the blade attachment, pulse together the pistachios, garlic, salt and black pepper. Add the purslane and lemon juice and pulse to combine. Then with your food processor running, stream in the olive oil, stopping to scrape down the sides of the bowl as necessary. Continue processing the pesto until your desired consistency is reached, adding more olive oil if you prefer a thinner pesto. Transfer the pesto to a clean container and refrigerate it until you're ready to use it.
Place your bread slices onto a baking sheet and brush them with olive oil. Toast them either on your grill on under your broiler. Then remove them from the heat source and rub the garlic clove all over their surfaces. Discard any of the remaining garlic clove.
Top each piece of toast with sliced tomatoes and a few dollops of the pesto. Sprinkle with chopped pistachios and a pinch of salt and black pepper, if desired. Enjoy immediately.
SaveSave
SaveSave